In the 22 months of this election season, celebrity endorsements have generated a great deal of buzz, the most highly publicized being Oprah Winfrey's support of Democratic candidate Barack Obama. But beyond the hype and media fanfare, do celebrity endorsements actually make a difference?
Poll after poll, conducted by Gallup, Pew and CBS News, suggest that they don't matter to the overwhelming majority of voters. But many experts say poll numbers may not accurately reflect the real impact that big names can have on a campaign.
A CBS News poll conducted last September revealed that 78 percent of people expected celebrity endorsements to have no affect on the election, while nine percent said endorsements would make people less likely to vote for a candidate.
But celebrities do make their mark during election season, according to a Washington State University study published last week in the Mass Communication and Society journal.
"Celebrity endorsed campaigns successfully lowered complacency and helped young people believe in their own impact on the political system," the study reported. "Young people got involved at higher levels and became increasingly aware of societal issues."
The study found that an increase in young voter participation could be attributed to the work of celebs, and looked at the influence of star-studded "get out and vote" campaigns in 2004 involving Beyonce Knowles, Christina Aguilera, Sean "P. Diddy" Combs' famous "Vote or Die" mantra, and others.
David Jackson, a political science professor at Bowling Green State University in Ohio, has also done significant research on the connection between entertainment and politics, conducting a study of 18- to 25-year-olds to find out how celebrity endorsements of certain political ideas affect them.
"We know celebrity endorsements matter," Jackson said. "Getting people to admit it — that's another story."
It would be a rare occasion for a McCain supporter to turn around and become an Obama supporter simply because a celebrity told him to do so. But, says Jackson, people who weren't planning on voting or were undecided could be persuaded by celebrities to get out and vote.
"What we've found is that popular positions are made more popular by celebrities, and unpopular positions are made more unpopular," Jackson said. "There's not much persuading."
The marriage between star power and politics has a long history, and, some experts say, can have an overall impact on an election.
Hollywood history
Celebrity endorsements go back to the presidential election of 1920, when actor Al Jolson organized Broadway stars in support of Republican candidate Warren Harding, who became the 29th president in a landslide victory.
The relationship between Hollywood and Washington, D.C., became even stronger by 1932, according to Steve Ross, a historian whose forthcoming book, "Hollywood Left and Right: How Movie Stars Shaped American Politics," looks at the connection through the years.
"By this time, a majority of celebrities were getting involved politically," Ross said. "For people like Melvin Douglas and Gene Kelly, it wasn't just about the box office anymore; it was about coming out as responsible citizens."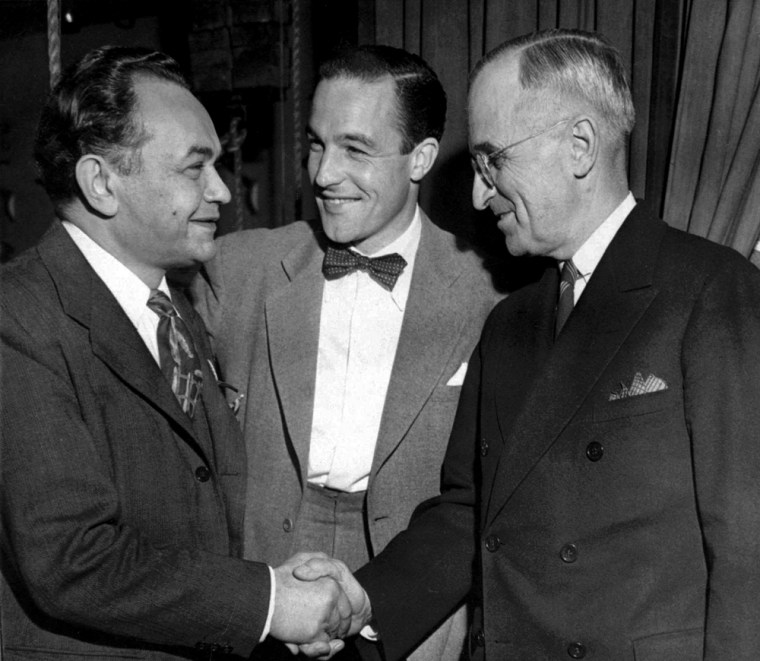 Celebrities embraced an even greater role in the 1940s when they became campaign roadies, traveling with candidates and speaking at rallies.
"Republicans and Democrats realized this was much better than just endorsements," said Ross. "Letters from committee chairmen show that they would expect 1,000 people at a rally, but when they had a Humphrey Bogart or a Lauren Bacall speak, 10,000 people would show up. They would come for the celebrity — but end up hearing the candidate as well."
Charlton Heston actively campaigned for Richard Nixon in 1972 as a member of the group Democrats for Nixon. He continued to endorse Republican candidates with Ronald Reagan and George W. Bush. "[Heston] was a key figure in getting Bush elected in 2000," said Ross. "He helped the Republicans get swing states like West Virginia by mobilizing [National Rifle Association] members."
Polls don't seem to reflect much of an influence nowadays. An October 2007 Gallup Poll revealed that only 8 percent of Democrats were more likely to vote for Obama because of Oprah's endorsement; 81 percent said it had no affect.
So what is the disconnect?
"The media asks the wrong question. 'Do celebrity endorsements influence who you vote for?' Political insiders know that's a stupid question," Ross said. "The question should be, 'Do celebrity endorsements make you pay more attention?' "
Particularly in the primaries, when there are a number of candidates who aren't exactly household names, celebrity endorsements can mean publicity and invaluable visibility.
A December 2007 poll conducted by the Pew Center for Research found that 74 percent of the public could correctly identify Obama as the candidate that Winfrey endorsed, and at the time, 25 percent of Americans said they had heard more about Obama than any other candidate, Democrat or Republican.
But the average voter isn't quick to admit that celebrities can make a difference.
In a survey of 506 first-time voters, Natalie Wood, assistant director of the Center for Consumer Research, ascertained that although a majority of participants across gender and party lines knew which celebrities were supporting which candidates, it didn't affect voting behavior.
"People were not swayed by celebrity endorsements," Wood said. "Most people said they were more influenced by their friends and family when deciding who to vote for."
Most of the study's participants claimed that they were either ambivalent to endorsements or, in some cases, turned off because of them.
"I don't listen to the crazy ramblings of celebrities who try to use their status to brainwash people," one participant commented.
"I think people should make up their own minds and know the facts for themselves," Donna Arsenault, 48, of New Hampshire, told TODAYshow.com. "They shouldn't look to celebrities for information on voting."
But Arsenault, who says she is an Obama supporter, concedes that celebrities have brought more visibility to candidates and that even she didn't know who Obama was prior to Winfrey's endorsement.
"Politicians are like businesses — name recognition goes a long way, and celebrities can help make that happen," Wood said. "Obama is a classic example of that because most people had never heard of him before."
The Obama camp estimated that appearances with Winfrey led to 10,000 new volunteers working for the campaign, as well as larger audiences at rallies. The team cited a December 2007 rally in South Carolina that had to be moved to a football stadium when 29,000 people came to hear Winfrey and Obama speak.
Two economists from the University of Maryland, Craig Garthwaite and Timothy Moore, attempted to quantify the weight of Winfrey's endorsement on the Obama campaign. After analyzing sales of Oprah's Book Club selections and subscriptions to Winfrey's magazine O, the pair estimated she captured about 1 million additional votes for Obama in the primary election.
Almost a record number of eligible voters — 30.2 percent — cast their ballots in the primaries this year, a steep climb from the near record low turnout in the 2004 primaries, according to the Center for the Study of the American Electorate, and some say this is due to celebrity involvement.
This late in the game, Jackson says, celebrities can do little but continue to encourage voter turnout — and how convincing they are is determined by who they are.
"A guy like Bono [the lead singer of the band U2] has a lot of influence — people see him as credible because of his level of political involvement," Jackson explained. "On the other hand, no one cares what Paris Hilton has to say about anything other than fashion — no one is looking to her for her view on global warming."
Bad company
Star power can be a blessing and a curse, as candidates are often held responsible for what their celebrity supporters say to the press.
"Businesses are very selective of celebrities they hire and the same is true of politicians," Wood said. "You are the brand, and you are the company you keep, so you have to be very careful about who your friends are."
Matt Damon told the press last month during the Toronto Film Festival that the possibility of Gov. Sarah Palin becoming president, in the event of Sen. John McCain's death, would be "like a really bad Disney movie … She's facing down Vladimir Putin and using the folksy stuff she learned at the hockey rink. It's absurd."
The McCain–Palin campaign, in turn, released a statement chastising Obama for the comments, saying, "It's not surprising that Barack Obama and his celebrity supporters continue to tear down Gov. Palin with little more than blatant name-calling."
Obama has also been endorsed by many in the hip-hop community, including heavy hitters like Jay-Z, Nas, LL Cool J and Ludacris — and that has led to some controversy. Rapper Ludacris released a freestyle track, "Politics as Usual,"  which shouts out Obama, but also dubs Hillary Clinton "irrelevent" and George W. Bush "mentally handicapped" in addition to taking swings at McCain. This prompted the Obama camp to get in damage-control mode, denouncing the "mysogyny, materialism, and degrading images" in rap lyrics, and adding that Ludacris "should be ashamed of these lyrics."
McCain has several celebrity supporters, including Sylvester Stallone, Tom Selleck, Daddy Yankee and Stephen Baldwin — who made headlines when he challenged Obama to a boxing match and labeled the candidate a "cultural terrorist." Obama, however, has many more stars in his corner and has been censured for his celebrity ties and painted as an elitist, particularly after attending an A-list Hollywood fundraiser headlined by Barbra Streisand in September.
The height of this criticism came in July. A McCain campaign ad that questioned whether Obama was ready to lead the country cut between images of the Illinois senator and tabloid princesses Britney Spears and Paris Hilton.
"That isn't anything new," Ross said. "Politicians have been criticized for having celebrity backers and for whatever missteps the celebrities may make."
Harriett Woods, who was running for the U.S. Senate in 1986, was harshly criticized for accepting money from Jane Fonda. "She was called 'Hanoi Harriett,' and many people believe that endorsement cost her the election," Ross said.
In 2004, John Kerry was called out by Republicans for his ties to "dangerously liberal" Hollywood. "There were Photoshopped pictures floating around of Kerry with Jane Fonda, to show that he was extremely liberal and out of touch," Ross added.
Kerry was also caught in a firestorm when actress and talk show host Whoopi Goldberg made sexually explicit puns about President Bush's name at a Kerry fundraiser.
Positive or negative, the exact weight that a celebrity carries for an individual voter is difficult to ascertain, says Jackson.
"Many people may not even know how it affects their decisions," he said. "But what I think celebrities represent is a mental shortcut for people, so they don't have to spend a million hours researching a candidate if they generally agree with the celebrity. If that's true for even one percent of the population — that can make a big difference in the election."