For a full year, Jarrett Weir's Halloween costume sat on the top bunk in his room, never having been worn.
On Thursday afternoon, Weir, 13, finally got a chance to put on his oversized glasses and clown tie as part of the annual Halloween parade at Monmouth Beach (N.J.) School. Halloween returned to the small Jersey Shore community of just over 3,000 residents after a one-year hiatus thanks to the wrath of Superstorm Sandy.
Weir and his family are still not back in their home, which had its entire first floor destroyed by flooding, but he and many others were able to enjoy another step toward normalcy with the return of the Halloween parade Thursday.
"It just felt non-existent last year," Weir told TODAY.com. "I didn't even think about it. I had my costume just sitting there for a year. It's a lot of fun today, obviously, to get to celebrate it again."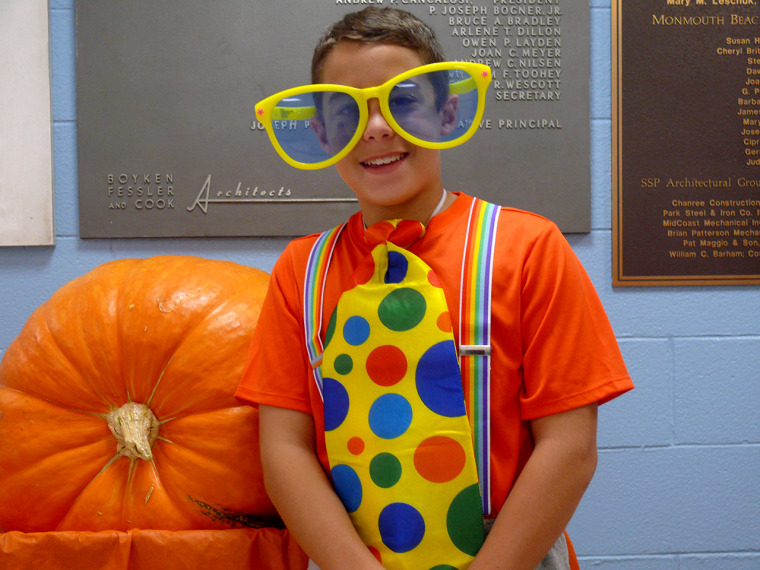 "You didn't even think it was Halloween last year," Lisa Weir, Jarrett's mother, told TODAY.com. "You were too busy cleaning sludge out of your house. Maybe someone would text you, and you would remember, 'Oh the rest of the world is celebrating Halloween.' We've had a lot of ups and downs. It's taken a year to get here, and maybe people are starting to feel we're turning the corner a little bit."
The parade at Monmouth Beach School, which has children from pre-kindergarten to eighth grade, has gone on for as long as anyone can remember. The school building sustained so much damage last year that the entire student body was relocated to several nearby schools, including Shore Regional High School in West Long Branch, for seven months following the storm.
"Last year was basically the year that wasn't," Superintendent Michael Ettore told TODAY.com.
'We'll find joy in each other': College student raising her siblings after losing parents to Sandy
Monmouth Beach resident Allison Donlevie was at Thursday's parade sporting a Batman shirt to match the Batgirl costumes worn by her two daughters, Megan, 9, and Erin, 6. The Donlevie family had 5 feet of water in their home and the foundation was compromised, resulting in the decision to knock the house down and rebuild it. They spent last Halloween at Allison's mother's house in Oakland, N.J., 75 miles north of Monmouth Beach.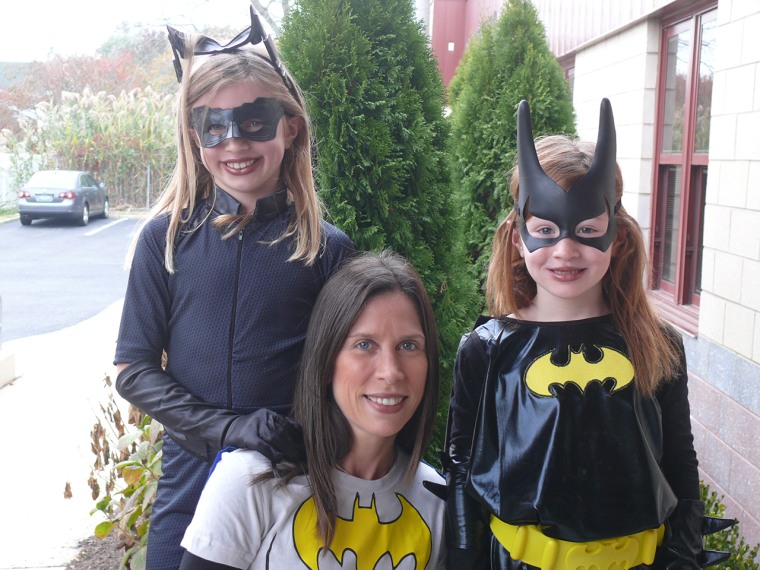 "The first question my husband asked was, 'Do you want to stay?'"Donlevie told TODAY.com. "When I said yes, he said, 'Well, then let's get to work.' We moved here three years ago because of the community. There's a great support system here, and that's a real reason why we didn't leave.
"It was sad last year. Halloween is so big down here, and moving down here you hear people talk about Halloween in Monmouth Beach. We're slowly getting back. If you look at our house, we're no further along than we were the day of the storm, but in so many other ways, we're light years ahead because of our frame of mind, and we're a stronger family because of it."
'Everything is far from okay': Sandy survivors mark year after deadly superstorm
While she was talking, Donlevie got a tug on her Batman shirt from Erin, a first-grader eager to not miss a minute of the parade. The two Donlevie girls shared in the excitement of Halloween's return.
"Last year was upsetting," Megan Donlevie said. "It was a disaster. I'm really excited this year."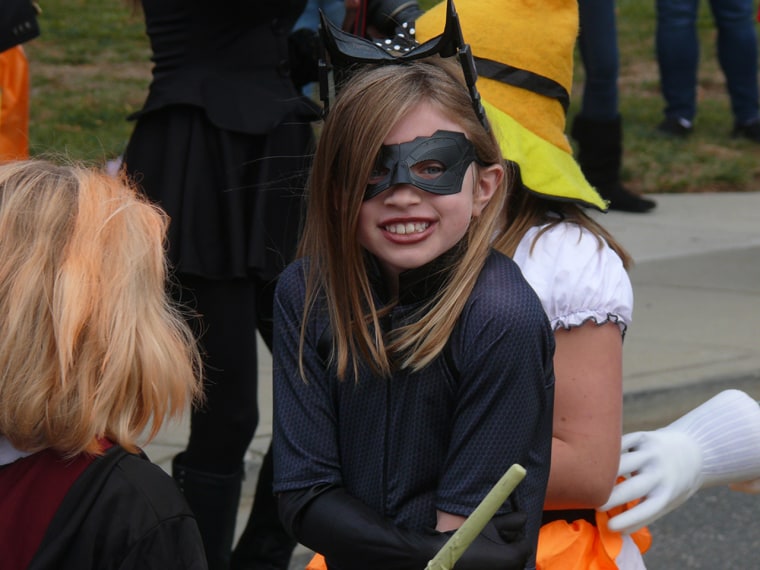 "Sometimes bad things happen, but you make the best of it," mom Allison Donlevie said. "They've grown so much and they've learned some lessons, probably at an age much younger than they should."
Sandy photo collector: I want 'these memories returned'
Local streets were closed off for the parade, and residents came out of their homes to give out candy and take pictures of the colorful group of jubilant students marching by. That was a far cry from the scene last year after the storm swept through on Oct. 29. In the aftermath, armed members of the National Guard stood sentry on a main thoroughfare covered in sand.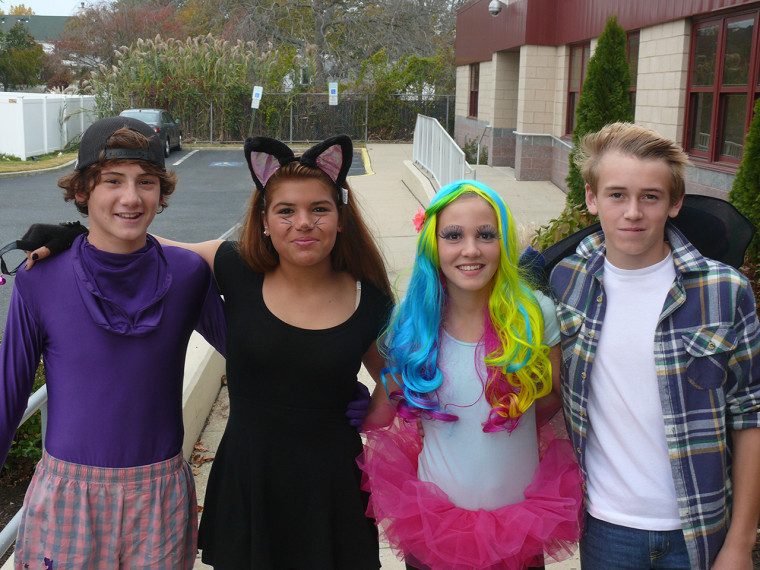 "Last year, me and my two friends just walked around in costumes, but we didn't go trick-or-treating because everyone was so sad and everything was so messed up," eighth-grader Carolyn Mazzacco told TODAY.com. "Halloween is a huge deal in Monmouth Beach, so it's exciting to have it back."
Monmouth Beach School Parent-Teacher Organization president Monica Levy shared similar feelings.
"Now that we've turned the page on the anniversary of Sandy," she said, "Halloween is like the first day of a new beginning."