The operative word for Grace Kelly's style was "ladylike."
The Kelly Bag by Hermès was named for her. The actress-turned-American princess, says "Town & Country" magazine's editor-in-chief Pamela Fiori, was also was drawn to pearls, short white gloves, wide-brimmed hats, turbans, Hermès scarves and oversized sunglasses (not unlike those worn by Jackie Kennedy).
She was dressed by Dior, Givenchy and all the best Parisian couturiers. After her husband, Prince Rainier of Monaco, gave her a Cartier emerald-cut diamond engagement ring, she became accustomed to other Cartier pieces, as well as to jewelry by Van Cleef & Arpels and several prominent French designers. And she wore a tiara as if she was born to live in a palace!
Now, six great American designers — Oscar de la Renta, Ralph Lauren, Vera Wang, Carolina Herrera, Ralph Rucci and Zac Posen — have used some of her classic looks, from films such as "Rear Window" and "To Catch a Thief," to gowns she wore in official royal capacities, to create six one-of-a-kind original dresses that will be auctioned off next week to benefit the Princess Grace Foundation-USA. The bidding starts at $2,000 and goes up in increments of $500.
The auction is part of a series of events this month honoring her memory 25 years after her death in a car accident in Monaco.
Project coordinator Michael Fink, vice president and women's fashion director at Saks Fifth Avenue, paired the designers with the inspirational outfits.
"We wanted to celebrate her grace and style with American designers we felt had a connection not only in their own personal design, but who could translate that to a celebration of her clothing," Fink said.
Each designer was given a different gown to use as inspiration and to interpret in their own style using their own choice of color, fabric, embroidery or other elements. "I relied upon my instinct to pair the inspirational gowns with the designer," Fink said. "They just received the photo of the dress ... they didn't have a choice!"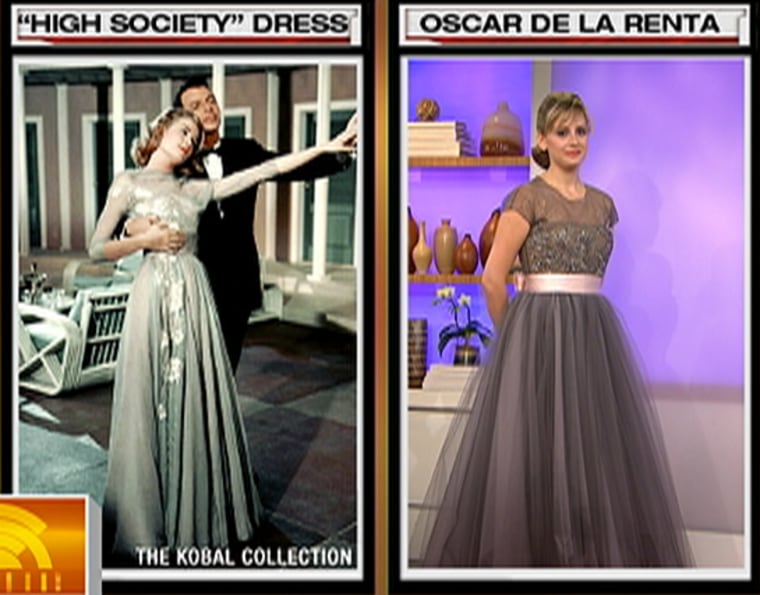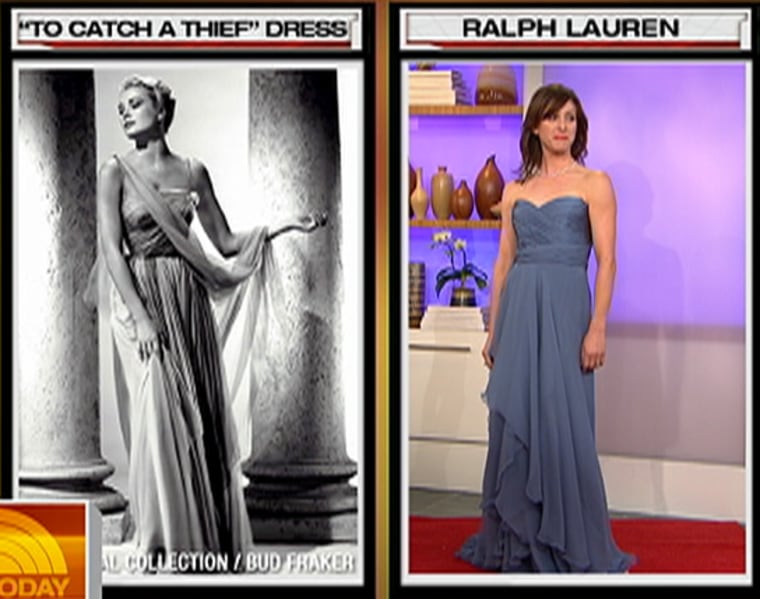 Designer: Ralph Lauren
Inspiration: "To Catch a Thief" gown
The dress was worn in the 1954 classic directed by Alfred Hitchcock and co-starring Cary Grant. Edith Head was Paramount's chief costume designer, also responsible for Kelly's outfits in "Rear Window."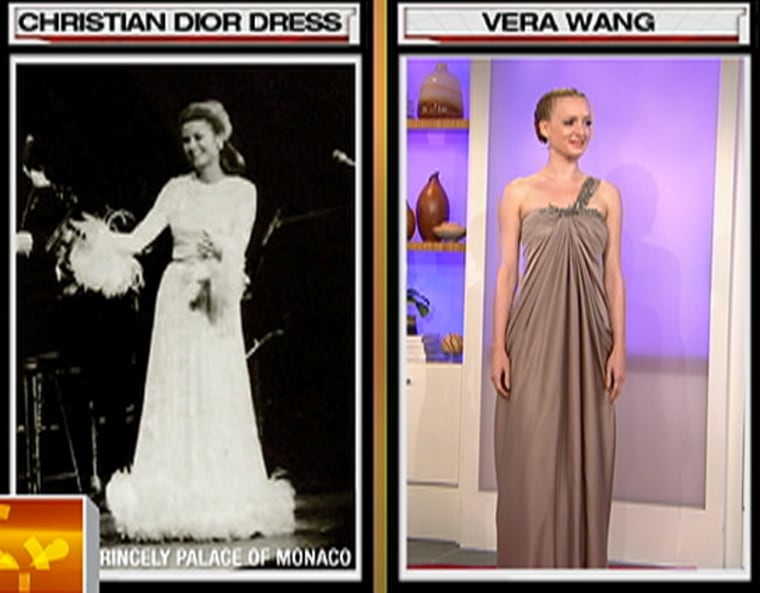 Designer: Vera Wang
Inspiration: 1970 Christian Dior Kelly wore this "feather" dress to the Royal Festival Hall in London on November 16, 1970, where she introduced Frank Sinatra and Bob Hope at the Night of Nights Gala to benefit the United World Colleges.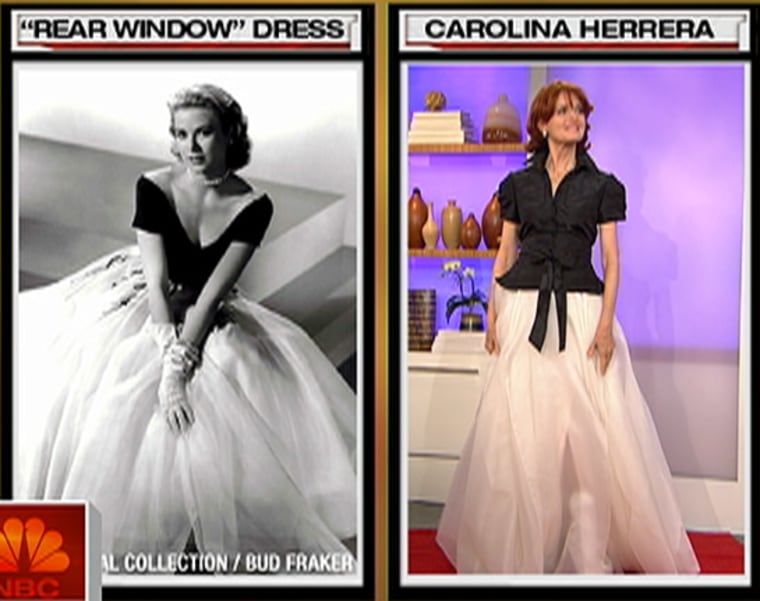 Designer: Carolina Herrera
Inspiration: Iconic black-and-white ensemble from "Rear Window"
Created by the famous Academy Award-winning studio costumier Edith Head, this feminine outfit was made for the 1954 Hitchcock thriller co-starring Jimmy Stewart.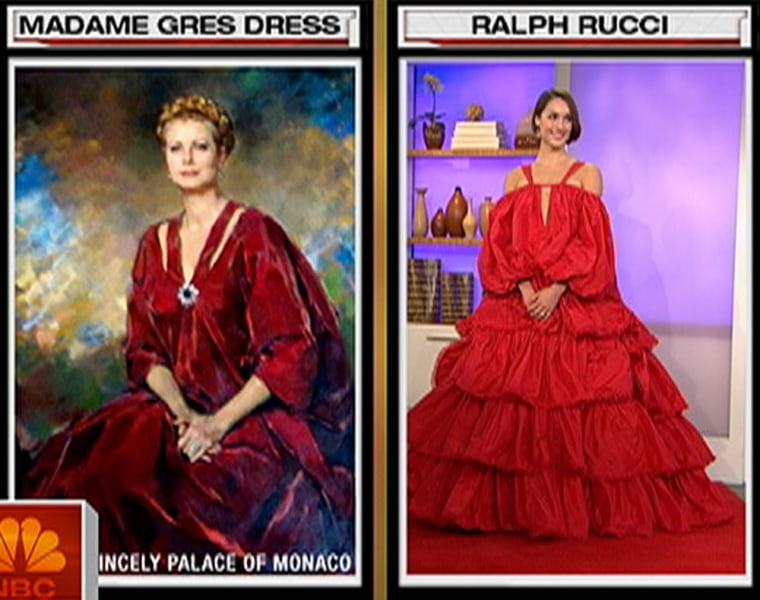 Designer: Ralph Rucci
Inspiration: French original design from Madame Grès
The princess wore the dress in a 1977 official portrait painting by Ricardo Macaron, which now hangs in the palace in Monaco. She accessorized the rich velvet gown with a diamond-and-sapphire brooch by Van Cleef & Arpels. Princess Grace also wore this gown to the International Monte Carlo Television Festival Awards Gala in 1976.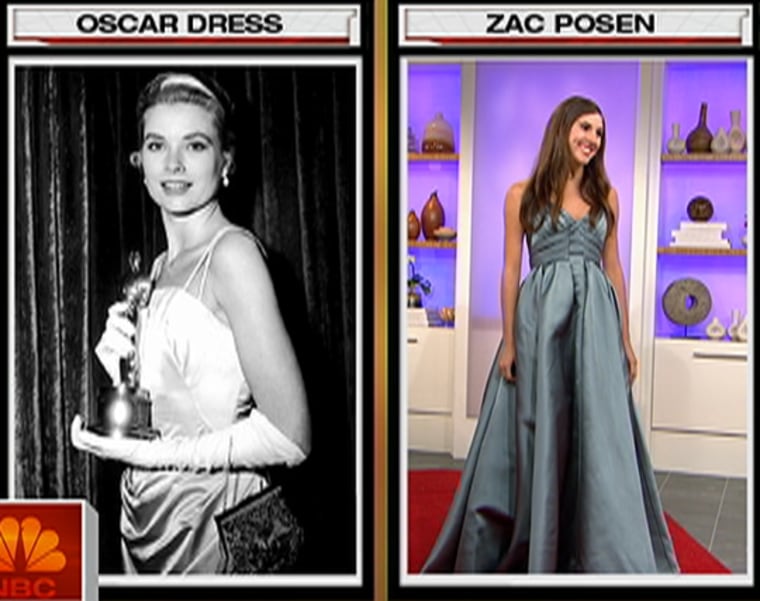 Designer: Zac Posen
Inspiration: 1955 Oscars dress
Kelly wore the dress on March 30, 1955, to the 27th Annual Academy Awards when she won the Academy Award for Best Actress for her role in "The Country Girl,"  co-starring William Holden and Bing Crosby. She also wore it to the film's premiere on December 15, 1954, in New York City. Kelly was photographed in the dress by Philippe Halsman for "Life" (April 11, 1955).
All six of the designers' Grace Kelly-inspired gowns will be on display in the flagship Saks Fifth Avenue windows starting Friday, Oct. 19, and then auctioned to benefit the Princess Grace Foundation at an event called "Casino Couture" on Wednesday, October 24, at Sotheby's, co-hosted by the Consulate General of Monaco and Steve and Elaine Wynn of Wynn Resorts to benefit the Princess Grace Foundation-USA.
The public can also participate by bidding through a silent auction. For more information, e-mail or visit Acelebrationofgrace.com.