For three decades, Julie Flores was unable to stand upright — the result of a crushing combination of scoliosis and severe dystonia that twisted her spine, quite literally bending her body in half.
"Everybody just laughed at me and called me names, and they were rude to me, and I just didn't like it," remembers 39-year-old Flores, whose mild cognitive impairment causes her to speak in a simple, straightforward style.
But last fall, the pain from being bowed in half for most of her life became too much to bear.
"It got to the point where it was so severe, it was crushing her lungs, and her spine was crushing into the rib cage of her pelvis," says her mother, Lidia Flores, who lives with her husband and their daughter in their South El Monte, Calif., home.
Now, thanks to a remarkable spinal surgery, Flores stands upright, pushing 5-foot-3 — two inches taller than her mother.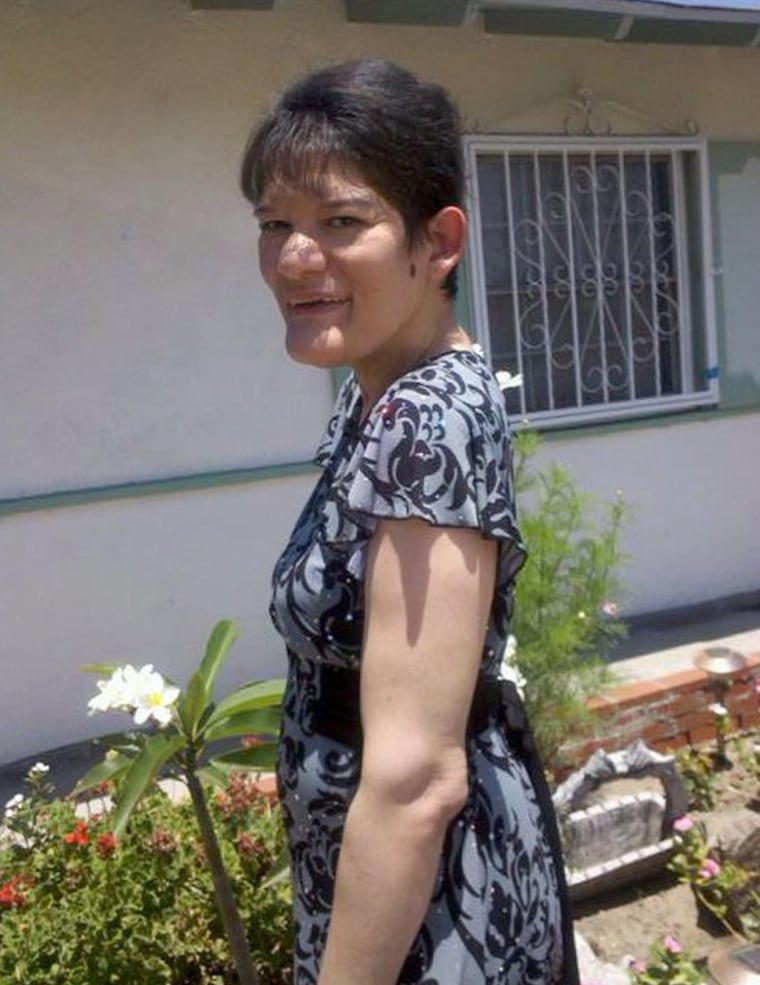 At age 5, Julie Flores was diagnosed with a severe case of dystonia, a neurological movement disorder that causes repetitive muscle spasms, or abnormal posture. An estimated 300,000 people in the United States are affected, according to the National Organization for Rare Disorders.The dystonia twisted and jerked her body, hunching her back forward and eventually leading to scoliosis. She was about 8 when doctors diagnosed the condition that affects 2 percent to 3 percent of the population, or about 6 million people in the U.S., according to the National Scoliosis Foundation.
Despite being medicated for her dystonia, her muscle spasms persisted. By age 9, the little girl's spine and neck were severely deformed. "It was horrifying," her mother remembers. "Her childhood years were the ones that she was so bent in half, she was bowed."
To get an idea of her condition, try this: Raise your shoulders to your ears, tilt your head to the left, and bend your body at the waist. That's how her mother and her neurosurgeon, Dr. Frank Acosta, a neurosurgen at Cedar-Sinai medical center in Los Angeles describe her physical state before the corrective spinal surgery.
Find other TODAY Health fans,
During Julie's childhood, her pediatric neurologist suggested spinal fusion, a major surgical procedure that uses metal screws, plates or rods to join together two vertebraes in the spine. It can provide pain relief for patients suffering from abnormal curvatures of the spine, but Julie's dystonia made her parents hesitate: The surgery would straighten her spine, but the spasms that bowed the girl in half would continue. The idea of her body fighting with itself — the metallic rods working against the dystonia's twists and turns — made her parents too fearful to pursue the surgical route.
So Julie spent most of her life doubled over, her physical and cognitive impairments requiring her to rely on her mother for even the smallest daily chores like dressing herself.
Still her mom and dad, Porfirio Flores, tried to let their daughter live a life that was as normal as possible, and more often than not, they'd let her try things the other kids were doing — roller skating, sledding, even swimming and diving, each of which she managed successfully and safely.
"If she roller skated bent in half, if she came down the mountain the way the other kids did in their sleds bent in half, if she dived bent in half — there was no stopping her," her mother Lidia says.
After graduating from high school, Julie continued to live at home with her parents, filling her days with visits to the park, or activities with her family's church. But i nto adulthood, her spine continued to curve, and last fall the pain began to keep her awake at night. As her mother recalls, "It was very, very painful; it was excruciating pain. ... And it got to the point where Julie herself said, 'I need help, I need some relief.'" If sweet, uncomplaining Julie was actually complaining, her mother thought, then her condition must have become nearly unbearable, and surgery might be necessary.
Acosta, the neurosurgeon who performed the operation, said Julie's crooked spine was one of the worst he'd ever seen. "She was so far over, her ribs were literally touching her pelvis. And because she was so curved, (her left) lung was being crushed," says Acosta, director of spinal deformity and assistant professor of neurosurgery at Cedars-Sinai.
Still, that's not what he recalls when he remembers his first impression of her. "The biggest thing that I remember — even considering how how much of a spinal deformity she had — was not even her body shape, but her face," Acosta says. "It doesn't take too much to make her happy, so she's always smiling. But when I first met her she did not have a smile on her face, which, for her, says a lot. If she's not happy, that means there's really something going on."
Acosta and the Flores family decided spinal fusion would be the best option for Julie, as the severity of her dystonia had lessened with age. In two operations — totalling 20 hours — in December, surgeons at Cedars-Sinai fused the bones in her back, using metallic screws and rods, and making cuts in the bones called osteotomies, to loosen the curves and straighten her spine. Acosta calls it one of the most complex cases he's ever undertaken.
After surgery, Julie was kept in the hospital for more than two months — one of her lungs had been crushed so badly that it was initially unable to properly inflate. Directly after the surgery, Julie required a ventilator to breathe. But she was eventually able to breathe again on her own, and after physical therapy, the results were remarkable.
"You straighten her out, and she's taller than her mom when she's standing up straight. It's amazing," Acosta says.
Since her recovery, Julie feels just "flickers of pain," her mom says. Julie herself uses just six words to simply, sweetly summarize her life after the corrective surgery: "I feel tall! I feel happy!"