/ Source: TODAY staff and wire
Michelle Obama has dazzled the world with her graceful sense of style yet again.
The first lady chose to wear a gleaming silver-sequined, cream-colored gown Tuesday night to the first state dinner held by her husband's administration. She was tending to her hostess duties in a strapless silhouette with the beads forming an abstract floral pattern that was custom-made by Naeem Khan.
She wore a matching wrap, a stack of bangle bracelets on her wrist and dangling earrings.
The guests of honor at the dinner were Indian Prime Minister Manmohan Singh and his wife, Gursharan Kaur, making Mrs. Obama's choice of the Indian-born, U.S.-based designer seem very appropriate.
At the event, traditional evening gowns and vibrantly colored saris mixed with banded-collar dinner jackets and tuxedos. There also were turbans and bindis and diamonds aplenty, as several hundred guests put on the glitz.
Outshining them all was the first lady in her cream and gold silk chiffon gown.
Khan, the Indian-born designer of Mrs. Obama's handmade gown, told CNN's "Larry King Live" that it took three weeks to complete the dress at his family's workshop in India — with 40 people working on it.
His goals, he said, were to dress the first lady in something "Indian, chic, simple but very glamorous."
Careful wardrobe choicesEarlier on Tuesday for a preview of the state dinner, Mrs. Obama wore a skirt by Rachel Roy, also an Indian-American. "That gave us a preview that she was going to use clothes to convey a meaning," said Mary Tomer, author of the new book "Mrs. O: The Face of Fashion Democracy."
"They were really thoughtful choices," she said.
"The nice thing about it is the Jackie Kennedy sort of appropriateness. Most people wouldn't know one way or another about Naeem's background, but if one sentence gets mentioned to the prime minister, then her subtleness would pay off," added Hal Rubenstein, fashion director for InStyle magazine.
Rubenstein said he was impressed that Mrs. Obama used her fashion knowledge to choose a sophisticated and regal style that paid homage to India without wearing a traditional sari-style dress, which could have come off as a costume next to India's first lady.
"I think she looks fabulous," Tomer said on Tuesday night. "She walked out in something that's figure-flattering and chic. Naeem's work is known for glamour and embellishment and this dress seems to embody that. She's sparkling and radiant."
Designer Khan is no stranger to helping women make a grand entrance; he has become a fixture on the Hollywood red-carpet circuit, dressing Beyonce, Carrie Underwood, Katherine Heigl and even Queen Noor of Jordan.
Of Mrs. Obama, Rubenstein said: "She looks like she's worth her weight in solid gold. What I love about her is that it's a pleasure to watch a woman of size and stature not apologize for her height and know how to stand tall."
President Barack Obama also drew Rubenstein's praise in his classic-style tuxedo. "I often feel Obama's suits are too big on him, but I think he got a new tux."
Focus on issues that matter to first ladyHours before guests were to start arriving on Tuesday evening and in keeping with tradition, Mrs. Obama previewed the glamorous table settings in the State Dining Room. At that event, the first lady wore the skirt by Roy — her second wardrobe change of the day, to be followed still by the gown she was wearing to dinner.
In the morning, she wore a pumpkin-colored dress and matching overcoat tied at the waist and designed by Isaac Mizrahi, for the ceremonial welcome for Singh that the White House moved inside to the East Room, from the South Lawn, because of damp and chilly weather.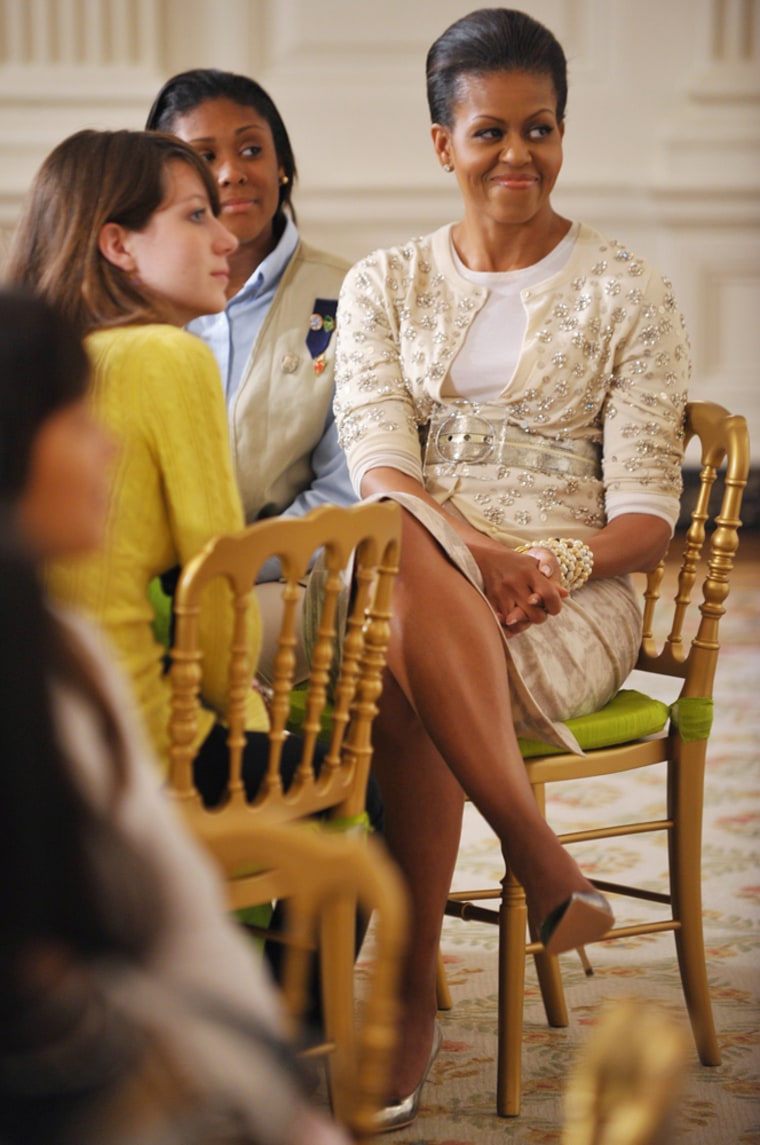 All of Tuesday's events were expected to make a statement about the Obamas' sense of style — and also about issues that matter to Michelle Obama.
In a nod to one of the first lady's pet issues, Tuesday night's menu featured fresh, locally grown produce from the White House garden. Culinary offerings included potato and eggplant salad, arugula, red lentil soup and roasted potato dumplings or green curry prawns. Pumpkin pie tart and pear tatin were for dessert; the pears were poached in honey from the White House beehive.
The first lady also turned the preview event in the State Dining Room into a "teachable moment" for high schools girls participating in a White House mentoring program. They sat at two prepared tables as White House and State Department officials explained what state dinners are all about.
Afterward, Mrs. Obama sat at one of the tables and everyone dived in to dessert — the same fare being served guests at the state dinner.