/ Source: TODAY contributor
He's been called the Fattest Cat, the Round Mound of Purring Sound, and a living, breathing Pillow Pet. And indeed, when Otto the overweight cat appeared on TODAY Thursday, his handler struggled a bit to keep the flabby tabby in her arms.
But while many are understandably amused at the sight of a cat with a belly so large it would make St. Nick jealous, the folks at a New Jersey animal hospital saw a creature in dire need of medical help. And now, Otto is well on his way to becoming an active, healthy cat.
Too big for his litter box
Otto (short for ottoman, which more than a few people have said he resembles) was taken to Clementon Animal Hospital in the Garden State by his owners in late January. The cat had grown so fat he could no longer even climb into his litter box, and the owners intended to have him euthanized. But hospital staff instead urged Otto's owners to instead surrender him to the hospital.
"I just felt really bad for the cat, and I know he was probably in a situation where [his owners] were just at their wit's end and couldn't handle it anymore," hospital administrator Tricia Greaney told NBC News.
When Otto entered the hospital, he tipped the scales at 35.8 pounds — more than double the average weight of a wild bobcat, and three times his ideal weight. In human terms, he weighed the equivalent of a 500-pound man or woman. He could barely stand, much less walk.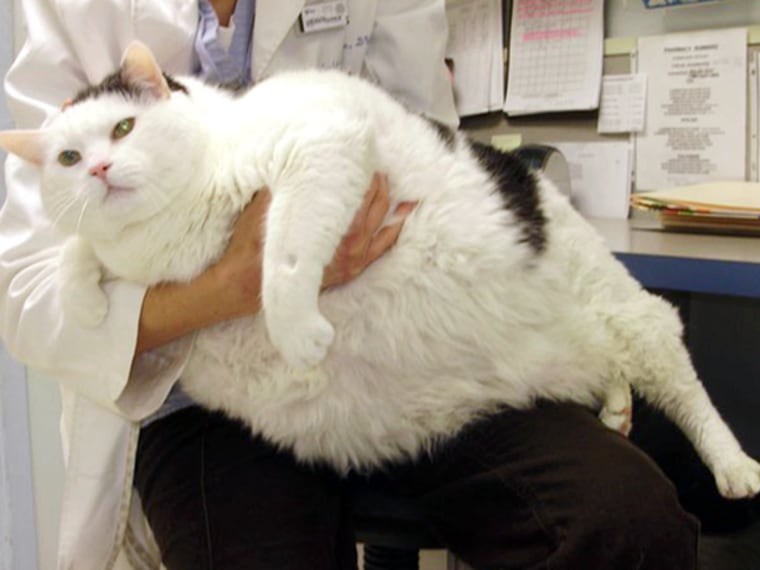 Greaney said Otto is the biggest cat she's ever seen in her 21 years as an animal health professional. "his little heart is working very hard; his lungs are working very hard to maintain his body weight."
But six months into being put on a diet at Clementon (whose staff admit that Otto expresses disappointment at the portions he's given), the flabby feline is showing encouraging results. With a program of less food, more exercise, Otto graced the TODAY studio Thursday weighing a comparatively svelte 29.5 pounds.
As Greaney held the hefty cat in her arms, Parade magazine's Maggie Murphy told Hoda Kotb and Kathie Lee Gifford of Otto's improvement now that he's in the care of Clementon Animal Hospital. In human terms, he's already lost the equivalent of 100 pounds — virtually the feline equivalent of a successful contestant on "The Biggest Loser."
"They've put him on a diet and they are teaching Otto how to eat well and live better," said Murphy, whose magazine features Otto in its Sunday issue. "It's very sad because he has arthritis, because he's a little too heavy. So just like humans, cats and animals need to be taken care of."
Indeed, Clementon veterinarian Dr. Shashina Lyons told NBC there's nothing amusing about a pet as morbidly obese as Otto.
"The unfortunate thing is, people think it's cute," Dr. Lyons said. Actually, she pointed out, fat cats "can be prone to diabetes, they can have arthritis, they can be prone to liver disease."
Obviously, since cats don't control food portions on their own, it's up to their owners to keep them fit and at a manageable weight. Since Otto became a ward of the animal hospital, he's purring along toward the staff's goal weight of 20 pounds.
"It's probably going to take a year," Dr. Lyons told NBC. "But I'm hoping every day he's going to be a little bit more mobile, active, and it will all get easier."