While Olympic swimmer Katie Ledecky looks forward to an intense year of training for Rio, she took some time to connect with swimming fans she met on social media while visiting TODAY Thursday, and offer some advice to young girls and aspiring swimmers.
"I would encourage you to set really high goals," Ledecky told TODAY.com. "Set goals that, when you set them, you think they're impossible. But then every day you can work towards them, and anything is possible so keep working hard and follow your dreams."
Ledecky has in the last two years broken 10 world records, three of which were at the Swimming World Championships in Russia last week (where she set one world record by accident in prelims). At that meet, she also snagged five gold medals and became the first swimmer to win the 200, 400, 800 and 1,500 meter freestyle, prompting many to call the feat a "Ledecky slam." Although she's only 18, Ledecky says she embraces her role-model status.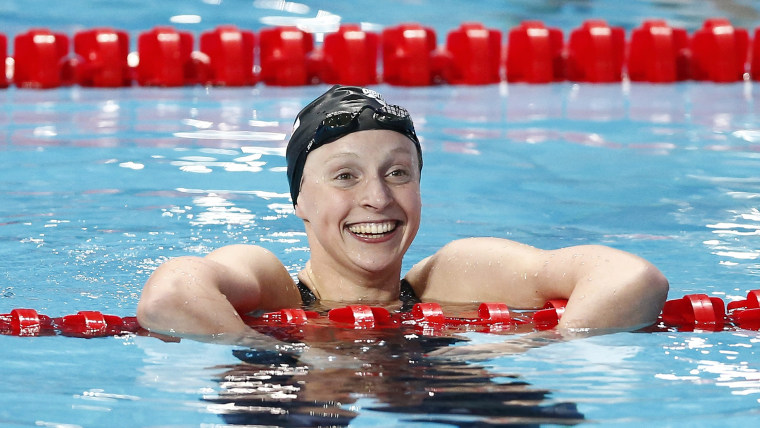 During practice at her Maryland club team, she said, she takes the time to encourage young swimmers to have great practices. "I always try to tell a few of them to have a good practice or have fun," she said.
"It's always great to see young swimmers and their excitement and the joy that they have in the water."
Beyond her own team, Ledecky is connected to young athletes who reach out to her on social media, including three special swimmers who visited the TODAY plaza Thursday while on vacation from Minnesota.
"There are a lot of young swimming fans that are on Instagram, so I try to respond or post things that they like," Ledecky told TODAY.com.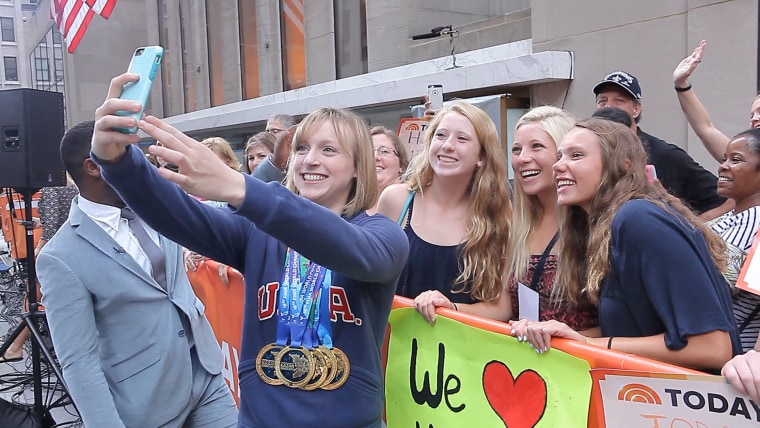 Kaitlin Squier, Melissa Klaeser and Amanda Klaeser decided to visit the TODAY plaza late Wednesday, after seeing Ledecky tweet about her appearance, and tweeted at the Olympian that they were so excited to visit. Ledecky saw their comments on Twitter and Instagram, and took some time to greet them on the plaza and take a selfie before her interview.
"She started talking about swimming and wanted to know if we missed morning practice to come here," Squier said. Connecting with Ledecky on social media and on the plaza, the teens said, was "motivation."
"She's such an inspiration. She's our age and doing all this stuff and is so down-to-earth," Melissa Klaeser said.
Of course, meeting fans was hardly the first time Ledecky has had fun on the TODAY plaza. On Monday, she shared an Instagram of her first visit to the plaza in August 1998, when she was just 16 months old.