The reaction by fellow athletes to the harrowing crash that injured star skier Lindsey Vonn on Tuesday illustrated both sides of the growing safety issue in action sports.
The athletes know it's dangerous, but that is part of the allure.  
Tom Wallisch and Keri Herman know this well. As slopestyle skiers, they perform tricks across different types of terrain while trying to get air off jumps. The popular Winter X Games sport will make its debut at the 2014 Olympics in Sochi, and Wallisch and Herman put on a display for the TODAY audience Wednesday outside Rockefeller Plaza.  
In the wake of Vonn's crash and the death of an athlete at the Winter X Games last month, Herman and Wallisch believe those are simply risks extreme athletes are willing to take.
Athletes demo new Olympic sport: Slopestyle skiing
"Of course it's dangerous," Herman, 30, told TODAY.com. "We know the risks involved, and that's just par for the course. It's what gives us the adrenaline rush.''
"We know the risks,'' Wallisch, 25, added. "It's just like any other sport, any other activity – you can fall and break your hip walking along the street here in New York City. There are a lot of risks in everything nowadays, so we just try to be cautious, balance it, and be smart about when we try new tricks and what kind of skiing we're doing and just try to be as safe as possible."
Lindsey Vonn crashes at worlds: tears ACL, MCL 
Vonn, a gold-medal Olympic Alpine ski racer, crashed at the Alpine World Championships in Schladming, Austria, tearing the ACL and MCL in her right knee. The injury is expected to put her out for at least six months to a year, and comes only five days after the first death of an athlete in the 18-year history of the Winter X Games. Caleb Moore, 25, attempted a backflip on a snowmobile and was knocked unconscious after crashing. He died from his injuries on Jan. 31.
Last year, Canadian freestyle skier Sarah Burke died as a result of a brain injury from a crash on a halfpipe during training. Kevin Pearce, who was once thought as the main challenger to Shaun White in snowboarding, had his career ended three years ago when a crash in practice resulted in a brain injury.
"It's really sad and scary actually,'' Herman said. "It's hard to deal with. You lose your friends. It sucks, and it's sad but we just all love what we do so much, it's worth it to be out there. We're playing every day and having the best time of our lives.''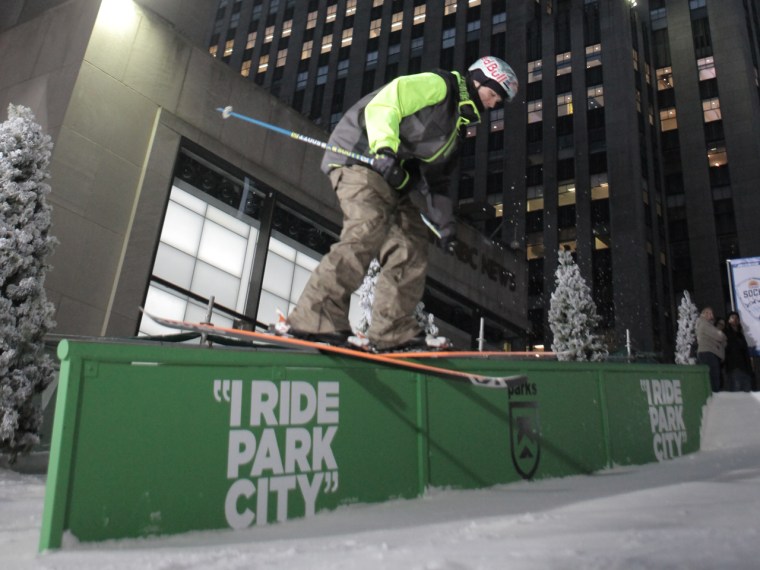 "At some point, you're just having fun and you can't really think about that,'' Wallisch said. "It's inevitable – there's just that kind of risk in anything these days."
While the athletes have learned to deal with the danger of their sport, it can be hard on their families and friends.
"Now I'm a little nervous,'' Diana Herman, Keri's mother, told TODAY.com. "I didn't used to be, but I am now. I've seen a lot of injuries. It's scary.''
While Diana is excited for her daughter becoming a slopestyle pioneer, there is relief mixed with elation after each competition. Because the sport is all about flips and tricks, it can be riskier than traditional skiing. She said her daughter suffered multiple concussions in crashes last year and also injured her back.
"There's part of me that will be really glad when this is done,'' her mother said. "But I don't push her. I enjoy watching her and seeing the success she's having.''
The growth of Winter X Games sports and increased sponsorship dollars for the athletes has resulted in a constant push for bigger air, faster speeds and more death-defying maneuvers. Pushing boundaries have become part of extreme sports.
"If you're not getting scared, you're not learning anything new, right?'' Wallisch said.
It's not just extreme sports that come with danger. U.S. bobsledder Chuck Berkeley, 36, was part of a four-man team that crashed while hurtling 95 miles per hour down the track during the 2010 Winter Olympics in Vancouver.
"My mother was at the Olympics when we went over,'' Berkeley told TODAY.com on Wednesday. "My family was there and they were concerned, but then they see you get up and walk out and it's like, 'Oh, it wasn't that bad.' But they weren't in the sled. I can tell you, it wasn't fun.''