/ Source: TODAY contributor
If you say good things come in threes, Billy Demong is not going to argue with you. In the space of just a few hours, he won a gold medal, was named the flag bearer for Team USA, and got engaged.
"It's just silly at this point," the Nordic combined star told TODAY Friday morning as he stood in the sleet in a thin, U.S. Olympic Team jacket, his hair wet and slicked down and a perpetual smile plastered on his face.
Around his neck hung two Olympic medals. One of them was gold and barely half a day old. He won that Thursday in Nordic combined, the first gold medal ever won by an American in the event that combines ski jumping with cross-country skiing. The other medal was silver, and Demong and three teammates won it Wednesday in the Nordic combined team competition — also a first for U.S. skiing.
Sharing Demong's joy was Katie Koczynski, who had been his fiancee for less time than he had been an Olympic champion. Demong had been carrying the ring with him all day Thursday; it was in the backpack he took with him when he won the gold medal.
"That thing had been wearing a hole in my backpack all day yesterday," Demong told TODAY's Meredith Vieira, Al Roker and Ann Curry as they huddled around the show's fire pit.
Ring bearer
Later, Demong told TODAYshow.com that the ring had originally been his great-aunt's. It had passed to his mother and then to him, and for the past two months he'd been carrying it with him, waiting for the right time to pop the question to Koczynski, whom he'd been dating since 2007.
After the Nordic combined team won silver on Wednesday, Demong decided he would propose Thursday, after his big individual race. As he was on his way to his historic victory, it was in the back of his mind.
"A little part of me really wanted to win to make it that much better, but I don't think it was really going through my mind too much," he said.
Demong said when it came time to propose Thursday night at the team's headquarters, he still wasn't sure. So he looked to team leader Johnny Spillane, who had won a silver in an earlier Nordic combined individual event, for advice.
"I didn't know if I should do it, but Johnny gave me the thumbs-up," Demong said.
So he got on a stage and called Katie up to join him. After 30 months of going steady, she expected a proposal — but not right there and then, and definitely not with the whole team watching.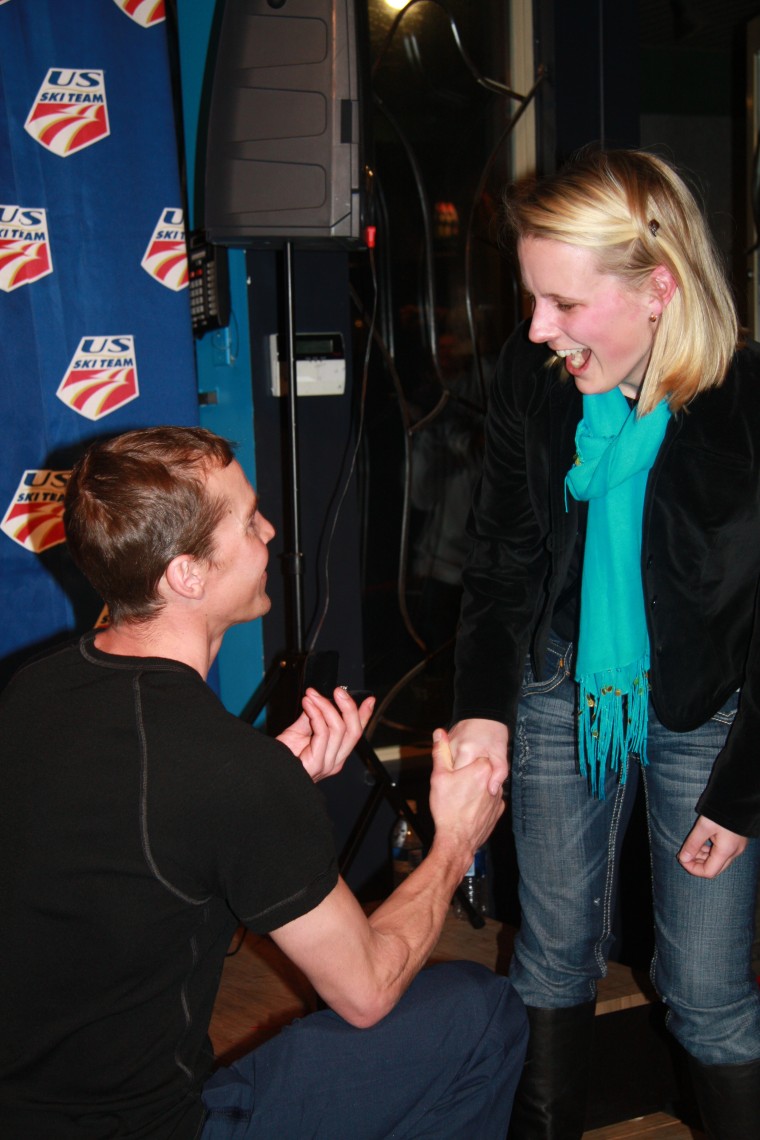 "I really had no idea what he was doing. It was out of character for him," Koczynski told TODAY. "I thought he'd be the type to leave it somewhere and have me find it. I didn't think he'd do something so public."
Once she was on stage, Demong went all old-school on her, getting down on one knee to ask for her hand in marriage. She accepted on the spot.
Flag bearer
And in the middle of the proposal process, Demong learned that the members of the entire U.S. Olympic Team had voted him the honor of carrying the nation's flag in Sunday's Closing Ceremony.
"That's almost a little bit more of an honor to me than this," he said, holding up his two medals, "in that it was chosen by my peers, by the athletes that I've grown up around in these winter sports. I'm a little nervous, but I'm pretty psyched about it."
It capped a phenomenal two weeks for Demong and the Nordic combined team, which also includes Spillane, Todd Lodwick and Brett Camerota. From the beginning of the Winter Games in 1924, the United States had never won a medal in any combined event. For most of the history of the Olympics, the team wasn't even a factor. But this year, after a long and determined developmental process, the team was ready.
Spillane struck first, taking second in the first individual event. Then on Wednesday, Demong skied the last leg of the cross-country relay to win silver in the team event. He capped it off on Thursday with the gold as Spillane took the silver behind him. In all, the team finished with four medals in three events.
"It's pretty crazy, and I think we're still trying to grasp all we've done the last couple weeks, but it started with Johnny's silver medal in the first event and we just kind of kept the momentum going," Demong said.
As for the wedding, no date has been set. But Koczynski said that with all that's happened in the past two weeks, the ceremony will be a snap to plan.
"After all of this, there's going to be no worrying about tablecloth colors and place settings," she said.