Fifty years ago this weekend, the United States won its only gold medal at the 1968 Winter Olympics in Grenoble, France.
The honor belonged to 19-year-old Peggy Fleming, who gave hope to a skating program devastated seven years earlier by a plane crash that killed the entire U.S. figure skating team.
Fleming's performance was broadcast on television live and in color for the very first time. She looked elegant and ethereal on the ice, but she felt absolutely frightened inside, she recalled on TODAY's "Where Are They Now?" series, featuring some of the nation's past Olympic stars, including fellow figure skater Kristi Yamaguchi and speed skater Dan Jansen.
"I look at the footage and I see myself stepping out on the ice, and I go, 'Gosh, I don't look nervous at all.' But inside, I was terrified," she told NBC's Anne Thompson.
Fleming admitted one of her regrets about the performance was that it wasn't one of her best.
"It wasn't and that's kind of sad for me, that it wasn't my skate of a lifetime," she said.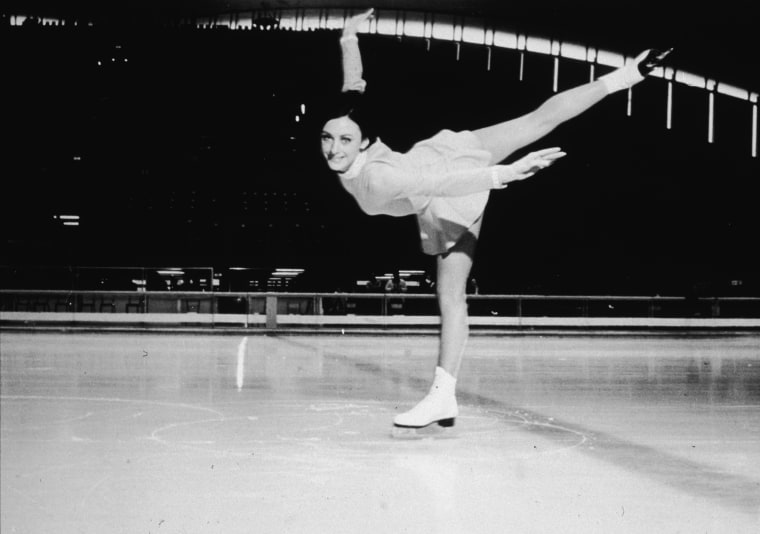 But judges and America fell in love with Fleming's artistry and the skater soared into everyone's heart. Girls wanted to be her, boys wanted to date her. Fleming transcended sports to become part of the pop culture. She soon found herself starring in a series of television specials, including one where she found herself being serenaded by Gene Kelly.
"I hadn't even babysat before and this was my first job. I went, 'Okay, whatever. I'm going to do it,'" she recalled with a laugh. "I had so much fun. I had Gene Kelly skating with me and it was like, 'Wow, this is big time.'"
Sports Illustrated named Fleming, along with Jackie Robinson, Billie Jean King, and Arnold Palmer, as one of seven athletes who changed their sport.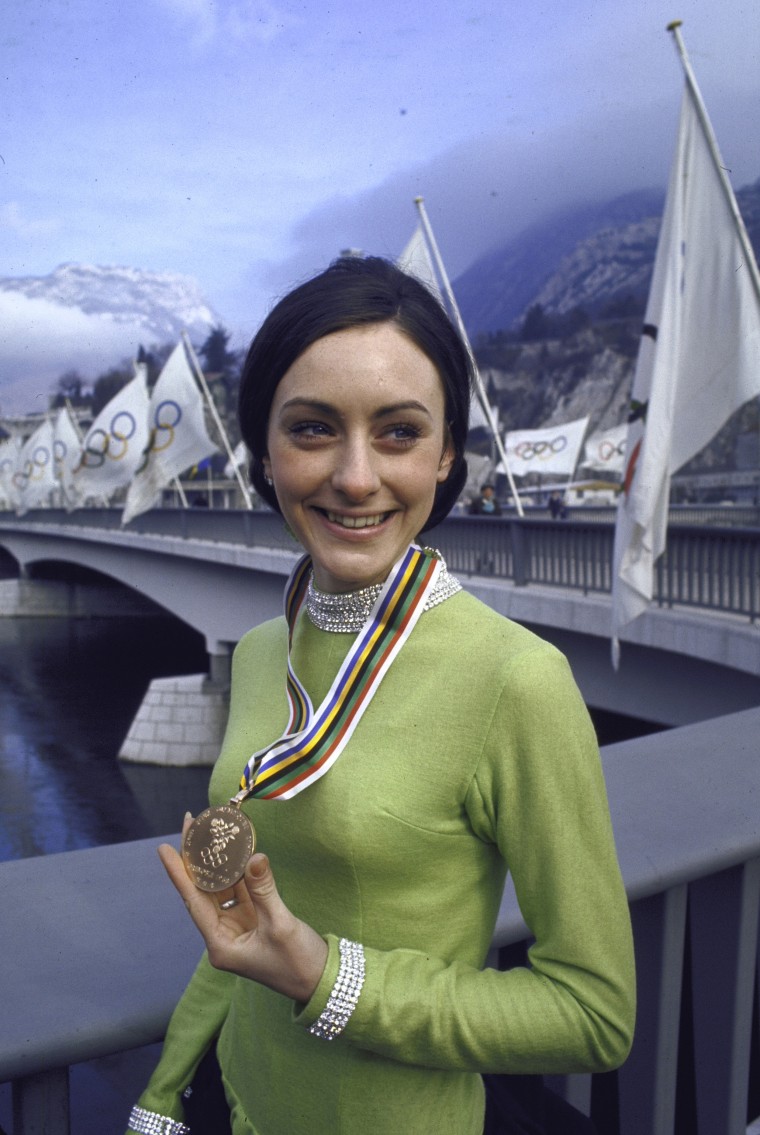 Fleming's parents had moved their family from California to Colorado to allow their daughter to train with the best. Her father, Al, drove the Zamboni machine while she skated, but died before he could see Fleming earn her gold medal. Her mother, Doris, was the person who made the famous chartreuse dress she wore during her winning performance.
"My most memorable moment, I think, at that Olympics was seeing my mother's face. She put so much into me and guided me, and made me feel strong," a tearful Fleming recalled. "And that she really saw the big picture of what I could do. She helped me be strong. And she pushed. And I needed that."
She said her mother didn't have to say a word when Fleming walked off the ice after her Olympic performance.
"I could see it. It's the happiest I've ever seen her," she said.
Fleming went on to explain toe loops and axels as a television analyst, became a product pitchman, and even survived breast cancer. By her side through it all has been her husband, Greg Jenkins, her teenage sweetheart who was her boyfriend during the 1968 Olympics.
"I remember it was really nerve-racking to watch, but I was so proud of her," he said on TODAY. "My parents had bought a color TV just so we could watch it, live via satellite. It was fantastic."
The couple recently moved to Colorado be closer to their three grandchildren.
Fifty years after she propelled figure skating into the marquee sport of the Winter Games, Fleming remains America's gold standard. This summer, men and women skaters will compete for the inaugural Peggy Fleming Trophy, emphasizing the artistry of figure skating as opposed to the jumps.