/ Source: The New York Times
As competitions go, the USA Swimming Grand Prix meet last month was decidedly low-key, another in a series of mile markers leading to the Olympic trials in June. So why, before the 100-meter backstroke final, did Matt Grevers feel as nervous as he had at the 2008 Summer Games in Beijing?
The stakes were high: not a gold medal but a gold band.
If Grevers won, he intended to propose on the awards podium to Annie Chandler, his girlfriend of four years, who trains with him here at the University of Arizona.
His timing was curious, even if it was the weekend before Valentine's Day. Grevers and Chandler are serious contenders for berths to the London Games, and the stress of chasing a dream that presents itself once every four years can be so great that coaches often encourage athletes to clear their academic schedules and social calendars in Olympic years.
"If anything, I actually thought of it as relieving the stress," Grevers said at breakfast after a recent workout, with Chandler by his side. "I've known I wanted to propose to her for a while."
Grevers's plans had been thwarted twice; first by Chandler's father, Tom, who was not quick with his blessing when Grevers, eyeing a Christmas engagement, phoned in mid-December to ask for her hand in marriage.
"He said kind of no to me at first," Grevers said. "He just said we need to talk more, he needs to understand me better."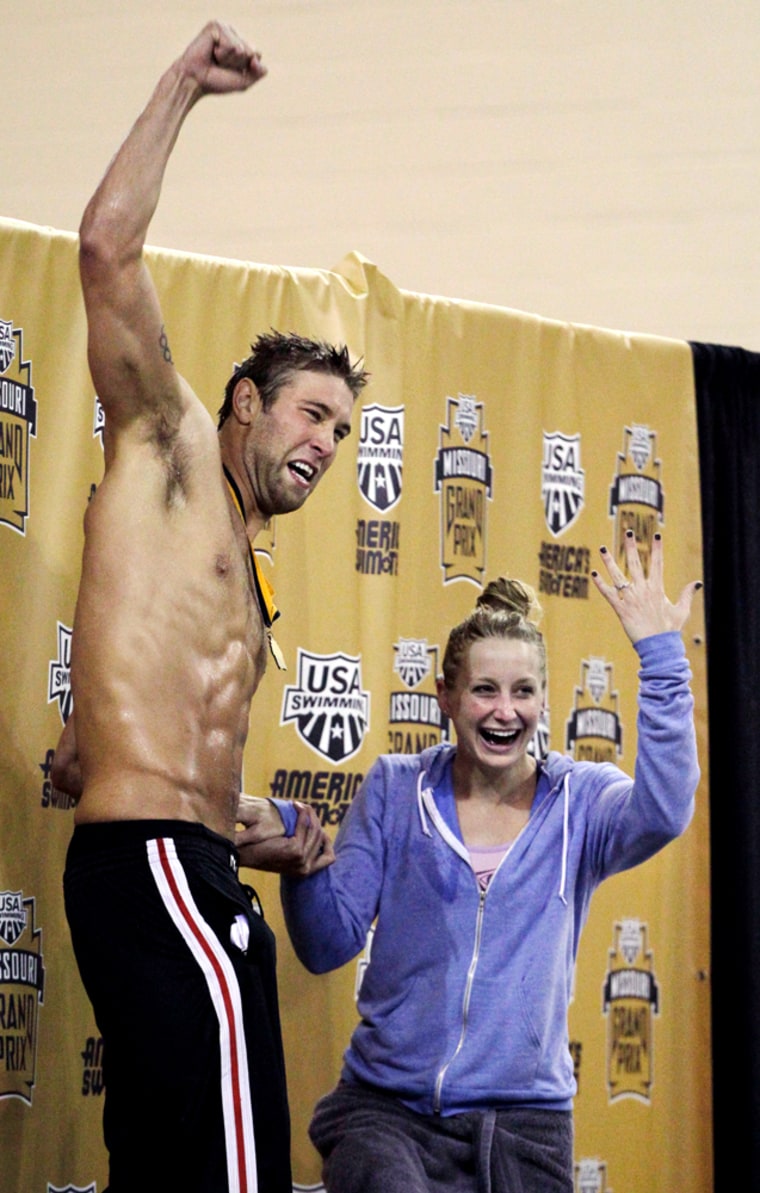 They had those conversations over the Christmas holidays, when Grevers traveled to San Antonio, Chandler's hometown, to spend time with her family. He left with her father's approval.
"He just wanted to know more about what my religious views were, my values," Grevers said. "Once he understood that part of me, he was like, 'Absolutely.' "
While brainstorming proposal possibilities with his friends, one suggested popping the question at a swim meet.
"I was like, 'That's way too public,' " Grevers said. " 'That's silly. That's a stupid idea.' I shot it down right away."
He reconsidered, thinking it would make a good story to tell his children and grandchildren. Once he settled on the idea, the Grand Prix meet at the University of Missouri seemed the logical time and place.
Grevers's older brother, Andrew, is an assistant coach there under Greg Rhodenbaugh, who used to work with Chandler at Arizona, so he could count on plenty of support in carrying out his scheme. His plan was to hand out the awards on Feb. 10 for the women's 100 breaststroke, Chandler's best event, putting a medal around her neck, then an engagement ring on her finger.
From Lindsey and Thomas Vonn to Kristi Yamaguchi and Bret Hedican, take a look at current and former Winter Olympians who carry torches for each other.
But Chandler swam poorly and finished fifth, two spots from the podium.
"I'm standing with my brother and my mom on the pool deck, and my dad's in the stands," Grevers said. "They're cheering so loud for Annie. My mom's almost like hysterically cheering, saying, 'She's got to go faster!' "
He added: "During the awards ceremony, people were set up with cameras to take pictures of the proposal. I didn't know what to do. It took me forever to give out the awards. Then I was like, 'We've got to think of a Plan B.' "
The men's 100 backstroke final was the next day, and Grevers, an Olympic silver medalist in the event in Beijing, was confident he could win. He asked the meet coordinator to have Chandler present the awards after the race, then arranged for his friend and roommate, Clark Burckle, to deliver the ring box to his mother, Anja, who would slip it into the pocket of his sweat pants.
"It was set up perfectly," Grevers said.
In the ready room, where he and the other finalists congregated before the race, Grevers became a silent wreck thinking about the race and the speech he hoped to deliver afterward.
"I'm usually very talkative in the ready room, and I just wasn't talking at all," Grevers said. "I compare the nerves to the Olympic final. I just needed the perfect race. I wanted to make sure I won so I wouldn't kind of trump the guy who won. I wanted to make sure I said everything well so the moment with Annie would be perfect. That's why I was so nervous."
Grevers won by almost two seconds. Chandler, who was warming up for a 200 breaststroke race, wrapped a towel around her waist and made her way to the podium without bothering to take off her racing cap and goggles. Someone privy to Grevers's plans persuaded her to pull off her cap and goggles and put on a jacket.
"I took my cap off and adjusted my high bun," Chandler said. "As much as you can do to spruce up in a few seconds at a swim meet."
She started to walk away after the ceremony but was coaxed back to the podium by Grevers, who said his mother wanted to take a photograph. After his mother took the picture, Grevers did not loosen his grip.
"I said, 'O.K., your mom's got her photo,' " Chandler said. "I turned around, he said, 'I love you very much.' Even at that point I didn't get it. I was like, 'I love you too, Matt.' Then I saw him slip down to one knee and saw the box in his hand, and I realized what was happening. I was shocked. I looked around and saw all the stunned faces. I think everybody kind of experienced the jaw-dropping moment I felt."
Chandler accepted his proposal, they hugged and kissed, then she swam the 200 breaststroke, finishing 19th over all.
"The hardest thing is probably right after he proposed, I had to take the ring off five minutes later to do my 200 breast," Chandler said. "I just wanted to look at it."
She added: "It was actually really great to be thinking of something other than the pain of that race. Your goal during warm-up is to get your heart rate up. Well, that moment got my heart rate up higher than anything I could have done in the pool."
The couple is waiting until after the Olympic trials to set a wedding date. The Olympics are July 27 to Aug. 12.
"Matt's ready to get married in September," Chandler said, "but I told him it takes a little longer than that if I don't start planning until after the trials."
Chandler, 24, and Grevers, 26, have heard of two swimmers from the meet who have since proposed to their girlfriends, including the Brazilian Thiago Pereira, who finished third to Grevers in the backstroke.
Who knows how many other proposals theirs has inspired? A USA Swimming video coordinator shot the proposal and posted it on YouTube, where it has been viewed more than two and a half million times.
Chandler has not watched it.
"I kind of like having it as a memory," she said, "and how it happened in my own mind."
This article, "The Perfect Proposal: A Victory and a 'Yes'," first appeared in the New York Times.