When Olympians first enter their bedrooms in the Athletes' Village, they are greeted with white walls and few frills — blank canvases that some personalize with reminders of home. 
Sure, many bring pillows or their favorite lucky charms. But some athletes revealed to TODAY.com how they went above and beyond in decorating their dorms, putting their personal stamps on Sochi.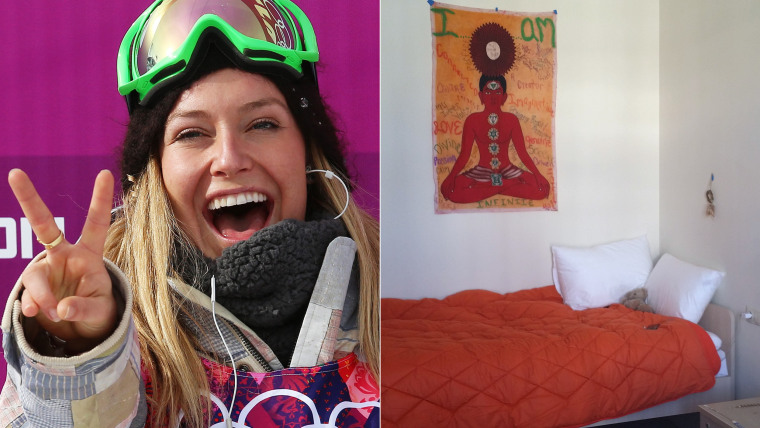 Jamie Anderson
The gold medal-winning snowboarder created a "meditation altar" with candles, tapestries and incense to help her room "feel more like home." 

"It's a little space that feels calming," she said. "It's been so chaotic here with so much going on. To be able to go back to your room and have a little Zen zone is crucial." 
Torah Bright
The Team Australia snowboarder said she was welcomed to Athletes' Village with a little boxing kangaroo and a tube of Vegemite (a food spread popular Down Under).

"All of those little Aussie things made me feel right at home," she said.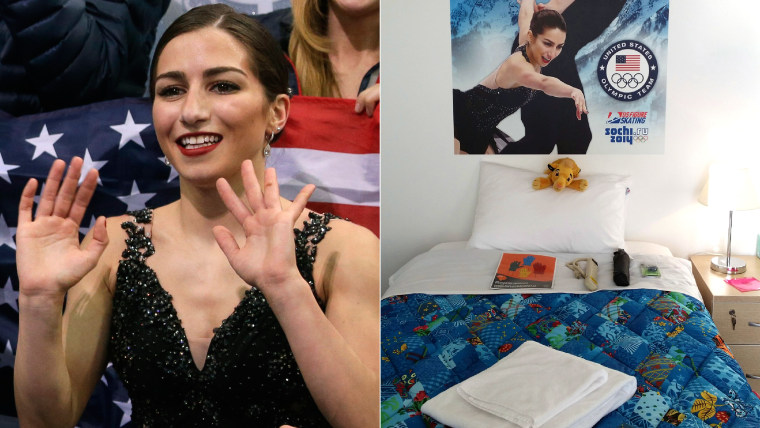 Marissa Castelli
The American skater's team surprised her by decorating her room with tokens from home, including her favorite stuffed animal (Simba from "The Lion King") and a drawing she made as a child of a horse kicking a basketball. "It was my pride and joy," Marissa joked about the drawing, which won an elementary school contest.

"I just loved having this stuff, it was so sweet," she added. "Our walls aren't bare, so it feels like we're at home." 
Julia Mancuso
The U.S. skier, who won bronze in the women's combined in Sochi, relaxes after hitting the slopes with her ukulele, playing "Somewhere Over the Rainbow" and Beatles songs. 

She explains: "It sounds like Hawaii," which is where she spends time in the off-season.
Julia even joins up with fellow skiers Jan Hudec of Canada — he plays drums — and Team USA's Laurenne Ross for impromptu jam sessions. 
"She's the bandleader, a great musician in general," Julia said of Laurenne. "She plays the guitar, and we strum along with her." 
Jeremy Abbott
Throughout the Vancouver Olympics in 2010, the figure skater tossed and turned. He told TODAY.com he didn't sleep a full night during the entire two-and-a-half weeks: "I constantly felt like I would roll off my bed."

Learning from experience, Jeremy came up with a sound strategy for Sochi: Shipping over an inflatable mattress. "I wanted to make sure I was comfortable," he said, and adds that it's worked great so far. 
The figure skating delegation also surprised Jeremy by filling his room with photos of friends and family. "It was really sweet and very amazing," he said. "A piece of my heart is here."