Shannon Miller led the U.S. gymnastics team dubbed the Magnificent Seven to gold during the 1996 Olympics. Now she hopes to help lead the effort to reform the sport and make it safe for its athletes.
Miller says she rarely interacted with Larry Nassar, the former USA Gymnastics doctor who has admitted to sexually molesting patients under the guise of medical treatment. But she is making it her mission to change gymnastics to protect its athletes from predators.
Miller says she was horrified as she listened to one gymnast after another give victim statements at Nassar's ongoing sentencing hearing.
"I am so in awe of their courage and it's their voices that I take with me and it's the outrage that I feel that I keep with me. I try to channel it into a relentless pursuit of agenda-focused change in this sport," Miller, the most decorated American Olympic gymnast, told NBC News' Kate Snow in an exclusive interview. "That's really what I want to focus on. That is my new passion."
Three of the 20 board members of USA Gymnastics recently were forced to step down amid the scandal that has rocked the sport's governing body. Miller, who was part of a search team that found a new CEO for the organization in December, said the resignations were not enough.
"It's a good start, it's something, but it is not enough. Significantly more has to happen," she said. "Not just with personnel, but I think education is something I'm incredibly passionate about, and that has to happen because that's a systemic change."
Miller said procedures needed to be completely overhauled to prevent similar stories of abuse.
"I think this is why it's so frustrating and so shocking for so many of us in the gymnastics community, is that there should've been something, somebody should have known," she said.
"It's common sense not to have a male trainer in the room alone with a female of any age. … And the rotating of trainers, making sure that the trainers don't have cell phone numbers of the minors that they are treating. That's inappropriate."
More than 150 victims have spoken at Nassar's sentencing hearing about the abuse they suffered. The 54-year-old disgraced doctor pleaded guilty to multiple criminal sexual conduct charges. He already has been sentenced to 60 years for separate child pornography charges.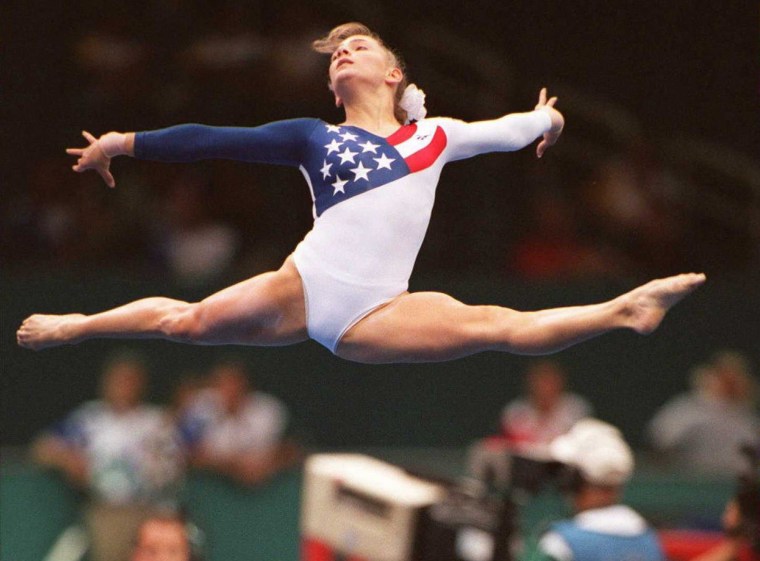 Earlier this week, Olympic gold medal gymnast Shawn Johnson East criticized USA Gymnastics, saying it "failed their athletes so terribly." She said her trust in the organization had been so shattered that "if I had a daughter right now, I wouldn't put her in it."
Miller expressed similar concerns.
"I think gymnastics is an amazing sport. It's a great sport. And that's where I want to make sure that it can be a great sport. I shouldn't worry about whether or not I should take my 4-year-old to the gym this Saturday. I shouldn't worry about the safety and security of athletes of any age, of any level, in this sport," she said.
Olympic gymnast Aly Raisman was among those who delivered a powerful statement in court last week against Nassar. She and several of her Olympic teammates from the 2012 and 2016 gold medal-winning teams, including Simone Biles, Gabby Douglas and McKayla Maroney, have also come forward with stories of abuse by Nassar.
In court Tuesday, former U.S. national champion gymnast Mattie Larson tearfully described how she deliberately injured her head to avoid being sent to a training camp with Nassar, who repeatedly abused her.
"It makes me so sad to think about how desperate I was at that time, feeling as if that was the only way I could ensure not having to go to camp," she said during the hearing.