We all deserve treats on our birthday, but the gifts keep coming for Carol Richardson, who started her birthday weekend with a broken down wheelchair and ended it with a pair of new friends.
The day before turning 75, Richardson decided to head to Wal-Mart.
"I just felt like I needed a birthday cake, so I just took myself and my power chair and my debit card and I decided to go down there and get me a birthday cake," she told TODAY.com.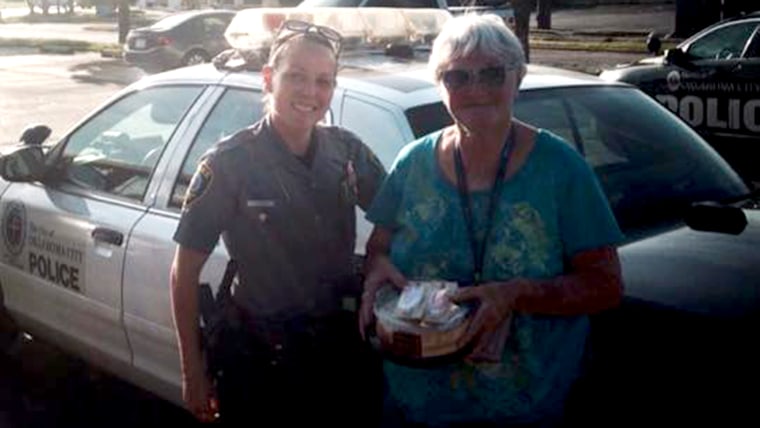 But her motorized chair stalled along the way. That left Richardson, who uses the wheelchair because of damaged knees, stranded. The temperatures were nearing 100 and she had no cell phone. Someone driving by called 911, requesting help for a woman she saw crying into her lap.
Oklahoma City Police Officer Travis Vernier arrived first on the scene.
RELATED: Baby copies police officer dad at his swearing-in
"She looked up at me and said, 'Officer. I'm having a really bad day. I could use a hug,'" he recalled. "I said, 'Sure,' so I gave her a hug, and I asked her what was going on."
Vernier's partner, Amy Hanson, then drove up and the two decided to load up Richardson's broken wheelchair into one of their cars and drive to the woman's home to drop it off. All three then headed to Wal-Mart, where Hanson and Vernier bought Richardson a cake — a cheesecake, her favorite — and some candles.
"I was very surprised. I've been very shocked by it all," Richardson said. "I didn't know there were still good people around but I'm glad there is."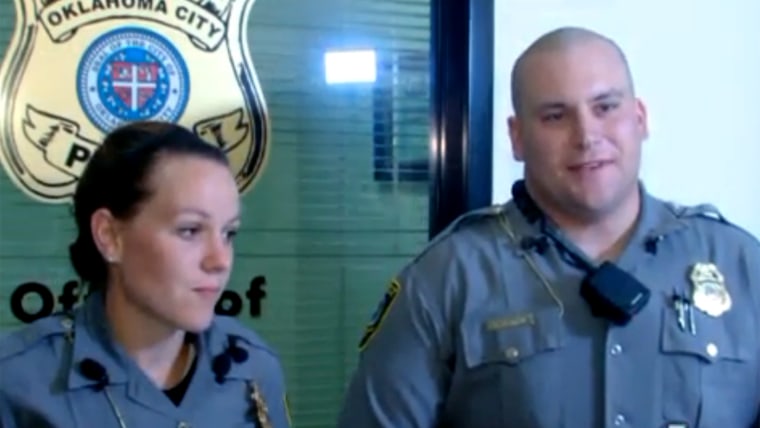 The Oklahoma City Police Department posted details about Richardson's story on its Facebook page on Sunday. The story has since racked up more than a million views and 1,500 comments, including many from people who wanted to help Richardson or send her a birthday card, said Sgt. Jennifer Wardlow, a public information officer with the department.
All of the cards and gifts that have been dropped off will be delivered to Richardson in the near future, Wardlow said.
RELATED: Photo of police officer feeding baby goes viral
Richardson eventually celebrated her birthday with her stepson on the Saturday she got her cake. She also was serenaded by members of her church the next morning.
She said she's felt slightly uncomfortably by all the attention she has received this week from local media, but has been grateful for the moral support resulting from it, especially from the staff at the motel where she has lived for the past month while awaiting word on getting into an assisted-living home.
"I'm a little embarrassed by all this, at the same time I'm rather happy that people want to encourage me and help me in life. I appreciate it," she said.
Vernier said he understands why the story has struck such an emotional chord with the community.
"I know that if that had been my grandmother and an officer had shown up, I would have wanted them to respond in a similar fashion," he said.
Vernier said he's also pleased to see police officers getting such positive attention after seeing so many negative stories about them recently.
"These kinds of things happen on a pretty frequent basis. It's just that they don't always go viral on the Internet," he said. "Police work is more than just putting bad guys in jail. Protecting our community is important, but having the heart of a servant is, I think, the true mark of a police officer."
Follow TODAY.com writer Eun Kyung Kim on Twitter.