The caregiver of Athena Brownfield, a 4-year-old girl who has been missing for over a week, allegedly beat the the child to death on Christmas Day, buried her body and placed a branch over her burial site, court documents said.
Ivon Adams, one of the girl's caregivers, was arrested two days after the girl disappeared, and has been charged with one count of murder and one count of child neglect. His wife, Alysia Adams, was also charged with two counts of child neglect.
Alysia Adams, a relative of Athena's and her other caregiver, told investigators on Jan. 12 that her husband beat the girl and "held her up by her arms" around midnight on Dec. 25 at their home in Cyril, Oklahoma, according to an arrest affidavit.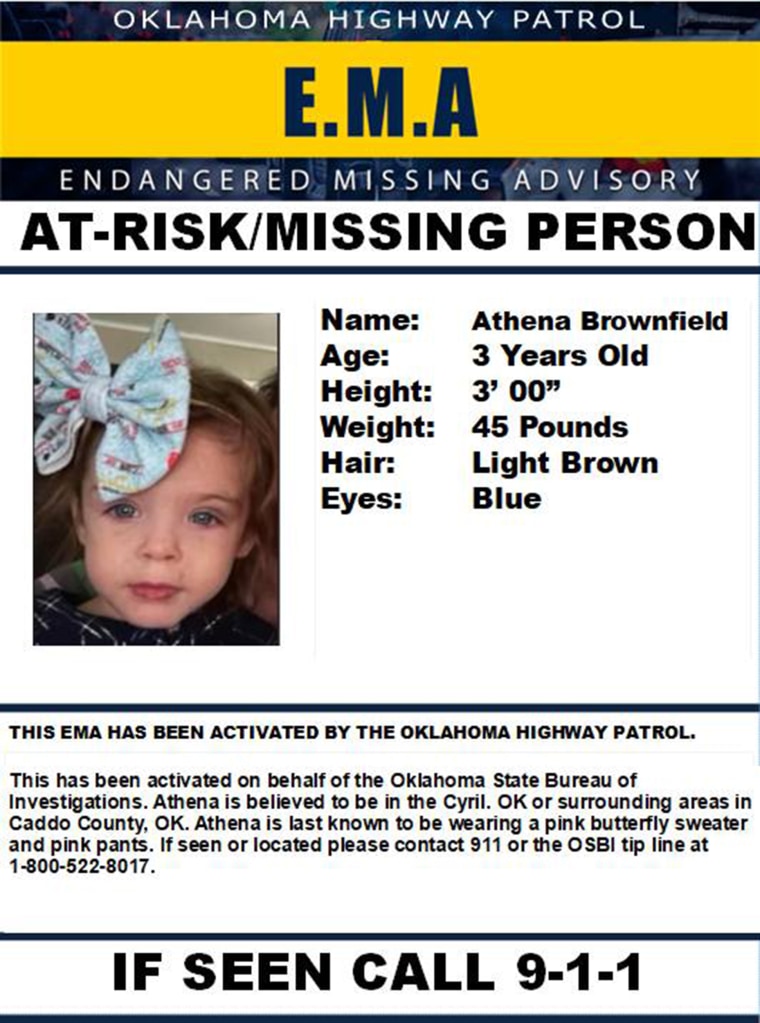 The child "was not moving and her eyes were barely open," the affidavit stated. "He then laid her on the ground and punched her at least three more times in the chest," Alysia Adams said, according to the affidavit.
Athena "did not move after that," according to the affidavit.
Ivon Adams took Athena's body to the couple's old residence about 20 miles away in Rush Springs, Oklahoma, around 1 a.m. on Dec. 26, the affidavit said.
"When he arrived back, he told Alysia that he buried her near a fence line that was next to their old residence in Rush Springs," the affidavit said. "He informed her he placed a large broken branch over the rural site."
Phone records showed Ivon Adams' cell phone traveling to from Cyril to Rush Springs between 4:15 a.m. and 5:30 a.m., according to court documents.
Ivon Adams was arrested on Jan. 12 in Phoenix, and is awaiting extradition to Oklahoma. It is unclear if he has an attorney that can speak on his behalf.
Alysia Adams is being held in an Oklahoma county jail on $500,000 bond, NBC News reported. Her attorney did not immediately respond to a request for comment from NBC News.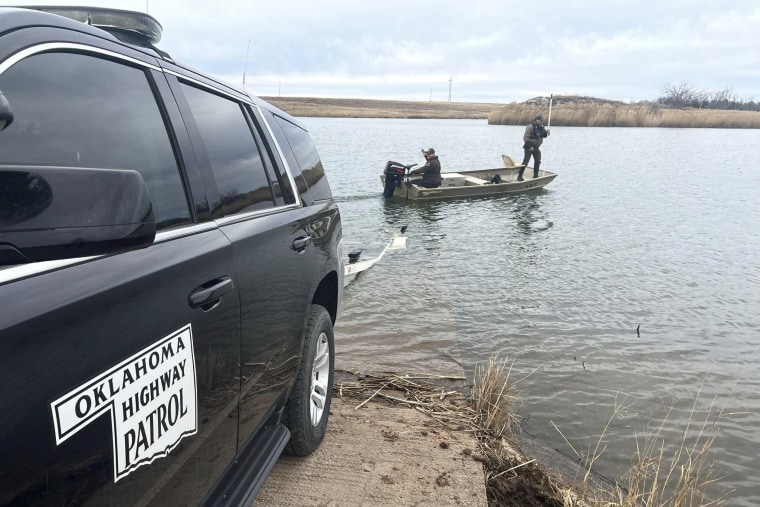 Officials searched for Athena for several days after a postal worker found her sister wandering alone outside of their caregivers' home on Jan. 10.
The Oklahoma State Bureau of Investigation said on Jan. 16 the search had turned into a "recovery operation" to find the the girl's remains.
The OSBI announced it had discovered the remains of a child outside of Rush Springs in Grady County on Jan. 17, but did not confirm if they belonged to Athena.
"The remains will be transported to the medical examiner's office in Oklahoma City for positive identification," the OSBI said in a statement.
Athena's biological mother left Athena and her 5-year-old sister in the Adams' care for the past year-and-a-half to two years, court documents said. But in that time, the couple never took the girls to doctor's appointments or enrolled Athena's sister in school, according to the affidavit.
The OSBI previously said the girls' biological parents are cooperating with the investigation. Athena's sister has been taken into protective custody, according to the OSBI.