When Oklahoma high school football player Christian Osterhout lost his father to ALS during his freshman year, he found support from his head coach, Chris Roberts.
Roberts invited the player to eat lunch with his family once a week. Weekly lunches soon evolved into Osterhout becoming a regular at the Roberts house. "Football is more than a game,'' Osterhout told NBC Sports' Josh Elliott on TODAY. "In my case, we even became family."
Through all the lunches and dinners at coach Roberts' home, Osterhout's mother was battling cancer. "My mom was also getting very, very sick, and I was like, 'Look, coach, I don't know what's gonna happen with my mom, but if something does happen, can I live here with you?''' Osterhout said. 
Roberts and his wife, Sarah, then spoke with Osterhout's mother about the arrangement, ultimately resulting in them becoming his legal guardians.   
"She shared with us her hopes and her dreams for her son,'' Sarah told Elliott.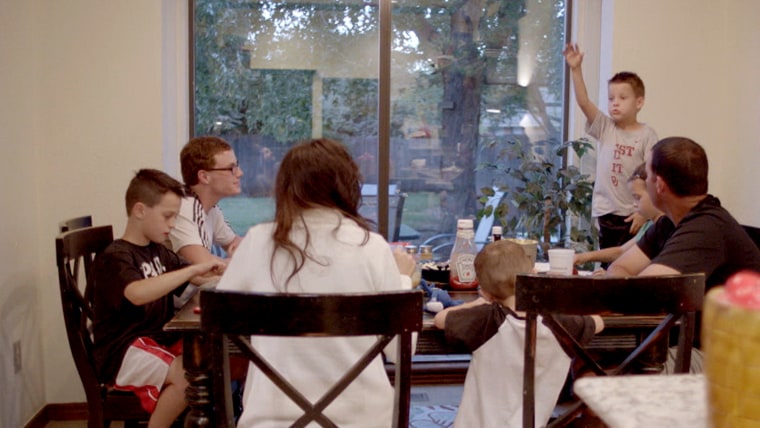 Three years after losing his father, Osterhout, now a senior at Crossings Christian School in Oklahoma City, mourned the loss of his remaining parent when his mother lost her battle with cancer on Sept. 3. As promised, Chris and Sarah officially took Osterhout into their home. 
A tradition before home games at Crossings Christian School is that one player's father reads a letter to his son in front of the team. This season, Roberts read a letter to Osterhout:

"Who would ever have thought, when we started this program, that you'd be sitting here as a senior, living in my house,'' Roberts said in front of the team. "In that time, I've learned more from you, and how you have handled your struggles, than I could have ever taught you. Many people tell Sarah and I what a blessing my family and I have been for you. I know they mean well, but they've all got it wrong. The true blessing is what you've been to me and our family. I consider you one of my sons. I'm proud of you and I love you."
Osterhout said Roberts' letter was, "an amazing moment that I wish I could share with my dad, but having coach Roberts, it's a close second."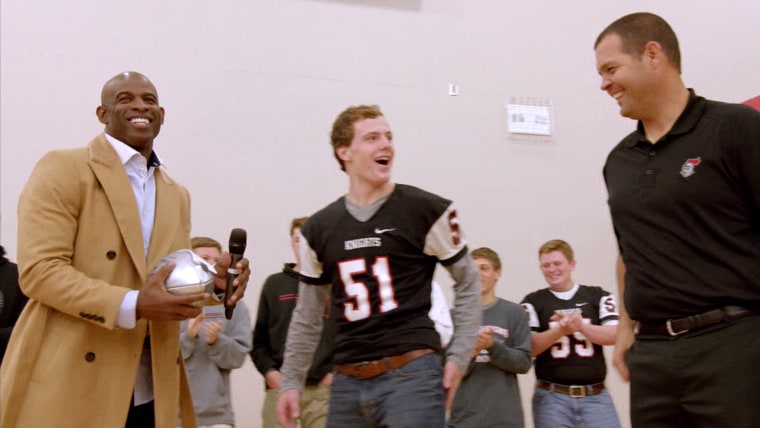 Osterhout's inspiring journey and the generosity of the Roberts family has made Osterhout one of six finalists in NBC's "Together We Make Football'' series, which, in conjunction with the NFL, online voting will determine a winner who gets a trip to the Super Bowl in Arizona in February. 
As one of the finalists in the "Together We Make Football" contest, Osterhout received a special visit from NFL Hall of Famer and NFL Network analyst Deion Sanders during a school pep rally on Nov. 14. Sanders said that he relates to Roberts' taking Osterhout in. Sanders has five children of his own, and also has welcomed relatives and other children in need into his home and helped raise them. 
"Your story, it inspires me,'' Sanders said during his appearance. "It encourages me. You don't understand how much I identify with this story."
Follow TODAY.com writer Scott Stump on Twitter and Google+.