It's all hands on deck right now for the brave rescue teams working to manage the devastation in Houston, Texas. On Monday, Corporal Reed Clark, a supervisor of community public relations for the Harris County Precinct 2 Constable's Office, was assigned to a high-water rescue team for children with urgent medical needs.
Clark and his partner were headed to find a child with asthma, but were forced to abandon their Chevrolet Tahoe due to the severe flooding. After spotting two jet skis on a local citizen's trailer, the officers asked to borrow them, and took off into the flooded streets of the Hunterwood subdivision in northeast Houston.
"The water was so high that we couldn't see the street signs," Cpl. Clark told TODAY. "I only knew to turn onto the street because I saw a light pole ... the current was picking up very fast, like rapids almost."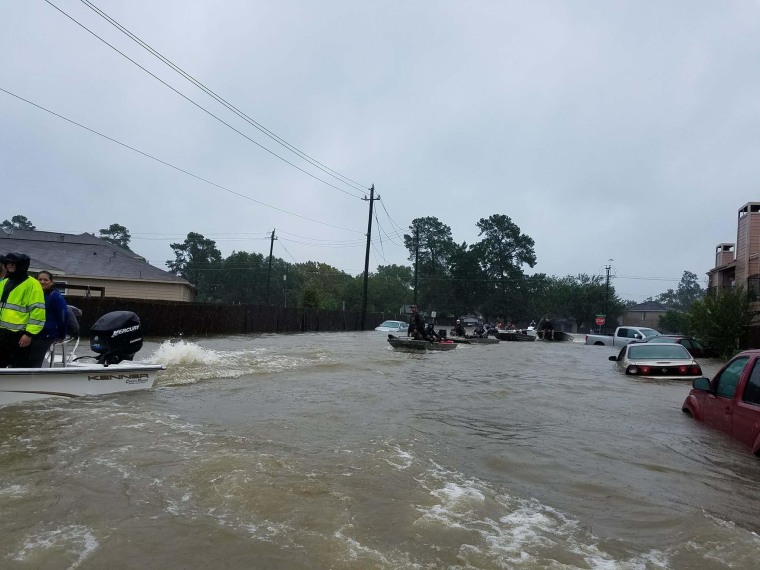 After successfully retrieving the asthmatic child, the officers began making the rounds, looking for children to bring to a truck and a boat where they could receive care. It was then that Cpl. Clark spotted a group of 15 people holding duffel bags and boxes above their heads in water that had risen to their necks.
"They were screaming, 'Baby! Baby!'" he recalled. "I saw debris floating by, and I thought the baby was in the water ... they saw me looking and pointed back to a woman holding what looked like a blanket."
It was Dajauh Zhane Henix — and that blanket held her baby, Paige. "I turned around to come back, and the water went over her head," Cpl. Clark recalled. "She held the baby above the water ... I grabbed the baby and told her to (meet me at the designated rescue area)."
Cpl. Clark and his partner continued their work, bringing children to safety and telling parents where they could walk down and join them. After a couple of hours, he received word that the baby still hadn't been claimed.
At that point, Cpl. Clark shifted his efforts to tracking down Henix. He posted a photo to the precinct's Facebook page, where it was spotted by a friend who saw that Henix had shared her own photo from a local shelter. Through social media, the two were reunited.
While Cpl. Clark and Henix haven't yet been able to speak in light of the ongoing rescue efforts, they've communicated via Facebook, and he hopes to take Henix out to dinner once things calm down.
"She's a true hero," said Cpl. Clark. "She never said, 'help me' — she said, 'get my baby out of here.'" (And we can all agree that he's a hero as well.)
TODAY reached out to Henix, but had not heard back at publish time.
"Even though we're in a sad situation, it's heartwarming to see how not only Texans and people in our community, but people from all over are helping and coming together," said Cpl. Clark. "This is what being an American is all about."
Cpl. Clark also hopes to highlight some immediate needs for Harvey's youngest victims: baby formula, baby blankets, and jarred baby food. He recommends getting in touch with any Houston churches or shelters, or even reaching out to the station itself to learn where to send donations.
Here are a few places to submit goods and donations right now.