If 9-year-old Quvenzhane Wallis wins an Oscar for "Beasts of the Southern Wild," she'll be the youngest performer ever to capture an adult version of Hollywood's most coveted prize. Unfortunately for Wallis, her chances of taking home the gold-plated statuette for best actress are slim, and if history is a predictor, being bestowed with an Oscar at such a young age won't do much for her career anyway.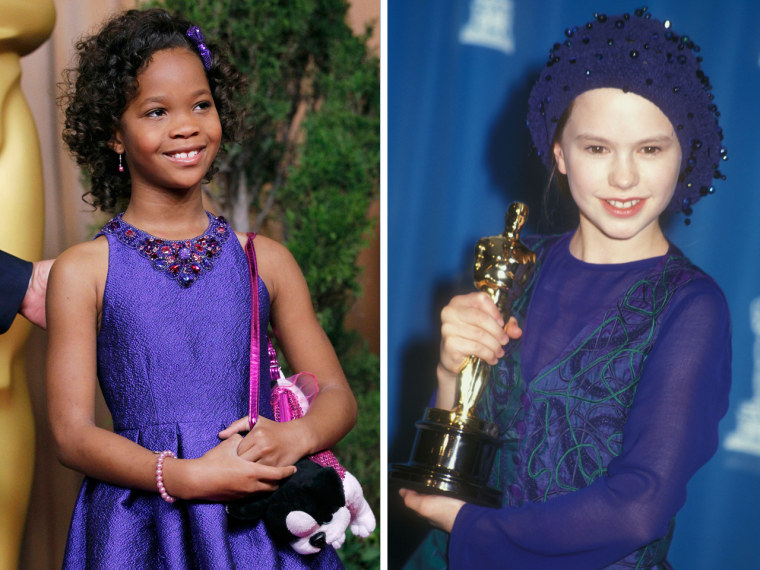 Wallis, who was only 6 when she made "Beasts of the Southern Wild,"' is the 22nd actor or actress to get an Oscar nomination before turning 18. Only three have won, however, and all for supporting roles: Tatum O'Neal, Anna Paquin and Patty Duke.  That's not counting the honorary juvenile award first given to 6-year-old Shirley Temple in 1935 and last handed out to 14-year-old Hayley Mills in 1961.
The youngest winner was O'Neal, just 10 when she was honored for her precocious performance as the sidekick of a Depression-era con man (played by her father Ryan) in 1973's "Paper Moon." She went on to star in "The Bad News Bears" and "International Velvet," but drug problems -- the result, according to her autobiography "A Paper Life," of growing up with an alcoholic mother and abusive father living in Hollywood's fast lane -- derailed her career and marriage to tennis great John McEnroe.
Paquin, who was 11 when she won for 1993's "The Piano," is the anomaly. She stars in HBO's "True Blood," had a recurring role in the "X-Men" series and has scored great film roles in "Almost Famous" and "The Squid and the Whale."
Duke's career trajectory was much different. Winning the the supporting-actress award for playing Helen Keller in "The Miracle Worker" (1962) when she was 16 did not "open any doors for me," she told TODAY.com.
Sure, she parlayed her Oscar into a TV series, "The Patty Duke Show," but her feature-film career fizzled as an adult and she mostly appeared in made-for-TV movies."It's a kick when people refer to me as an Oscar winner," she said. "But part of me says, 'Hey, I'm 66 years old. When are you going to give me another part for which I could be nominated?' "
While Wallis is the youngest best actress nominee, she's not the youngest nominee ever -- that goes to Justin Henry, only 8 when he played the child of divorcing parents in "Kramer vs. Kramer'' (1979).  He's never given up acting, but he hasn't achieved the same kind of recognition again, and now works as a sales director for an Internet ad company.
" 'Kramer vs. Kramer' spoiled me," he told TODAY.com. "When you have such a magical experience with your first movie, it's hard to match after that."
Haley Joel Osment, who was 11 when he was nominated as the boy who sees dead people in "The Sixth Sense" (1999), later starred in Steven Spielberg's "A.I." and recently finished filming the sci-fi thriller "I'll Follow You Down.'' But like many young Oscar nominees, he's had a hard time duplicating his early success.
"When you're young, it seems like a blur," Osment said. "You don't realize what a unique situation you're in."
The list of young Oscar nominees includes one-hit wonders (Mary Badham of "To Kill a Mockingbird" and Quinn Cummings of "The Goodbye Girl"); actors who who died prematurely (Sal Mineo of "Rebel Without a Cause" and Brandon deWilde of "Shane"); and casualties of drug or alcohol abuse (Jack Wild of "Oliver!" and Linda Blair of "The Exorcist").
Is there a reluctance to give Oscars to very young actors? Do Academy voters prefer to vote for veterans who may not get another chance for glory?
"I do think voters are partial to people who have paid their dues, which works against young actors who don't yet have long histories,'' Robert Osborne, a host for Turner Classic Movies and author of many books about the Oscars, told TODAY.com. "The demands put on an adult and a child are entirely different, and it's foolish to try to compare them," he said.
Jodie Foster and Abigail Breslin are among the exceptions, child actors who continued to have steady, successful careers after losing their first bids for Oscars.
Foster was 14 when she was nominated for her supporting role as a child prostitute in "Taxi Driver" (1976). Though she lost to Beatrice Straight ("Network"), Foster went on to win best-actress Oscars for "The Accused" (1988) and "The Silence of the Lambs" (1991), and recently received a lifetime achievement award at the Golden Globes.
Breslin, a best supporting-actress nominee for "Little Miss Sunshine" (2006) at age 10, filmed five movies last year, including an adaptation of the Pulitzer Prize-winning play "August: Osage County." Breslin said her parents made sure celebrity didn't go to her head.
"I still had to come home, take out the trash and feed the dogs," she told TODAY.com in an interview from her New York home, where she still lives with her mom and dad.
So what does the experience of past juvenile nominees mean for Wallis? Would an Oscar victory be a good or bad omen? Would losing actually be better than winning?
Regardless of what happens at the Oscars on Feb. 24, history indicates that Wallis faces an uphill battle to achieve adult stardom. But as Foster and Paquin prove, it can be done.
"Winning an Oscar when you're young is wonderful,'' Duke said, "but it's what you do with the rest of your life that really matters.''
Related content: