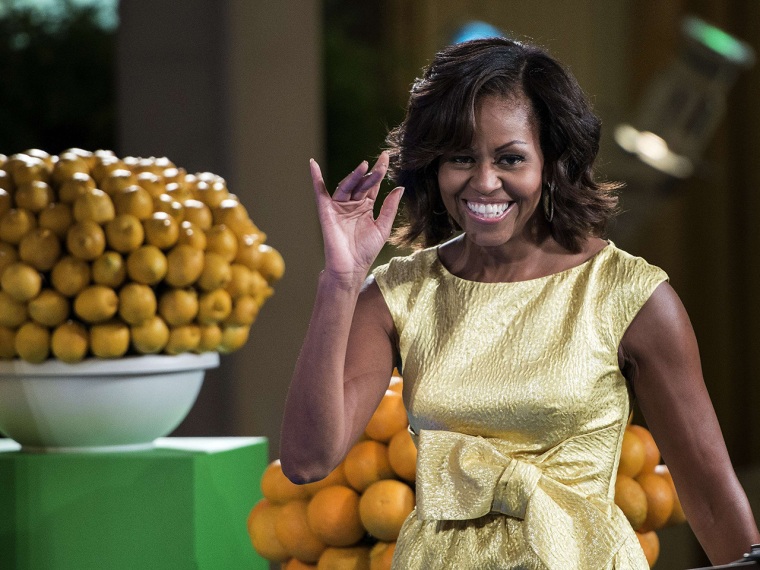 The White House hosted a "state dinner" on Tuesday for 54 junior chefs whose culinary creations earned them a spot as a guest of honor at the executive mansion.
First lady Michelle Obama hosted the gathering, which was actually a luncheon featuring winning dishes submitted for the Healthy Lunchtime Challenge.
More than 1,300 entries were submitted in the contest.
"The odds were pretty tough getting one of these seats at this table. So you should be very proud of yourselves," the first lady told her guests. "We have seen that when kids like all of you get involved in creating your own healthy meals, the results can really be amazing and delicious and fun. You'll come up with ideas that none of us grownups ever thought of."
Winning creations included salmon fried rice, from 10-year-old Audrey Russell of Oregon, and hidden veggie lasagna from Owen Kerkvliet. The 9-year-old from South Dakota said he and his mom came up with the dish based on his aversion to vegetables he can see on his plate.
All of the items will be featured in a cookbook released by Epicurious.com, whose editor in chief, Tanya Steel, came up with the idea for the challenge and pitched it to the White House.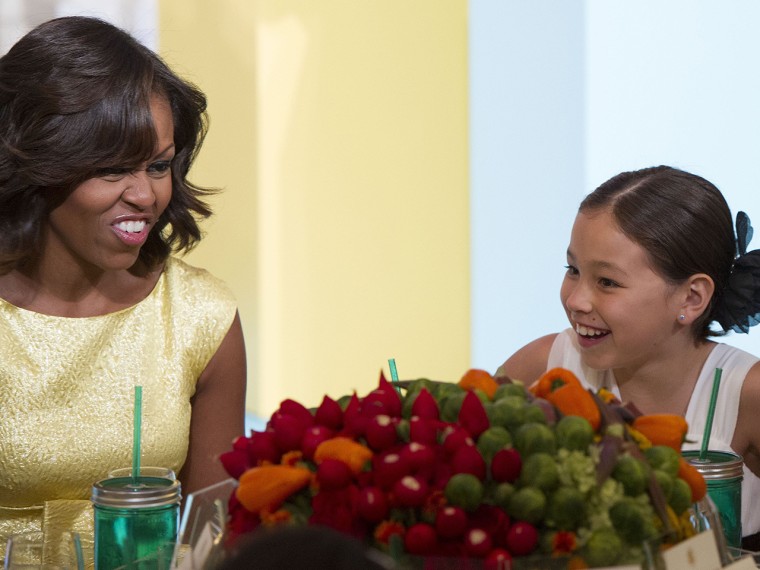 The cooking and recipe website hosted the event along with the first lady's Let's Move! initiative to battle childhood obesity and support healthy eating. The Departments of Education and Agriculture also sponsored the event.

Junior chefs ages eight to 12, one from each state, the District of Columbia and three U.S. territories, were provided a gourmet meal in the East Room of the White House. President Obama also paid guests a visit while they dined.
"Usually at a state dinner, I get invited, so I don't know what happened on this one. Somehow the invitation slipped through somewhere," he said, evoking laughter.
The president noted that the first lady had given everyone permission to eat with their hands, since the menu included spring rolls, lettuce cups and mini pizzas.
"Michelle never said to me I can just pick up something with my fingers at a state dinner, so that's not fair," he said.

Obama also mentioned how he now likes eating vegetables "because they're prepared right," and even went as far as claiming that broccoli was his favorite food when asked later by a kid journalist, according to a White House pool report. The response sparked a flurry of tweets about "broccoli" on Twitter.
The students who attended were then given a tour of the first lady's vegetable garden after their meal.

Two of the winning recipes from Epicurious' 2013 Healthy Lunchtime Challenge Cookbook follow below:
Shefali's Scrumptious Spring Rolls
Shefali Singh, 12 (Massachusetts)
"My mom really loves noodles and she is always looking for different things to go with them," Shefali recalls. "So when we found the recipe for spring rolls, we decided to give it a try. They turned out better than we expected, and were very easy to make as well. The peanut sauce was also an experiment that went the right way. Now we have spring rolls with peanut sauce all the time for lunch and dinner. Sometimes we have noodles on the side, along with a glass of milk."
Makes 2 to 4 servings
Ingredients
For the spring rolls:
8 brown rice paper rounds

1 medium carrot, finely chopped

1 medium cucumber, finely diced

1/2 cup tofu, sliced into matchsticks

1 cup shredded lettuce

1 cup bean sprouts

8 to 10 fresh mint leaves

For the sauce:
1/4 cup peanut butter

1 tablespoon hot water

1 teaspoon vinegar

1 teaspoon sugar
1 teaspoon reduced-sodium soy sauce
Make the spring rolls:
Fill a pie dish with warm water. Immerse 1 rice paper round in the water until pliable, about 15 seconds, then transfer it to a cutting board. Place some carrot, cucumber, tofu, lettuce, and bean sprouts in the center of the rice paper round. The filling should amount to about 2 tablespoons. Add a mint leaf on top. Fold the bottom of the wrapper over the filling then fold both sides into the center, and roll the wrapper up tightly to form a spring roll. Transfer the spring roll to a plate and keep covered with a damp paper towel. Repeat with the remaining rice paper rounds and filling.
Make the sauce:
In a small bowl, whisk together the peanut butter, hot water, vinegar, sugar, and soy sauce. Add more hot water, if needed, to thin the sauce to the desired consistency. Serve the sauce with the spring rolls.
335 calories; 17g protein; 33g carbohydrates; 18g fat (3.5g saturated fat); 552mg sodium
Curried Chicken Salad and Taste of the Tropics Fruit Bowl

Eleanor Cowell, 8 (Hawaii)
"I had lunch with my mom at California Pizza Kitchen, and we ordered a Moroccan Chicken Salad. I loved the curry-spiced chicken and the fresh, crisp greens. Later that night I was inspired to create this recipe," says Eleanor. "I wanted to include lots of fruits and veggies, too, because they're good for you, and sometimes sweeter than candy. Accompany your meal with raita, organic salad greens, or crudités, and Taste of the Tropics Fruit Bowl."
Makes 6 servings
For the curried chicken salad:
2 tablespoons ground coriander

2 teaspoons ground cumin

2 teaspoons ground turmeric

1 teaspoon paprika

1/2 teaspoon ground cinnamon

1/2 teaspoon ground ginger

2 tablespoons canola oil

1/2 cup plain Greek-style yogurt

1/4 cup light mayonnaise

1 tablespoon water

2 cups diced cooked chicken

1 1/2 cup cooked quinoa

1 red bell pepper, seeded and diced

1/2 cup raisins

1/2 cup toasted slivered almonds

2 scallions, chopped

1/4 teaspoon salt

6 butter lettuce leaves

Garnish: 42 baby carrots; 30 grape tomatoes, cut in half

For the Taste of the Tropics fruit bowl:
3 apricots, pitted and diced

3 bananas, peeled and sliced

6 large strawberries, trimmed and cut into quarters

6 tablespoons vanilla or plain Greek-style yogurt

4 1/2 tablespoons shredded unsweetened coconut

Make the curried chicken salad:
In a small sauté pan over low heat, toast the coriander, cumin, turmeric, paprika, cinnamon, and ginger, stirring frequently, until fragrant. Add the canola oil and stir to create a paste. Remove the pan from the heat and let the spice paste cool.
In a large bowl, stir together the spice paste, yogurt, mayonnaise, and water. Add the cooked chicken, cooked quinoa, red bell pepper, raisins, almonds, and scallions and stir to combine. Season with salt.
To serve, scoop the chicken salad into lettuce leaves. Each person should have one curried chicken lettuce cup. Garnish each plate with 7 baby carrots and 10 grape tomato halves, shaped into 2 (5-petaled) flowers.
Make the Taste of the Tropics fruit bowl:
In a medium bowl, stir together the apricots, bananas, and strawberries. Scoop the fruit salad into small bowls and top each with 1 tablespoon yogurt. Garnish with shredded coconut and serve with the curried chicken salad.
522 calories; 27g protein; 68g carbohydrates; 19g fat (3.8g saturated fat); 297mg sodium (includes both salad and fruit bowl)