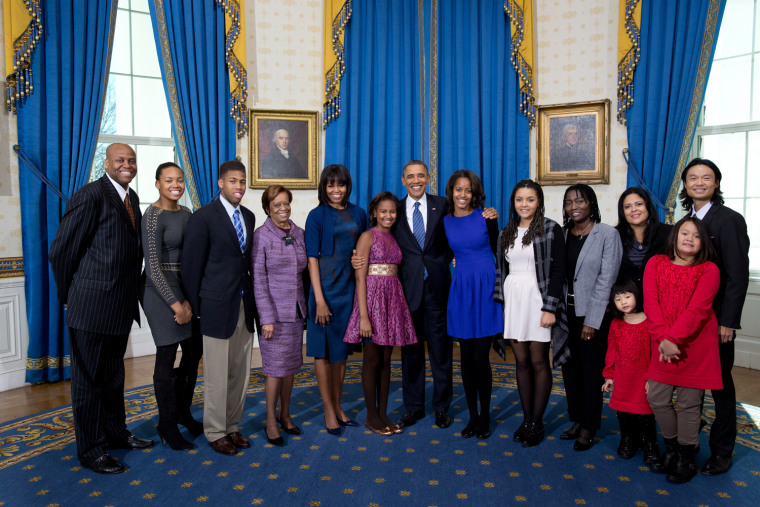 The White House has released new behind-the-scenes photos of the inauguration, including one that captures a rare public gathering of the president's extended family, including his Kenyan half-sister.
The picture was taken in the White House Blue Room on Jan. 20, the day the president was formally sworn in for his second term. The nation witnessed a public, ceremonial swearing-in the following morning on the steps of Capitol Hill.
In the photo, President Obama and the first lady are joined by their children, their siblings, and nieces and nephews.
President Obama stands in the center of the picture, with his arms around daughters Malia and Sasha. To his right is Michelle Obama, who stands beside her mother, Marian Robinson, and the two children of the first lady's older brother, Craig Robinson, who bookends the left side of the photo.
To the left of the president, next to Malia, stands Akinyi Manners with her mother, Auma Obama, the president's paternal half-sister. On her left is Obama's maternal half-sister, Maya Soetoro-Ng, with her husband, Konrad Ng, and their two young daughters.
Marian Robinson lives with the First Family in the White House. Her son, Craig, coaches the men's basketball team at Oregon State University.
Maya Soetoro-Ng lives in Washington, where her husband is director of the Smithsonian's Asian Pacific American Center.
More:
Love is in the air: Obamas get smoochy on Inauguration Day
Michelle Obama goes sparkling, sophisticated for inauguration
Obama: I'll 'put moves' on Michelle during inaugural dance
Sasha Obama yawns during dad's inaugural address, sparks Twitter love
2-for-2! Al Roker gets thumbs-up, handshake from Obama and Biden at parade