Say Cheese! (And Mac!) President Obama on Wednesday spared a pair of turkeys named after the popular side dish during an annual White House tradition in honor of Thanksgiving.

This year, Twitter voters got to choose which official bird would be pardoned — Mac or Cheese — and while Cheese got the official pardon, both birds were let off the hook.
Obama took advantage of the occasion to poke some fun at critics of his recently announced immigration policy.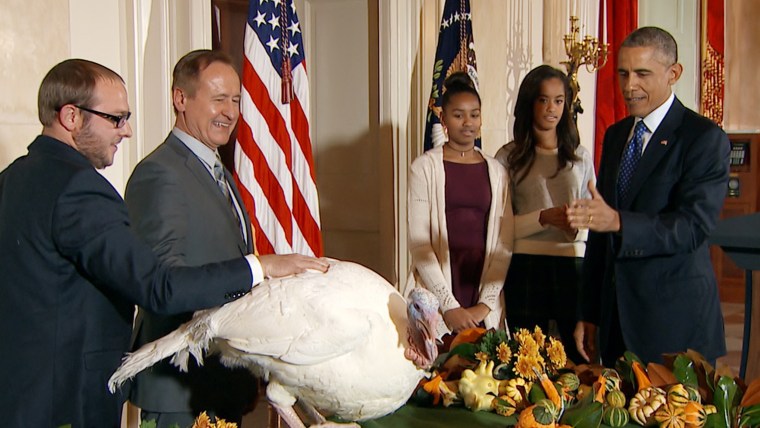 "I am here to announce what I'm sure will be the most talked-about executive action this month," he said to laughs at the ceremony, which was moved inside the White House because of rain and snow outdoors.
"Today I'm taking an action fully within my legal authority, the same kind of action taken by Democrats and Republican presidents before me to spare the lives of two turkeys, Mac and Cheese, from a terrible and delicious fate."
While Cheese may have won the Twitter vote, Mac also will spend a life free from the butcher's block: Both 20-week-old Ohio turkeys, each weighing about 48-pounds, will spend the rest of their natural lives on a 10,000-acre farm located nearby in Leesburg, Virginia.
"I know some will call this amnesty," Obama quipped.
#Mac or #Cheese? White House officials asked viewers to decide which of the two full-grown broad-breasted white domesticated turkeys should be pardoned by President Barack Obama. The President pardoned both the winner and the runner-up.
Obama turned slightly more serious when mentioning a recent Washington Post article that questioned the wisdom of why "the man who makes decisions about wars, virus outbreaks, terrorism cells and other dire matters of state" would continue such an odd tradition of pardoning a turkey.
"It is a little puzzling that I do this every year, but I will say that I enjoy it, because with all the tough stuff that rolls around in this office, it's nice once in a while just to say, 'Happy Thanksgiving,' and this is a great excuse to do it," he said. "Tomorrow is a special moment where we give thanks for people we love and where we're mindful of the incredible blessings that we have received."
He said it was also an opportunity to remember and express gratitude for the nation's servicemen serving abroad, far away from their loved ones.
"We celebrate a holiday that, at its best, is about what makes this nation great," Obama said, "and that's its generosity and it's openness."
Obama was accompanied to the ceremony by his teenage daughters, Malia and Sasha. When he asked if they wanted to touch Cheese, Malia quickly held up her hand and firmly replied, "Nah."
The presidential turkey pardon is a tradition that hearkens back to Abraham Lincoln, who wrote out a Christmastime pardon at the insistence of his son.