North Korea probably lacks the ability to deliver nuclear warheads on ballistic missiles but the United States must be prepared for "every contingency out there," President Obama said in an exclusive TODAY interview recorded just before the Boston Marathon explosions.
"Based on our current intelligence assessments we do not think that they have that capacity," Obama told Savannah Guthrie. However, North Korea's history of consistently erratic behavior has forced the Pentagon to take all necessary precautions.
"We have to make sure that we are dealing with every contingency out there. And that's why I've repositioned missile defense systems to guard against any miscalculation on their part," he said in a wide-ranging interview. The first part of the discussion aired Tuesday.
With the threat of war looming over the Korean peninsula, Obama said he predicted North Korea will continue escalating its rhetoric for a bit longer before its untested leader, Kim Jong Un, agrees to discuss potential resolution over its nuclear and missile programs.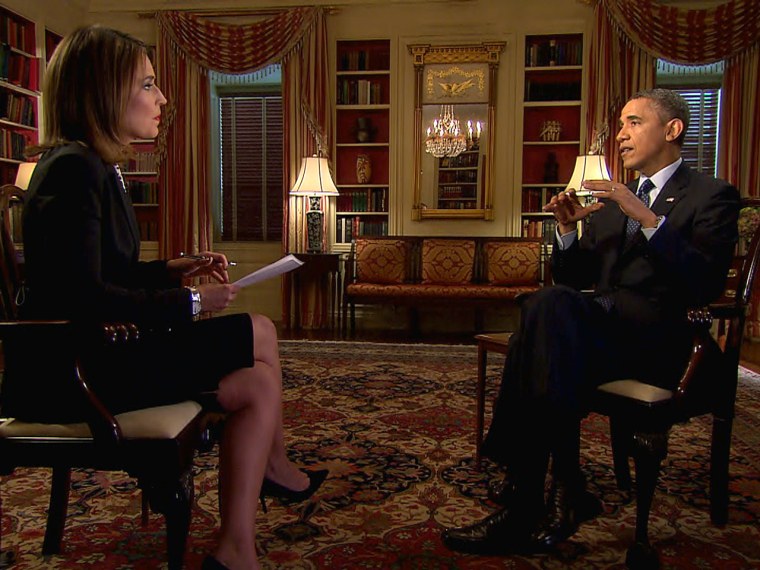 "I'm not a psychiatrist," he said when asked about Kim's mental stability. "I don't know the leader of North Korea. What I do know is, is that the actions they've taken, the rhetoric they've engaged in, has been provocative. It has been condemned across the board internationally. And it's unnecessary because what it's done is, ironically, isolated North Korea further."
He stressed that the door is open for North Korea to engage in talks with South Korea, the United States and other allies, but Obama stressed the nation must first change the "provocative behavior" Kim and his predecessors have shown.

"You don't get to bang your spoon on the table and somehow you get your way," he said.
The president spoke on a variety of other issues during his interview, including proposed legislation over gun control. Obama said he remains hopeful in his ability to pass a broad array of tough gun laws that include universal background checks, which he said has the support of 90 percent of Americans.
"The notion that Congress would defy the overwhelming instinct of the American people after what we saw happen in Newtown I think is unimaginable," he said, referring to the Dec. 14 shooting at Sandy Hook Elementary School.
Regarding his ongoing battles with congressional lawmakers over the federal budget and entitlement programs. Obama said he has offered Republicans a "realistic compromise" on a budget.
"It does not give Republicans everything they want. Frankly, it doesn't reflect everything that I would like to see," he said. "What it does is it puts forward some of the ideas that Republicans had suggested around entitlement reform that I think are reasonable policy."
Obama said the Republicans have the next move.
"What exactly is it that they want to do? I mean, when they say they want to go farther, what do they want to do? What are they putting on the table?" he said.
The second part of Guthrie's interview will air Wednesday on TODAY.