/ Source: TODAY contributor
President Barack Obama admitted that there is not enough money in the system to pay for medical coverage for the 46 million Americans who have none, and that to bridge the gap additional taxes will probably have to be levied on the nation's wealthiest citizens.
The president focused on health care reform during a wide-ranging interview with TODAY's Meredith Vieira that aired Tuesday. But he also covered subjects both trivial (his choice of jeans to wear to the All-Star Game) and deeply individual: a father's five-year international battle to regain rightful custody of his son, and an American soldier being held captive in Afghanistan by the Taliban.
Health care and politicsObama has told Congress he wants a universal health care plan before the nation's lawmakers leave town for their traditional August recess. Given the enormous complexity and cost of the proposals being floated in the corridors of power, Vieira asked why the president is so insistent on a hard deadline.
"Because if you don't set a deadline in this town, nothing happens," Obama replied. "The default in Washington is inaction and inertia. And there's a reason why we haven't had health care reform in 50 years. The deadline's not being set by me; the deadline's being set by the American people."
Some Republicans have grabbed on the President's crusade and made it a political battleground, with Sen. Jim DeMint of South Carolina going so far as to say, "If we are able to stop Obama on this, in new health care reform, it will be his Waterloo. It will break him."
When Vieira repeated that comment, Obama laughed.
"This is all about politics," he explained. "That describes exactly an attitude that we've got to overcome, because what folks have in their minds is that, somehow, this is about me. It's about politics and the ability to win back the House of Representatives. And people are thinking back to 1993 when President Clinton wasn't able to get health care, and, right after that, the House Republicans won."
The president agreed that he has a lot invested personally in achieving health care reform, but he also said that other Americans have a lot more at stake than he does.
"This is not as important to me as it is to the people who don't have health care. I've got health care," Obama told Vieira. "This isn't as important to me as the family that's gone bankrupt because they got a bunch of medical bills that they thought the insurance companies had covered that turned out they weren't covered. So, yes, absolutely, I am deeply invested in getting this thing done. But this isn't Washington sport. This isn't about who's up and who's down. This is about solving an enormous problem for the American people."
Vieira put Obama on the line about the possibility of paying for universal health care by imposing a surtax on incomes above $280,000. For the first time, the president said some such tax is a likely part of the ultimate package he promises to sign into law.
While saying, "it's one option among many," he also said, "What I've said is, and I have stuck to this claim, I don't want to see additional tax burdens on people making $250,000 a year or less … I think that ultimately, what we're going to have is a package which will probably include some additional revenue from well-to-do people, including me and you, who can afford to pay a little bit more so that working families, people who are going to their job every single day, can have a little more security on their health care."
"Isn't that, in effect, punishing the rich?" Vieira asked.
"No, it's not punishing the rich," Obama replied. "I think the way I look at it is that if I can afford to do a little bit more so that a whole bunch of families out there have a little more security, when I already have security, that's part of being a community."
Taliban captive, custody battle
Moving to other issues, the president expressed his deep concern about Pfc. Bowe Bergdahl, the American soldier from Idaho being held captive in Afghanistan by the Taliban.
"It's always heartbreaking," he said of the situation and the video of the soldier in captivity. "Our young men and women who are serving in our armed forces do such an extraordinary job, put themselves in harm's way each and every day, especially those who are deployed in Afghanistan and in Iraq," he said. "We are hopeful that it will have a good ending, and we are doing everything we can."
He also said that he continues to keep track of the efforts of New Jersey father David Goldman to regain custody of his son from a Brazilian family that claims the 9-year-old boy as their own. International law upholds Goldman's parental rights, and the case is being decided in Brazilian federal courts after pressure was applied by New Jersey congressman Chris Smith, Secretary of State Hillary Clinton, and Obama himself.
Obama said he is satisfied at the moment to let the legal process take its course. "At this point I don't have an indication from the Brazilian government that they are trying to block progress on this front. And as long as we're making swift progress to get this resolved, then we're going to keep on working those channels," he told Vieira.
Wall Street — and those jeansThe president also admitted that he, too, gets "frustrated" when he hears that investment house Goldman Sachs and other banks are again raking in record profits. While he congratulated Goldman and others for paying back their bailout funds — some with interest — Obama also called for a little humility.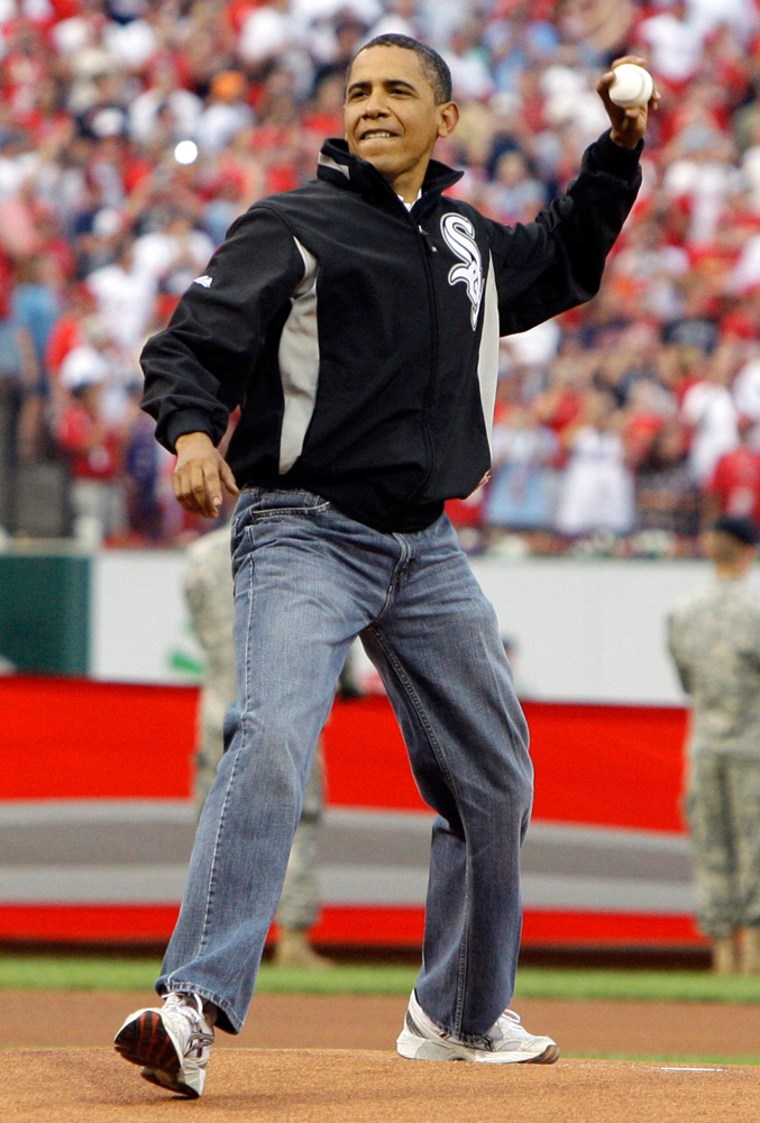 "The point is what you haven't seen, I think, is a change in culture," Obama said. "A certain humility where they kind of step back and say, 'Gosh, you know, we really messed things up and so maybe we should be more focused on the products that we are providing consumers. Let's make sure that we are operating in a more secure, safe fashion.' "
Finally, the president responded good-naturedly to criticism of the bleached and baggy "Dad jeans" or "nerd jeans" that he wore to throw out the first pitch at last week's All-Star Game in St. Louis.
"You are married to one of the most fashionable women in the world," Vieira observed. "Do you want to defend the pants?"
"Michelle, she looks fabulous," he laughed. "I am a little frumpy. Up until a few years ago, I only had four suits. She used to tease me because they would get really shiny. I hate to shop. Those jeans are comfortable, and for those of you who want your president to look great in his tight jeans, I'm sorry — I'm not the guy. It just doesn't fit me. I'm not 20."