Updated Wednesday, 3/14 at 10:20 a.m. ET: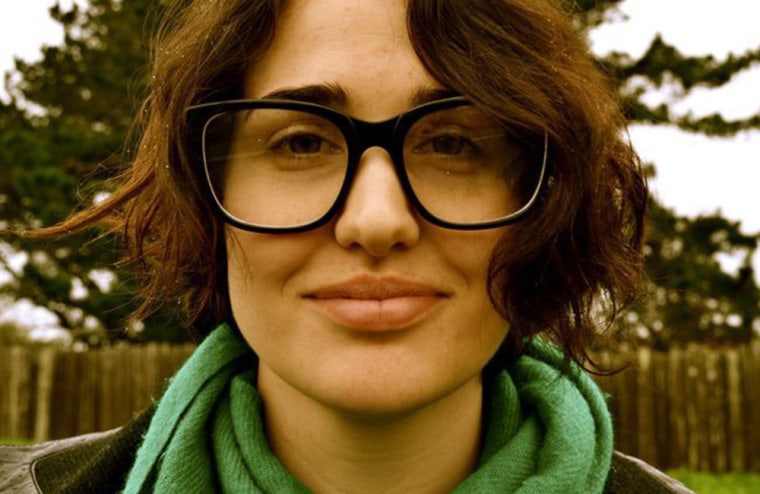 President Barack Obama released his picks for the NCAA bracket Wednesday morning, and is challenging the public to pick against him.
An avid basketball fan, this is the fourth year Obama has filled out a NCAA tournament bracket for ESPN. He picked Kentucky, Ohio State, Missouri and North Carolina to reach the Final Four. He predicts Kentucky and the Tar Heels going head to head, with North Carolina winning the national championship.
The "Obama Bracket Challenge" is bringing March Madness to his campaign with an NCAA college tournament pool on the president's campaign website. Anyone who enters is invited to donate to the campaign and "pitch in whatever you can today," though donating is not a requirement of participating.
Obama told ESPN that when he's picking his bracket he's "big on momentum, especially in a tournament like this one. Whoever is looking hotter at the end if the year, those are teams that I tend to be a little more inclined to pick."
Harvard, Obama's alma mater, is in the running for the first time since 1947, but he passed them by, saying, "I have a degree from Harvard. My secretary of education played at Harvard. I'll be rooting for Harvard, but it's just too much of a stretch."
North Carolina at #1 is a repeat of Obama's 2009 bracket, when he correctly picked the team to win the title. He faltered in 2010 and 2011, predicting Kansas to win both times, only to see the team eliminated relatively early on. 
The president will defend his picks in an interview on ESPN tonight. 
Mitt Romney won't be making any NCAA predictions this year, telling reporters in Missouri yesterday, "I'm not plugged in well enough this year to do that."
Original post:
Let those other guys worry about the Republican primaries. Obama wants to talk basketball. The president is using his campaign website to get in on the March Madness action, featuring his own version of the NCAA college tournament pool. The campaign's website allows fans to fill out a bracket and see if they can beat President Obama's predictions.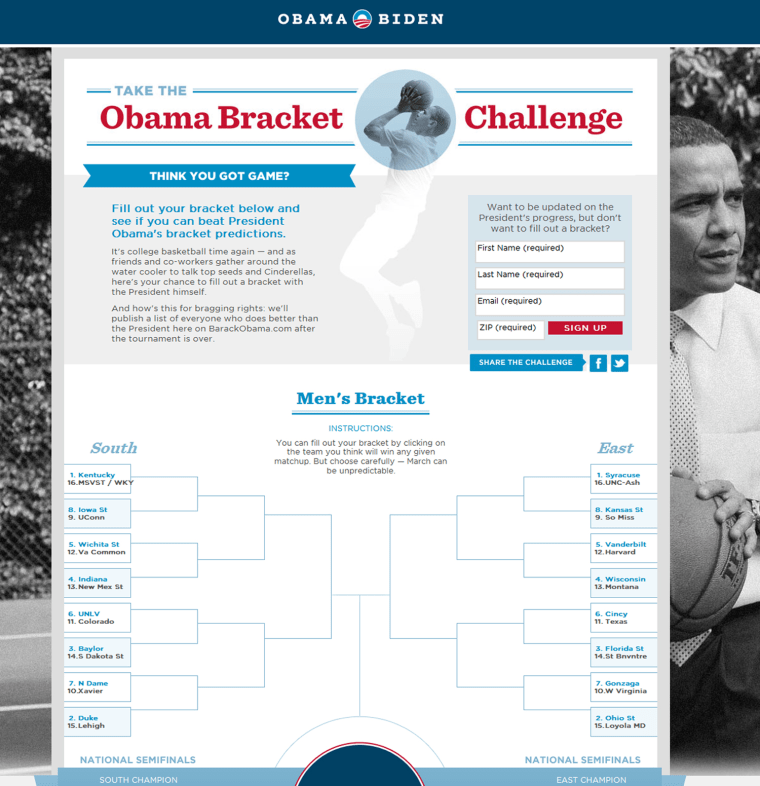 Obama, a longtime college basketball fan, is calling the pool "The Obama Bracket Challenge" and he's asking supporters to join him in making this year's March Madness extra special. Anyone who enters the challenge is invited to donate to the campaign to help "the president in another big match-up that's happening this year: the one in November."
Though the president has not yet released his picks, the Associated Press reports that Obama will take British Prime Minister David Cameron to Dayton, Ohio, on Tuesday for a "First Four" matchup between Mississippi Valley State and Western Kentucky. 
If you out-pick Obama, he promises bragging rights to the winners by posting their names on his site. 
More: Obama is THAT dad at his daughters' basketball games
Slideshow: Barack Obama's third year in office
President Obama: I knew about Jeremy Lin before you did
Get more college basketball news
Inside the first couple's dinner with donors
TODAY.com contributor Jillian Eugenios has faith that the TODAY.com readers will bring it. Don't let her down.