The 2007 wedding of a close friend brought O.J. Simpson to Las Vegas, where a botched armed robbery landed him in prison. Now that friend is sharing what happened in the moments immediately after Simpson learned he had been granted parole.
"He came out yelling, 'I'm going home! I'm coming home!'" Tom Scotto recounted to NBC's Andrea Canning.
Scotto said he spent hours with Simpson and his family following Thursday's hearing before the Nevada Board of Parole.
After serving nine years of a 33-year sentence at a medium-security prison, Simpson was granted parole and could walk out of prison as early as Oct. 1.
"This has humbled him like I've never seen," Scott said about his friend's time behind bars. "The warden loves him. She calls him into her office all the time. Talks to him about things. They treat him very nice, not because he's O.J. Simpson — he's a great inmate."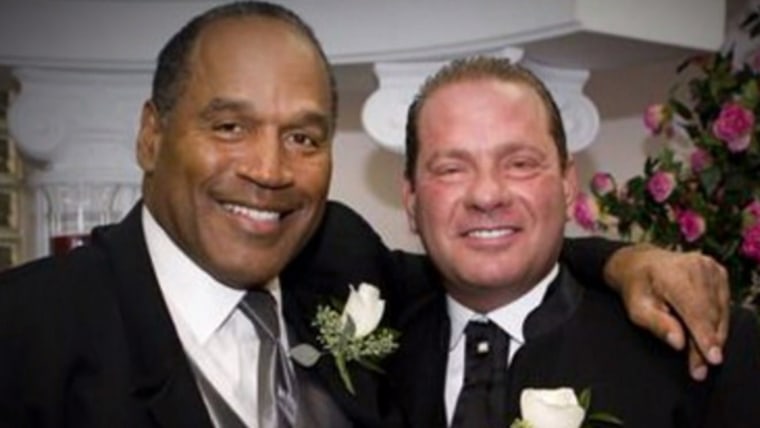 Simpson landed in prison after being convicted in 2008 of armed robbery and other charges related to a botched attempt to recover sports memorabilia from Las Vegas hotel room.
But his dark legacy was cemented more than a dozen years earlier after his acquittal in a trial for the 1994 double murder of his ex-wife, Nicole Brown Simpson, and her friend Ron Goldman.
Scotto, who lives in an upscale gated community in Naples, Florida, said Simpson has talked about moving in with him after he is released from prison.
He said he expects the two will try to resume a normal life and downplayed concerns that Simpson could wind up back behind bars.
"O.J. does nothing wrong. And clearly what he did was inappropriate," Scotto said. "Look, we go out, we don't hide. We go out in public. We go to restaurants. We go out and we have fun. We don't hide. We don't stay in the house hidden."
Scotto said Simpson thought the recent Emmy Award-winning TV series about his murder trial, "The People v. O.J. Simpson," was "terrible" and that the two really don't talk about the case.
"We kind of want to move forward instead of backwards. Everybody has tried to destroy him over that," he said.
"(O.J.) wants to play golf, see his family, and hang out with his friends, the very few friends he has."
Scotto said he looks forward to welcoming his buddy back to freedom this fall.
"You know, he's my best friend. I love him," he said. "I lost contracts with my business because I stuck by him. I have to do what's right and that's what I felt in my heart."