Katie Mascenik and Joe Duarte, two lovers who met at the gym and fell in love running together, had the perfect marriage proposal at the New York City Marathon on Sunday — but not the perfect photo.
But now, they think they are getting close to finding the stranger who randomly snapped a photo of Duarte on bended knee at the corner of 77th Street and First Avenue.
A friend's photo of the big moment is obscured by a mysterious photographer's hand — but that person's cell phone clearly captured the proposal.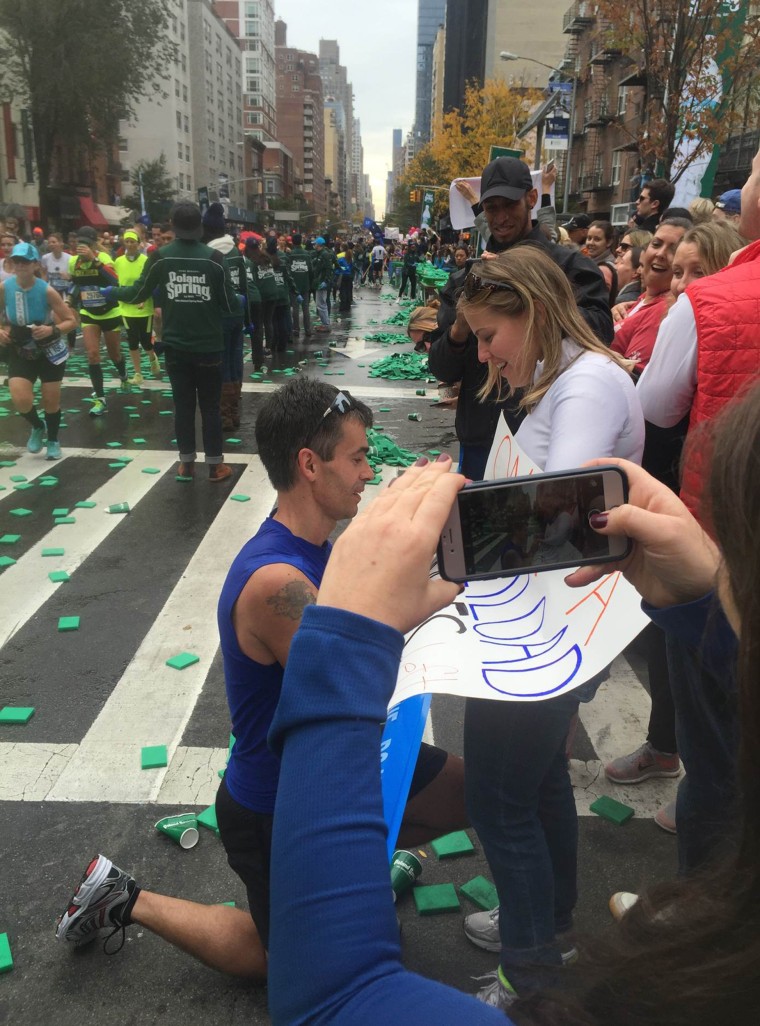 "It wasn't until the next day when I got the pictures from people that I realized what happened, so I didn't ask the girl to send me the picture," said Mascenik, 24. "We were so caught up in the moment."
"She was in her late 20s and ran away with blue spandex pants and tan or grey vest and blue shirt," she told TODAY. "It all happened in about 30 seconds."
RELATED: Mom's touching wedding photos honor late son
Mascenik later posted the obscured photo on Facebook and, this week, a stranger reached out to say she thought she knew the mystery photographer.
"She thinks it could be her friend, but she is traveling for business," said Mascenik, adding that she'd texted the person but hadn't heard back.
RELATED: 'Hot teacher' goes viral dancing like Drake for his students
The newly engaged couple, both from New Jersey, had run several marathons together, but this year, Mascenik decided to remain on the sidelines.
Duarte, 44, didn't tell anyone about his plans and ran the first 17 miles with a diamond ring in his pocket.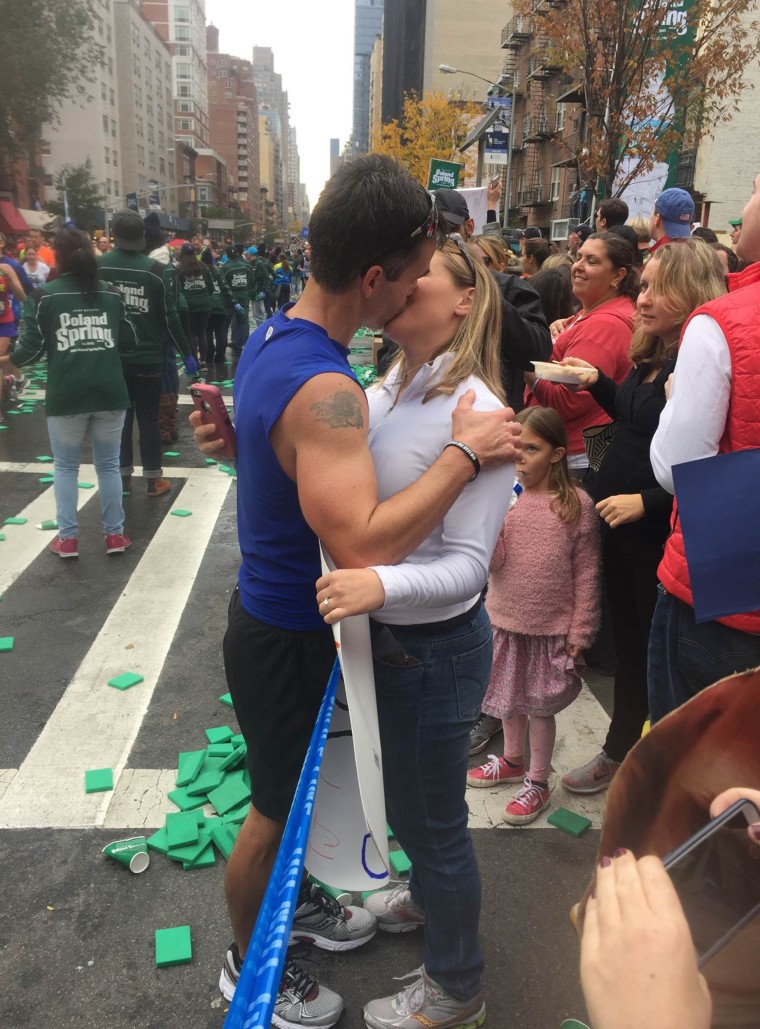 "I was watching him on my phone, seeing if he was hitting his time," Mascenik said.
"He gets to me and we all call out, then he makes a big U-turn toward me.
RELATED: 'Star Wars' actors rally to help terminally ill fan see new movie early
"I think, 'How nice of him, but this is weird.' He told me he loved me, and I said 'I love you, too.' Then he drops down on one knee, and whips out this ring and says, 'Will you marry me?'"
At first, Mascenik said, she thought Duarte was tying his shoe.
"He had told me we would not get engaged until January, so I wasn't expecting this," she said. "It was all part of his master plan to surprise me."
Mascenik told him "of course," then Duarte kissed her and ran off to finish the race.
"I was so excited, I just called my mom," she said. "I just wanted him to hurry up and finish the race so we could celebrate."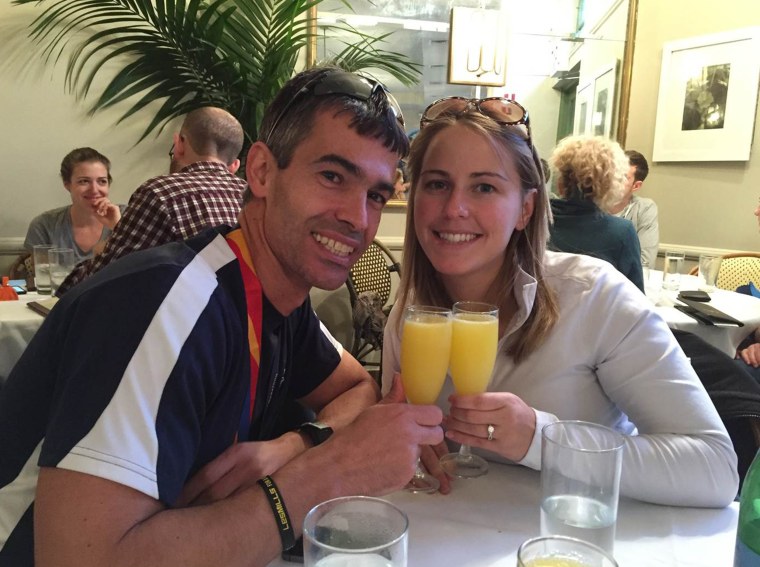 Afterward, the couple pored through photos taken by friends and family, but there were none of Joe actually popping the question — except one.
It was taken by Elaine Sienkiewicz, a friend who was tracking her daughter in the marathon.
"None of us had a clue — not even Jackie," said Sienkiewicz, 64, who teaches a workout class with the couple and whose daughter Jackie is close with Duarte. "Joe kept it such a secret."
Sienkiewicz said she had her phone ready, and when Duarte did his about-face, she snapped the photo.
"But I didn't realize a girl had stuck her hand out. Everyone was cheering, and then she just ran off."
Mascenik and Duarte met four years ago teaching night classes at the Raritan Bay YMCA in Perth Amboy.
"We went out a few times with friends and he asked me if I wanted to start running," she explained. "I said, 'Yeah, sure.' I had a big crush on him. We talked and bonded while we ran."
By day, Duarte works at a chemical company and Mascenik is an analyst at Verizon Blue Cross-Blue Shield.
The couple plans to have a September wedding. Duarte was unavailable to comment on the proposal, because, as his fiancée put it, "He's a big shy guy."
Sienkiewicz said the spontaneous proposal was "all very exciting."
"It's such a good story … about a nice young couple who bonded through running," she said.
So what are their chances of finding the photographer who captured the moment?
"Everyone in their 20s is on social media, so who knows?" Sienkiewicz said.