/ Source: The Associated Press
The fashion industry put on its most glamorous face as it opened New York Fashion Week on Thursday, presenting a star-studded overture to reluctant recessionistas.
Hints of glitz perked up early runway shows, but the big glamour was to come at Fashion's Night Out, an event dreamed up by Vogue Editor Anna Wintour that features celebrities, designers and glitterati mingling with shoppers.
The Olsen twins were to tend bar at Bergdorf Goodman, while Victoria Beckham signs T-shirts and designers compete in a cook-off with "Top Chef" host Padma Lakshmi. Justin Timberlake was expected at Saks. Oscar de la Renta was to sing for his best customers. Wintour herself was to appear at a Macy's in — gasp — Queens.
There was a little more glitz on the runways, too, at Mercedes-Benz Fashion Week, which runs through Sept. 17. The look at BCBG Max Azria was light and feminine — all dresses, no pants. Jenni Kayne went with an optimistic bright yellow and soft, buttery leather.
It was a departure from the tough look in stores for fall — and perhaps a signal that the fashion industry is trying a softer approach to tough economic times.
BCBG: Dresses for success
It's all about dresses for BCBG Max Azria: There was a nary a pair of pants on the runway.
But there was enough variety in the silhouettes to make it feel like a comprehensive lineup of clothes for the new season, with styles ranging from a loosely tacked white T-shirt to a mesh, abstract, floral-print bandage gown.
Starlets in the front row, including Amanda Bynes and Theodora and Alexandra Richards, nodded approvingly as some of the nightclub-worthy dresses made it down the catwalk.
There was something artful in the draping and a lightness in the fabrics that evoked both ease and sexiness while not being overly simplistic. A gray jersey dress with handkerchief hem, for example, had subtle quilting on the straps, and a patch of printed fabric on a light taupe asymmetrical dress was reminiscent of python skin.
All the dresses were paired with teetering, leather wrap-up sandals that were toned down and made more sophisticated than the gladiator style popular last summer.
Gwen Stefani's LAMB collectionGwen Stefani is rocking the '80s well into 2010, presenting a LAMB collection that included off-the-shoulder "Flashdance" tops and acid-wash jeans.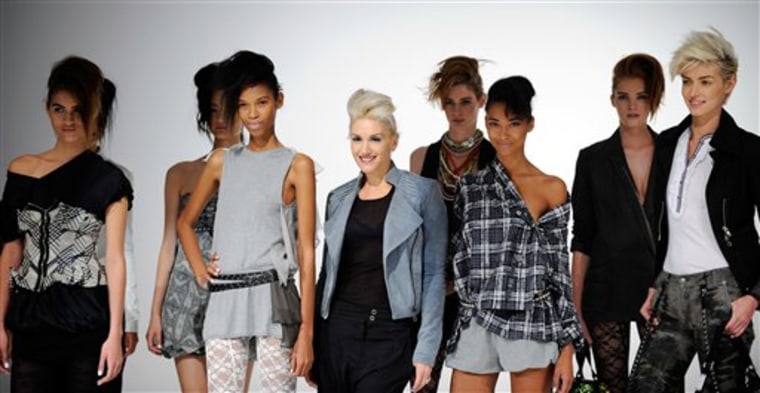 There was a punk vibe to some of the spring season outfits, including studded suspenders attached to the skinniest of skinny black jeans and racy lace tights worn only with a body suit.
However, an animal-print T-shirt dress and a plaid blanket top would be wearable for far more shoppers.
With her street cred as a bona fide rock star and a solid reputation in the fashion world, Stefani can pull off balloon shorts and a one-shoulder T-shirt in a way that many other designers can't.
Ports 1961: Flowy and femininePorts 1961 took a nature walk, presenting a spring collection of drapey but womanly pieces in seashore colors like coral, sand, white pearl and gray.
In fact, aside from one or two pieces, the starkest color was on the models' eyelids: red.
Creative director Tia Cibani included lots of dresses — sheath, kimono-like, bandeau and jersey draped, and it was clear some of her influence came from the Orient.
One sheath dress was paired with a matching "cloud" (ivory colored) coat. A chainmail cardigan sleeveless sweater vest was worn over a draped jersey dress. And outerwear pieces, such as a marble colored print satin Kimono with flowy sleeves, were wrapped around the body, like a cocoon.
Jenni Kayne's belly-baring stylesDesigner Jenni Kayne isn't expecting customers to let their diets go over the winter months, considering her spring collection is tight, sleek and sometimes belly baring.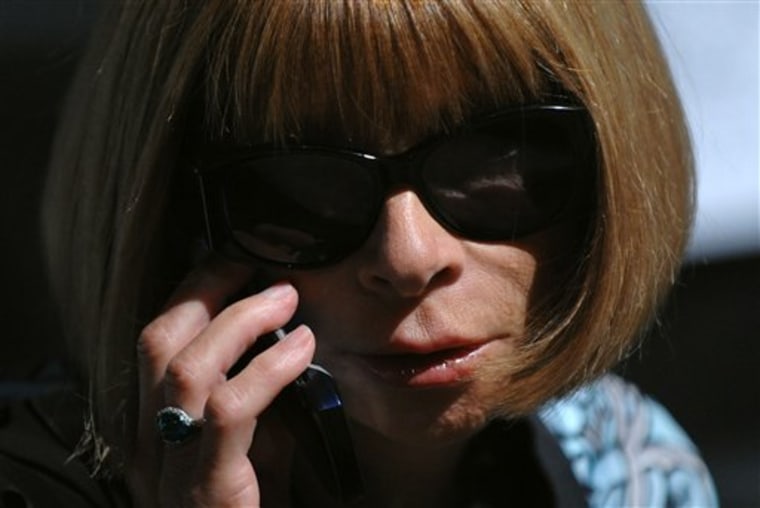 The outfits she previewed Wednesday were heavy on leather, not typical for warm-weather clothes. But the buttery texture of one cream-colored sheath dress made a strong case.
Kayne looked back to both the 1980s and '90s for inspiration. "I call it 'naive sportswear toughens up.'"
There's no separation in her collection between daytime pieces and eveningwear, she said, because she believes that people "should have the chance to wear the heck out of the clothes." That said, it's up to the wearer to decide when to wear the menswear-style collared striped shirts and the skimpy silver sequin T-shirt dress.
Michael Angel mines gem printsMichael Angel seems cautiously optimistic about the economy for next spring. His collection had bits of bright color and glitz — more than most fall styles in stores now — but it was all still rooted in black.
The nod to flamboyancy was most obvious in his prints, which were oversized photo images of gems and jewelry. Presumably, the gist is: Instead of wearing expensive jewelry next season, you'll be wearing pictures of it.
But the aspiration to be glamorous was clear in the clothes. A green print dress with chunks of gold embellishment around the neck and a floral pleated blouse paired with a petal-style black miniskirt, were noteworthy. For the more daring customer, there was a short vinyl-like pleated bra top paired with that same miniskirt.