Two Florida women may be the least likely to compete in the triathlon race they're gearing up for in Miami this weekend, but once you hear Kerry Gruson and Cristina Ramirez's inspiring story, you'll be rooting for them to finish.
Ramirez, 41, had never run a mile in her life until about four years ago, when she decided she needed to get healthy to enjoy life with her husband and two young sons. A pack-a day smoker for 15 years, Ramirez says she ate and drank too much, leaving her overweight and out of shape.
But once she put on her running shoes, she never looked back.

Soon after, she entered a 5K and got hooked on racing. She then advanced to triathlons, in search of a greater challenge, and by June of 2012 she had become so passionate about racing that she quit her job as a teacher and started a blog called TriathlonMami.com.
Always pushing herself, Ramirez decided to train for the intense Ironman competition in Panama City, Florida last November. When she got to the race, she was feeling proud of herself for taking on the 2.4-mile swim, 112-mile bike ride, and full 26.2-mile marathon run.
That is, until she saw a visually impaired woman — tethered to a fellow triathlete on a rope — competing in the race. Humbled by the courage and strength of the woman, Ramirez decided she had a new purpose.
"I was so inspired. I thought, 'Everything in my journey, it's not for me. This is why I'm here.' I'm supposed to help someone do this themselves," Ramirez told TODAY.com.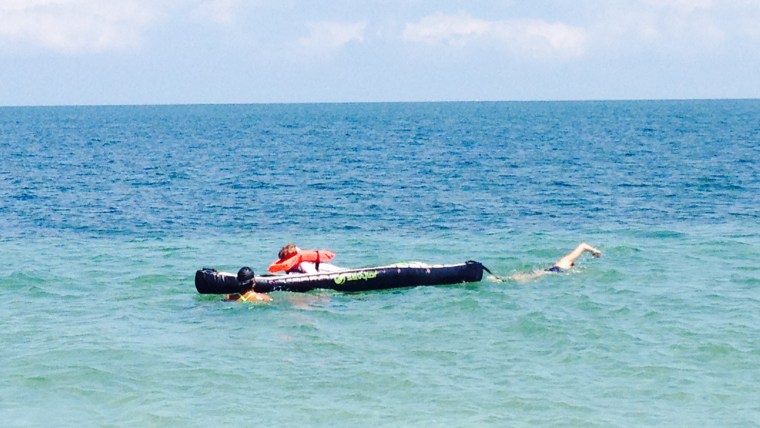 Ramirez reached out to Miami's Shake-A-Leg organization, a non-profit community boating center that offers many programs, including some helping people with physical disabilities. The staff at Shake-A-Leg recommended Ramirez team up with one of its most successful and determined members, Kerry Gruson.
Gruson, 66, is a force of energy and intellect, and an inspiration in her own right.
As a young reporter in 1974, she was permanently disabled when she suffered a violent attack while interviewing a former Green Beret about his experience in Vietnam. During the interview, the veteran had a post-traumatic stress disorder flashback, and tried to strangle Gruson in her hotel room, convinced she was a member of the Viet Cong.
She survived the attack and was hospitalized, but the loss of oxygen to her brain caused severe damage. Gruson is now unable to move her legs, has limited arm movement, and her head remains cocked to one side. She also has restricted volume in her voice and speaks slowly, but her mind is sharp.
The Harvard graduate, who says she has no memory of the attack, went on to become a writer for the New York Times' Miami bureau until her retirement in 2005.

Gruson doesn't want to be defined by her disabilities and wants to focus on the positive, so she's always looking for the next mountain to climb.
"I love a challenge," she told TODAY.com. "Any challenge is an opportunity to grow and to enjoy your life. It (the race) seems impossible. Nothing is impossible. I want to send that message around the world."

The avid sailor didn't hesitate when her friends at Shake-A-Leg asked if she wanted to partner with Ramirez to train for the race. Gruson's Miami apartment is filled with trophies from sailing regattas and she is quick to point out that some of them were triumphs over sailors without disabilities. She has been sailing for more than 20 years and describes herself as "very competitive."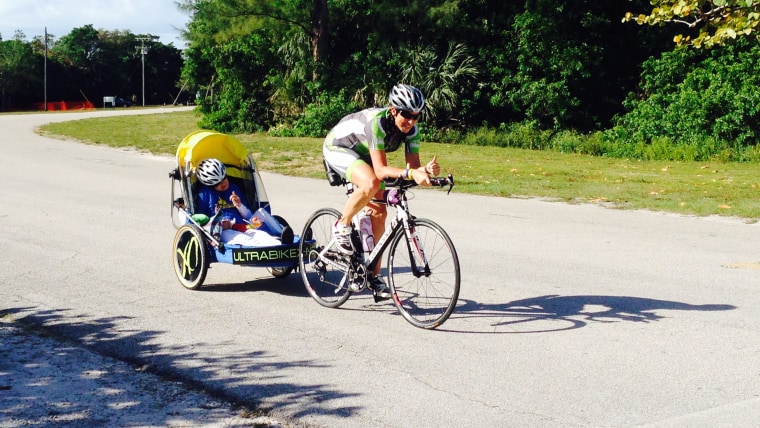 The South Beach Triathlon, which takes place on Sunday, requires participants to swim a half-mile in the Atlantic Ocean. Ramirez will be tethered to a kayak carrying Gruson, who weighs 100 pounds, during their swim, and wimming coach Liliana Montes will follow the kayak to make sure it stays on course.
Gruson will sit in a special bike trailer for the 20.7-mile bike ride, and part of the 4-mile run is over sand, so she knows that Ramirez's task of pushing her through it will not be easy. "The run will probably be the hardest. She'll be tired," Gruson says of her teammate. "But we'll make it I know, with flying colors. We also have a great team of people helping us along the way."
Both women are determined to cross the finish line, even if it takes until late into the night to get there. Their team is called "Thumbs Up" for Gruson's favorite gesture and her famous unflappable attitude. The two hope "Thumbs Up" will become a national movement of optimism and empowerment.
And the outcome of the race is secondary to their friendship. "She (Ramirez) has such a big heart and she is so strong. The world is full of wonderful people. She is so giving and overlooks all my problems," Gruson said.
"I get a whole lot more than she does," Ramirez added. "I've learned not to feel sorry for myself, not to be shy, and to ask questions. She's so open. I learned that I can be open."
The two are already talking about their future plans together. Gruson wants to get invited to the Ironman World Championship in Hawaii, while Ramirez says she would love to do a bike tour together and speak to kids about rising above challenges.
"The best part of this is when people say 'You inspired me to run today.' The whole point is to show people life is difficult but you can do the impossible," Ramirez said. "You can still dream."