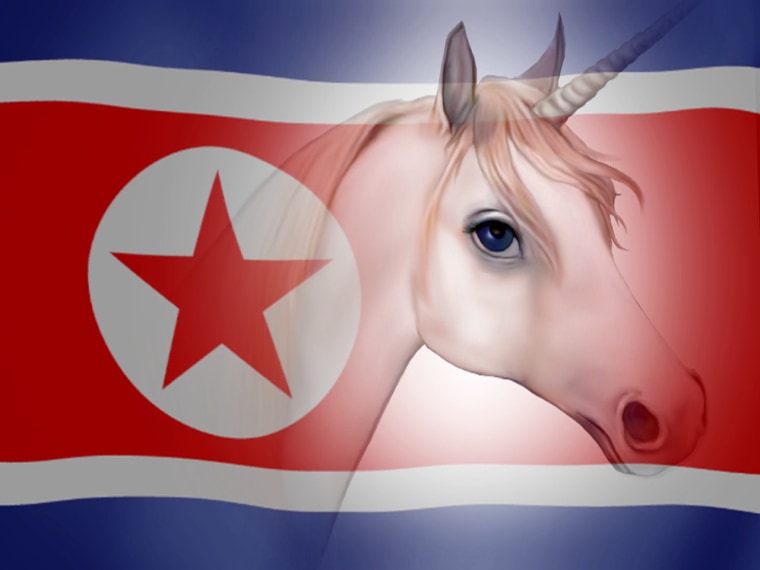 Unicorns exist and look no further than an ancient burial site in North Korea for proof, according to the latest bit of fantastic news to emerge from the secretive dictatorship.
North Korean archaeologists "have recently reconfirmed a lair of the unicorn rode by King Tongmyong," reports the state news outlet, Korean Central News Agency.
"A rectangular rock carved with words 'Unicorn Lair' stands in front of the lair. The carved words are believed to date back to the period of Koryo Kingdom (918-1392)," the article states.
The Korean Central News Agency has previously reported that its late leader, Kim Jong Il, was born under a double rainbow and once stopped a blizzard.
Propaganda is commonplace for North Korea, one of the poorest, most repressive countries in the world. But that doesn't mean the communist nation has gotten any better at crafting more believable tales over the years, said Sung-Yoon Lee, a Korean studies professor at Tufts University.
"The intent behind this is to try to bolster up the credentials of the younger leader who is still in his 20s," he told TODAY. "North Korea likes to make the claim that heroic blood runs in the family."
More: Duchess Kate is pregnant with first child
Cory Booker to live on food stamp challenge 
Powerball winner on Facebook: 'Thank you God, we won the lottery'
Cop who bought shoes for homeless man 'really didn't think about the money'