Even though the Academy Awards have expanded to allow 10 films in the best picture category, there are always snubs, always surprises. Even actor Bradley Cooper, himself nominated for best actor for his role in "Silver Linings Playbook," couldn't resist spouting off about a snub when he called in to TODAY Thursday morning.
"I just have to say ... Ben Affleck got robbed!" Cooper told anchors Willie Geist, Al Roker and Natalie Morales, who agreed with him. Affleck being left off the best director nomination list was perhaps the most talked-about snub of Oscar nomination day, but there were plenty of others -- and some surprises, too.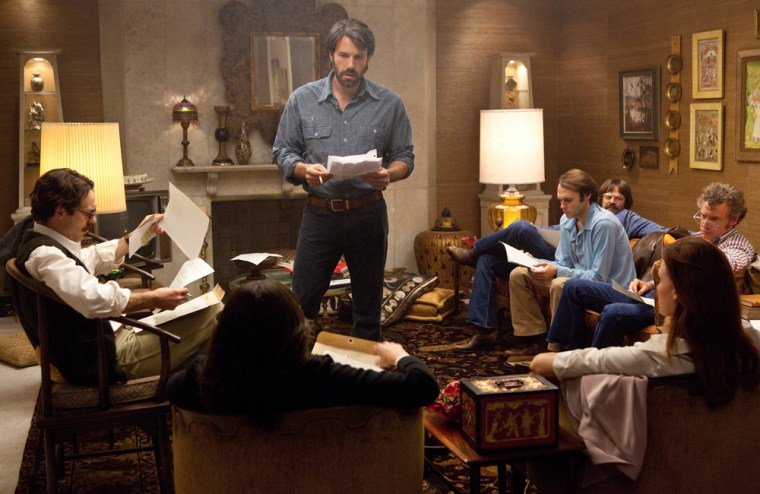 NOT A GOOD DAY FOR BIG DIRECTORS
The best director category has to be the most stunning. Start with Affleck -- Cooper wasn't the only one who felt he was unfairly ignored.  Yes, Affleck's "Argo" was one of the best picture nominees, but Affleck himself, who directed and starred, failed to secure a nomination.  Although "Zero Dark Thirty" has been talked about as a best picture, director and screenplay favorite for weeks, Kathryn Bigelow didn't get a director nod. Quentin Tarantino didn't make the cut either, though Tarantino did get a nod for the film's screenplay. Tom Hooper, director of "Les Miserables," also was left off the list.
NO ACTION FLICKS?
OK, so "Dark Knight Rises" and "Skyfall," crowd-pleasing action pictures, were unlikely to make it, but some still held out hope that they'd add some mass-market popcorn-movie interest to a category that features six big names and three art house picks. There was a space left open, but neither Batman nor Bond made the cut.
STRIPPERS AND SLAVEOWNERS
Many folks would have liked to have seen Leonardo DiCaprio pop up in the acting nominations for his role as creepy plantation owner Calvin Candie in "Django Unchained." He didn't, and co-star Christoph Waltz, who did get a nod, is the more deserving choice. In a much lighter film, there was a bit of a groundswell of support for Matthew McConaughey to be recognized for male stripper movie "Magic Mike," but apparently the Academy wasn't willing to take it all off. John Hawkes may be a lesser-known name, but he probably deserved a nomination for "The Sessions."
HOW BAD CAN THE OSCARS BE?
The catchy "How Bad Can I Be?" from "Dr. Seuss' The Lorax" didn't make the cut in the original song category, nor did "Let It Grow."
ANIMATION SENSATION
"The Lorax" didn't make the cut in the animated film category. Neither did "Rise of the Guardians," but that film, featuring a Russian Santa Claus and an Aussie-accented Easter bunny, has kind of flopped all around.
'SILVER' SEEKS GOLD
Those rooting for "Silver Linings Playbook" had a good morning. The film made the best picture list as well as earning a nomination for its director and one in each of the four main acting categories.
BEASTLY
"Beasts of the Southern Wild" was far from beastly. The film showed up in the best picture, best director and adapted screenplay categories. But its most-talked-about nomination was for 9-year-old Quvenzhane Wallis for best actress. Could she become the youngest winner ever?
LOVE FOR 'AMOUR'
It's a French-language film made by France, Germany and Austria, about an elderly couple dealing with tragedy at the end of their lives. You'll be lucky if you know one person who's heard of it, much less seen it. Yet the Academy (whose members have often been dissed for their own advanced age) loved it. "Amour" earned five nominations, including best picture, director, foreign-language film, adapted screenplay and a historic nomination for 85-year-old Emanuelle Riva, the oldest best actress nominee ever.
Can "Argo" make up for its best director snub by beating "Lincoln" for best picture? Will 85-year-old Emmanuelle Riva be the oldest best actress winner ever? The Academy Awards competition is going right down to the wire this year.
What snubs and surprises did you notice? Tell us on Facebook.
Related content: