For those who think President Obama obsessively counts out exactly seven almonds every night as a snack, he would like to set the record straight about this burning issue.
"This has been really weighing on me,'' Obama joked after discussing more weighty topics in his exclusive interview with TODAY's Savannah Guthrie.
A New York Times story on July 2 quoted the Obamas' personal chef saying that he and first lady Michelle Obama joke that the president is so disciplined he eats exactly seven almonds at night, "not six, not eight."
Obama doesn't drink much coffee or tea and he steers clear of soda and potato chips, so almonds are his go-to snack.
But that doesn't mean he obsessively counts them out individually. He'll go wild and have eight or nine sometimes.
RELATED: Can Donald Trump win? 'Anything is possible,' Obama tells Savannah Guthrie
"This is an example of the weird way the press works,'' he said. "So Michelle and Sam Kass, who is our chef here, one night they were talking about me and teasing me about how disciplined I was, that I didn't have potato chips or that I didn't have a piece of cake.
"And this is when Michelle said, 'And he just has seven almonds, that's it.'''
Kass then relayed that joke to The New York Times, making it seem like Obama is obsessively counting out almonds every night.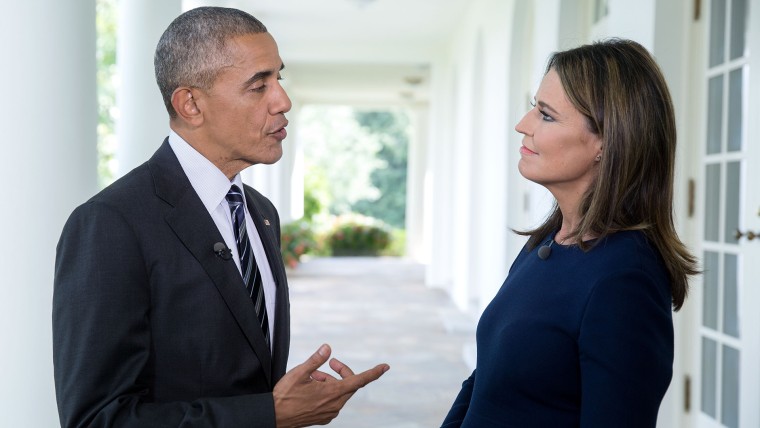 "All my friends were calling me up and saying this seems a little anal, this is a little weird, and I had to explain to them, no, this was a joke,'' Obama said.
When his presidency is all wrapped up, Obama will be free to splurge on 10 and perhaps even 11 almonds in one night.
"Absolutely,'' he joked. "But you know, almonds are a good snack, though. I strongly recommend them."
Follow TODAY.com writer Scott Stump on Twitter.