/ Source: TODAY contributor
Beanie the dachshund rocks her tiny wheelchair. The mere sight of it causes her to wriggle with excitement; she knows it means a walk or some other adventure is about to begin.
Even though she's paralyzed from the waist down, Beanie is a happy little girl, and her owners are glad they've been able to meet her needs ever since she ruptured a disk in her back and severely injured her spinal cord in 2004. But life with a paralyzed dog isn't exactly easy: Beanie's owners must help her go to the bathroom manually four times a day, and going out of town presents a huge challenge because it can be so tricky to line up pet care.
That's why Dr. Jay Griffin, who owns 14-year-old Beanie and also happens to be a veterinarian, is so intrigued by an experimental drug that's being tested in dogs with spinal-cord injuries. Researchers are hopeful that the drug, dubbed Illomostat, may help dogs avoid paralysis if it can be administered very quickly — within hours of an injury's occurrence. If successful, they hope their research will someday help people with similar injuries.
"Had Beanie been treated initially [with the medication] ... there is a chance that she would have regained the use of her legs and gone on to live a normal life," said Griffin, 33, who works at the Texas A&M College of Veterinary Medicine & Biomedical Sciences, where the drug is being tested.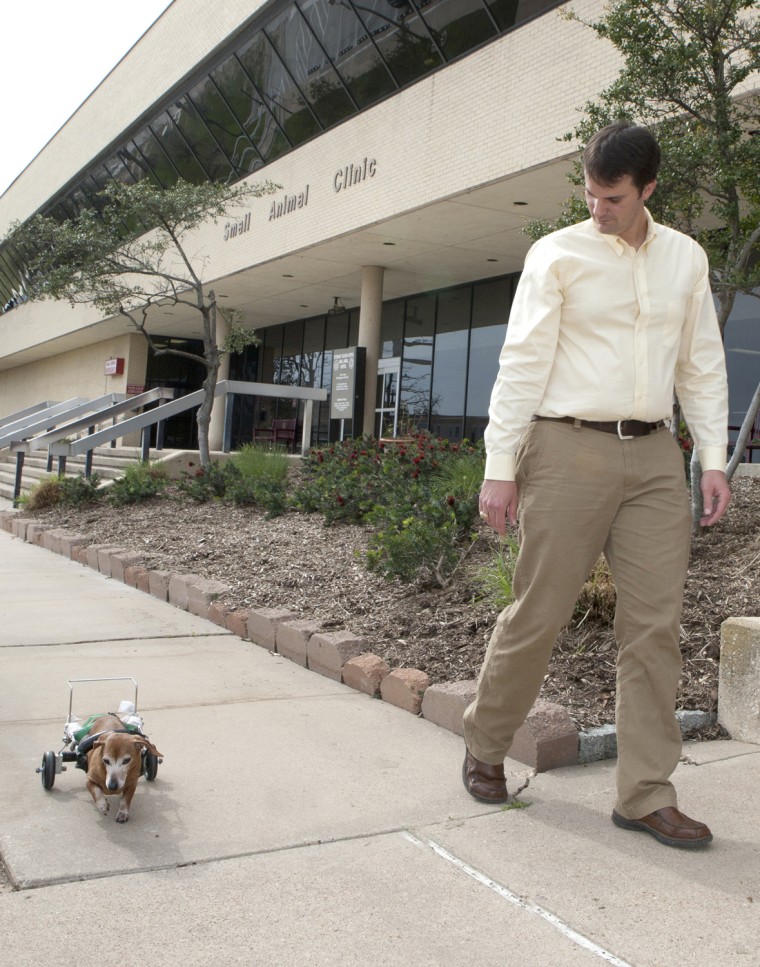 Illomostat is being given to short-legged, long-torso dog breeds like dachshunds, beagles and corgis that can suddenly rupture disks in their backs and damage their spinal cords, the way Beanie did. The U.S. Department of Defense is funding the effort with a $750,000 grant because the drug could hold promise for wounded service members and other people who experience traumas to their spinal cords.
"We're thrilled to have this opportunity to understand spinal-cord injury," said Dr. Jonathan Levine, the veterinary neurologist at Texas A&M University who is testing the drug in dogs. "We want these dogs to get better, and we want people to get better."
'Remarkable recovery'
When dogs and humans bruise or lacerate their spinal cords, something similar happens: A certain protein becomes elevated, and inflammation sets in. This can cause nerve fibers and nerve cells to die and contribute to long-term paralysis.
The experimental drug being tested in dogs does not attempt to regrow injured pathways in the spinal cord. Instead, it aims to block the secondary damage caused by the action of that one protein and reduce the destruction of tissue, local inflammation and blood-vessel leakage. When scientists at the University of California, San Francisco tested this approach in mice, it proved wildly successful.
"The mice showed remarkable recovery after injury," said neurobiologist Linda Noble-Haeusslein, who led the research at UCSF.
Noble-Haeusslein has teamed up with Levine at Texas A&M University for this next phase of research. She said it would be "phenomenal" if the drug also reduces paralysis in dogs.
"We are in a unique position of being able to treat a dog population where there are simply no current therapies that could effectively improve their hind-limb function," she said.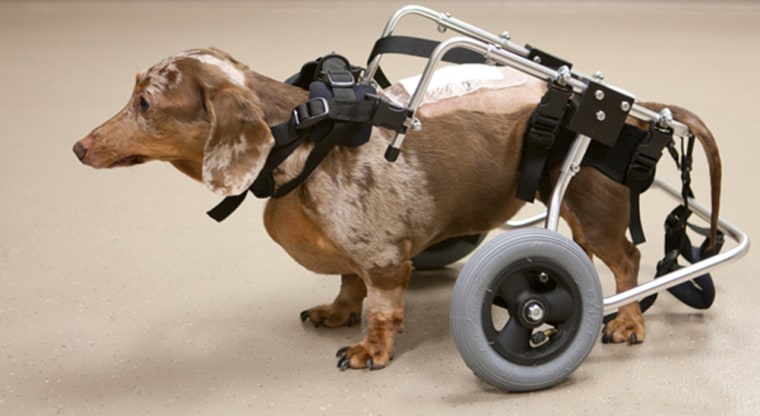 Noble-Haeusslein and Levine have done a small-scale clinical trial in which about 40 recently injured dogs were given Illomostat with their owners' consent, and about 70 were given a placebo. The data from that trial is being analyzed now.
The researchers plan to begin a more in-depth trial with dogs in October — and their ultimate hope is that their findings will one day help people with injured spinal cords. About 12,000 new spinal-cord injuries occur in the United States each year.
True loveNot all dogs who rupture disks in their backs and injure their spines become paralyzed. Many recover after surgery; Beanie did not.
Beanie's owners came to terms with her injuries years ago, but they're still following the clinical trials being done on dogs with great interest. Griffin said it's hard not to wonder what Beanie's life might have been like had she avoided paralysis eight years ago.
He said he knows a lot of people wonder silently about level of care and devotion he's willing to give his paralyzed dachshund — but he doesn't regret one minute of it.
"Some people spend their money on a vacation; some people spend their money on a new car," Griffin said. "But the only [thing] that can love you back is your dog."
To learn more about the spinal-cord research being done at UCSF and Texas A&M University, .
Need a Coffey break? Friend TODAY.com writer Laura T. Coffey on , follow her on   or read more of her stories at .