/ Source: TODAY contributor
Young Grace can dunk a basketball, play the piano, paint on canvas, get the mail and do basic multiplication. Pretty good for a 4-year-old.
But even better when the 4-year-old happens to be a mule.The donkey-horse hybrid Amazing Grace had her national coming-out party Thursday on the TODAY show, garnering oohs and ahs from the crowd gathered at Rockefeller Plaza. And while playfully kissing TODAY's Erin Burnett and gently nipping at an alarmed Matt Lauer's hand, she showed why she's a mule of a different color.
Headed for HollywoodGrace's owner, Steve Foster, made the trek from his family ranch in Virginia's Shenandoah Valley to the Big Apple so Grace could strut her stuff on TV, but folks will next get a glimpse of the equine wunderkind on the big screen.
It happens that Robert Duvall lives down the road apiece from Foster, and after hearing tales of Grace's talents, the Oscar-winning actor checked her out himself — and then cast her in his upcoming film "Get Low."
While Grace is now destined to follow in the footsteps of such quadruped glitterati as Mr. Ed and Francis the Talking Mule, Foster told TODAY that Grace is more than a one-trick mule — she's a family treasure.
"Her safety and her love are going to come first in my life," the proud owner said.
Foster has been training mules for some 20 years, but when he met a young Grace and took her into his fold of five, he knew he had a most unusual animal on his hands.
"When I first laid eyes on her, I thought there was something special about her," Foster told TODAY's Jill Rappaport. "There was something special about her, and we just got a bond."
Proving to be far from the stereotypical stubborn mule, Grace took to Foster's trick-teaching like, well, a mule to water. Before long, she could push a stuffed animal in a stroller, ring a bell, put a basketball through a hoop and stand on a box. What's more, Grace seemed to revel in her own feats.
"She knows the tone of my voice," Foster told the Northern Virginia Daily. "When to stop and when to go."
No horsing around
Grace went from local legend to the national spotlight last year when Foster learned about America's Ultimate Horse Idol competition in Richmond, Va. He called contest officials and told them, "I don't have a horse, I have a mule." And although Grace was the only mule entered, she wowed judges with her feats and claimed the top spot, becoming the Kris Allen of the four-hooved set.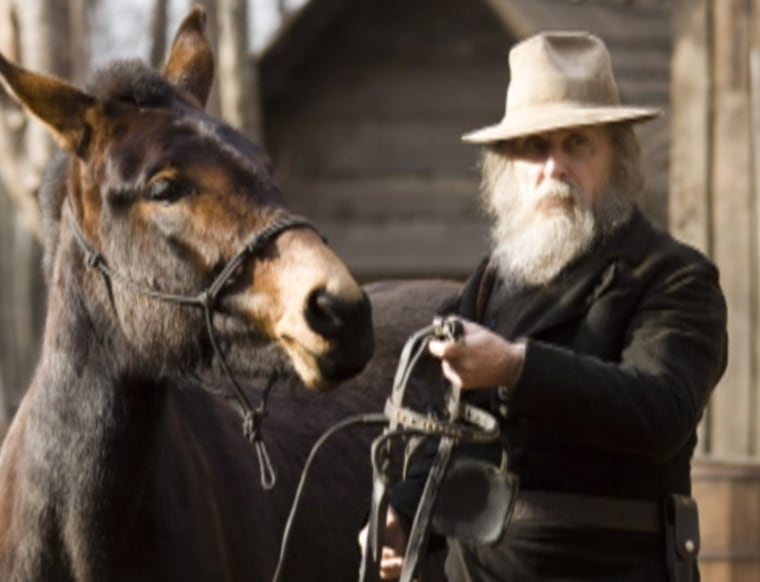 Actor Duvall appeared in a taped TODAY segment from Foster's ranch, showing the bond of friendship he developed with Grace as part of their joint movie work. Rappaport jokingly asked Duvall if he was going against the old Hollywood adage of not getting upstaged by kids or animals, but the veteran actor admitted that Grace actually taught him a thing or two about acting.
"You learn from animals to be more natural, to be more real," Duvall said. He added: "When you do a Western, you have to find the right horse. Here, we found the right mule."
Foster and his wife Pam made their first-ever trip to New York City on the back of Grace's talents, and Steve clearly reveled in showing them off on live television. When Burnett asked Foster how old Grace is, she, on command, tapped her hoof four times. And when Foster asked Grace to multiply 2 times 4, she tapped eight times.
With a Horse Idol win, a national TV appearance, an upcoming film and her paintings selling for upward of $1,000, clearly the sky's the limit for Grace, Foster says.
"I don't know where it's gonna take me, but I know it's gonna go," Foster told the Northern Virginia Daily.
A loving bondWife Pam told the paper she's learned to take the attention her husband lavishes on Grace in stride — knowing the feeling's mutual.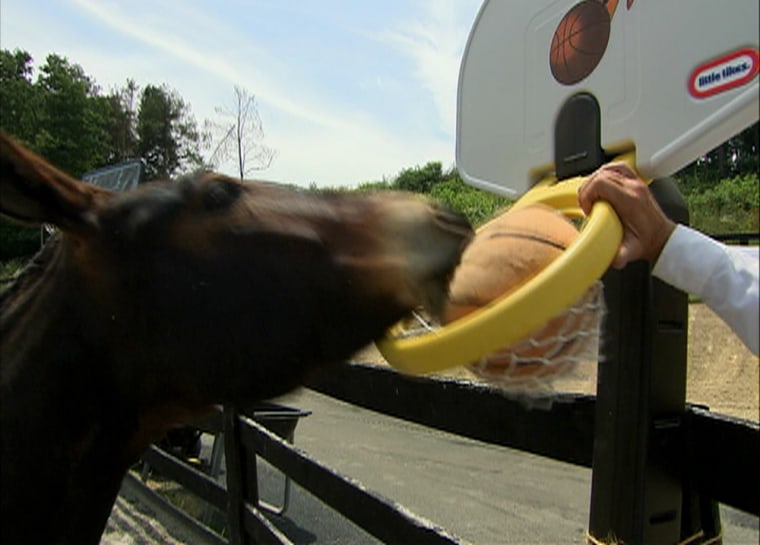 "She does love him," Pam said of Grace. "She hears his truck pull up and whines like a dog. She would rather be with Steve than eat."
And watching her husband's face light up around Grace is another wonder for Pam. "Just to see the joy it brings to him is worth it for me."
Steve says of Grace, "To love something is great, but to get love back is awesome. When that mule does what I want her to do, it makes me feel good."
No doubt Amazing Grace is one of a kind. And that is pretty much assured — mules are sterile and can't reproduce.