Daredevil Nik Wallenda had prepared for all types of scenarios in his high-wire walk across a section of the Grand Canyon on Sunday, but he had no idea the two-inch-thick steel cable would be moving so much when he stepped out on it.
Wallenda, 34, became the first person to walk across the Grand Canyon on a wire during the Discovery Channel's "Skywire Live" special that was hosted by TODAY's Natalie Morales and Willie Geist. It took Wallenda, who had no safety harness or net, 22 minutes and 54 seconds to traverse the 1,400-foot wire that was suspended 1,500 feet above ground.
"I wasn't prepared for the movement of that cable,'' Wallenda said on TODAY Monday. "The tension dropped down. We knew it was going to vary a little bit by temperatures throughout the day (that) would change the tension on the cable, but it dropped down to about 62,000 pounds. We wanted it at 65. Because of that, it was moving pretty wildly under my feet."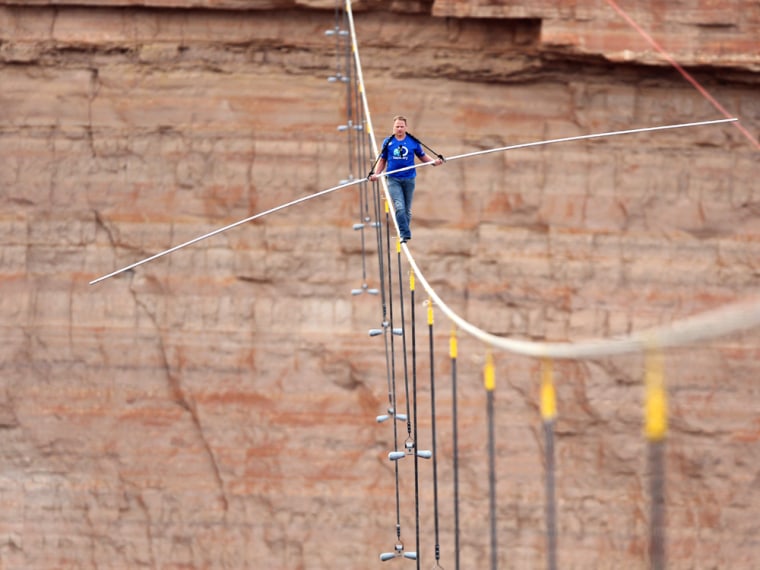 The seventh-generation member of the famous "Flying Wallendas" family was also buffeted by winds that clocked in at 48 miles per hour before he started his walk, which did not take place in Grand Canyon National Park but in the section of the Grand Canyon that is part of the Navajo Nation.
"There was no point where I thought I was going to fall for sure, but there were points where I was thinking, 'Man, I wish I could just relax,''' Wallenda said. "I was hoping to talk to Natalie and Willie while I was on that cable, but there was just no way. I was working for every single foot to get across that wire."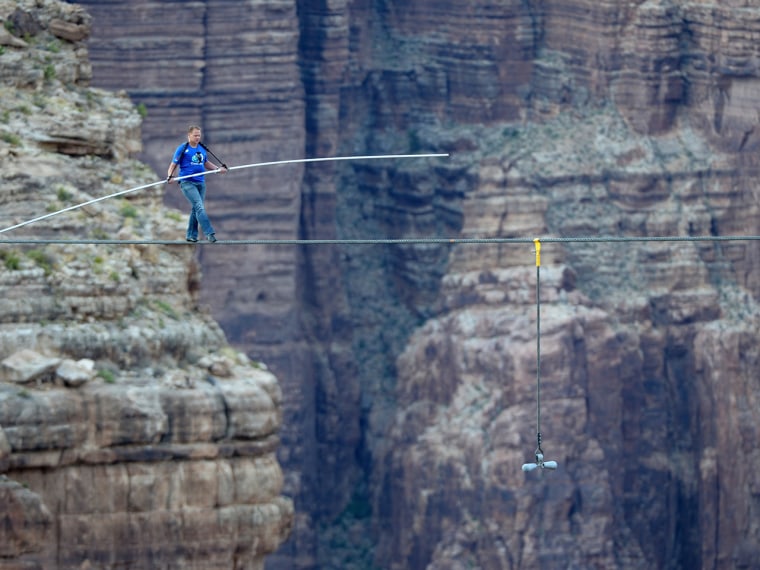 By the time he reached the other side — greeted by cheers and hugs from his family — he was practically already plotting his next death-defying feat. In 2012, he walked on a wire across Niagara Falls, and he had previously set seven Guinness World Records before Sunday's stunt.
"I'm already two or three ahead of this one,'' Wallenda said without giving specific details as to what may be next.
He did it! Daredevil Nik Wallenda wire walks across the Grand Canyon
A particularly dramatic moment in Sunday's walk came about 13 minutes into his feat when Wallenda stopped and kneeled down on the direction of his father, Terry Troffer, who served as his safety coordinator.
"What happens is — as I walk these cables — there's no stabilization on them, so it builds a rhythm in them, and if I kept walking it just gets worse and worse, so I actually tried to stop for a little bit by the direction of my father,'' he said. "He wanted me to slow down, speed up, bigger steps, smaller steps, and that's really important in doing a walk like this.
"It's easier said than done, of course, when you're up 1,500 feet without a safety (harness). Your goal is to get across that wire, it's not to slow down or speed up. It's just to make it across safely."
At one point during his walk, he also thought about his great-grandfather, Karl Wallenda, who has been a major inspiration during his career. The elder Wallenda fell to his death in 1978 while performing a high-wire act in San Juan, Puerto Rico, at 73 years old.
"Everything he did paved the road for me to be able to fulfill my dreams, and everything I do is to honor him,'' Wallenda said. "He did lose his life, (and) we do know why he lost his life. It had to do with rigging, and really rigging caused him to go down to the safety of the wire, and then there was the fact that he was 73 years old and didn't have the strength to hold on.
Daredevil: 'No room for error' in Grand Canyon walk
"Worst-case last night, I would've went down to the wire and held on and waited for my rescue team to get to me. He just didn't have the strength to do that, and we've learned that there's a time to retire in our business, for sure."
While millions witnessing his walk were gripped by the tension, Wallenda did find a few moments to take it all in while he was out there. When he first stepped out on the wire, then when he knelt down, and finally when he was three-quarters of the way across, he took a moment to look down.
"If the wire was more stable, I would've been able to relax, for sure, and enjoy it a little bit more,'' he said.
From Harry Houdini to Evel Knievel to David Blaine, there have always been those who make their living courting destruction. Meet the daredevils and stunt artists who live on borrowed time.