Before quarterback Nick Foles became the hero of the Philadelphia Eagles' first Super Bowl championship in history, he had considered retiring because he had lost his starting job — and his passion for the game.
In a news conference Monday, Foles reflected on how facing adversity molded him into a quarterback who defied the odds by winning MVP honors in the Eagles' surprising 41-33 win over the New England Patriots on Sunday.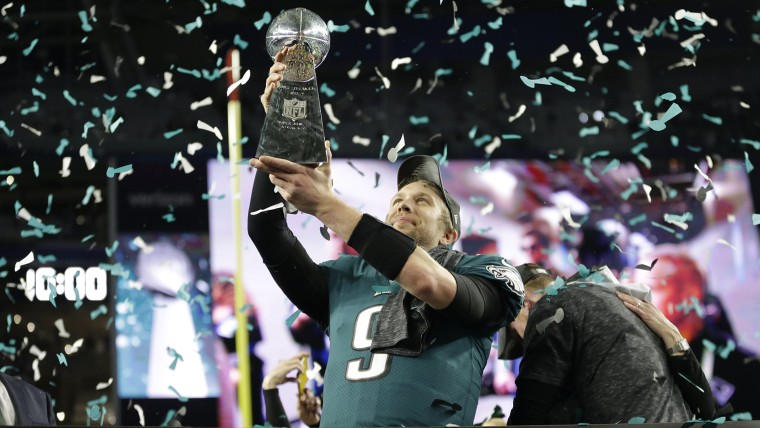 "I think the big thing is don't be afraid to fail," Foles said. "In our society today, with Instagram and Twitter, it's a highlight reel. It's all the good things.
"When you look at it, you have a bad day, you think your life isn't as good, you're failing. Failure is a part of life. It's a part of building character and growing. Without failure, who would you be? I wouldn't be up here if I hadn't fallen thousands of times, made mistakes. We all are human. We all have weaknesses."
Foles was cut by the Los Angeles Rams in 2016 after losing the starting job to rookie Jared Goff. He then signed a one-year contract as a backup with the Kansas City Chiefs, who let him go in March 2017.
Only three years before, in his first stint with the Eagles, who drafted him in 2012, he'd shown promise, throwing 27 touchdowns and just two interceptions.
In a video for a Bible app, Foles spoke about how he considered retiring as he dealt with the disappointment of being released by the Chiefs.
This season, he served as a backup until late in the regular season, when starter Carson Wentz suffered a season-ending knee injury.
Foles seized the opportunity with a sensational playoff run, capped by throwing for 373 yards and three touchdowns, plus a receiving touchdown on a trick play, in the Super Bowl victory.
However, it's the lessons from the difficult times that Foles remembered on Monday.
"I know when people speak and share they're weaknesses, I listen,'' he said. "Because I can (relate). I'm not perfect. I'm not Superman. We might be in the NFL and we might have just won the Super Bowl, but we all have daily struggles.
"That's where my faith comes in. That's where my family comes in. I think when you look at a struggle in your life, just know that it's an opportunity for your character to grow."
Follow TODAY.com writer Scott Stump on Twitter.