Quick, read this lovely, inspirational story about two football players before another one is suspended.
It turns out that former Baltimore Ravens defensive lineman Ma'ake Kemoeatu effectively put an end to his NFL career after 10 seasons because his younger brother — former Pittsburgh Steelers offensive guard Chris Kemoeatu — was in dire need of a kidney, and big brother turned out to be the only suitable donor.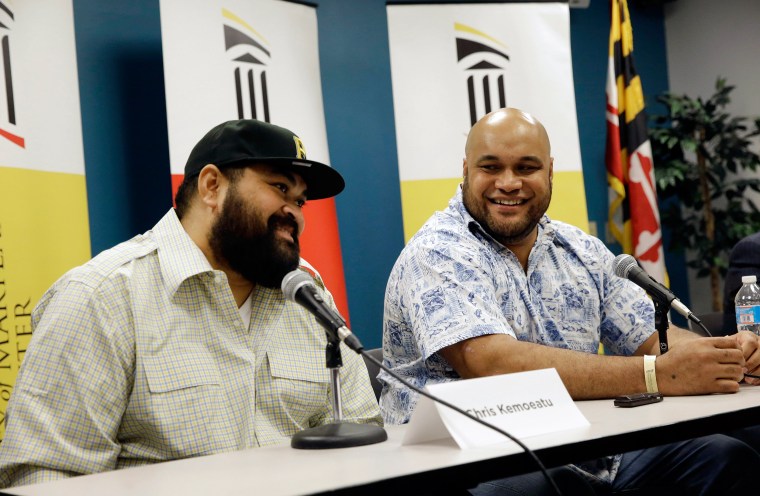 "I've seen him struggle and the last three years of his career, fighting through a lot because of his kidney," Ma'ake said at a press conference Wednesday at University of Maryland Medical Center, according to USA Today, which first reported all the details of Chris' ordeal and Ma'ake's selflessness and devotion to his family. "When we found out he needed a transplant, we had to stop our careers because his health was most important to us."

PHOTOS: Celebrity football fans
Apparently Chris, 31, had been playing through pain not just through his entire pro career, which started when he was drafted by the Steelers in 2005, but since he was in the eigth grade and had yet to grow into a 6-foot-5, 385-pound lineman. Both he and Ma'ake, 35, played for the University of Utah before joining the NFL.
"My dad wanted to do it [give his kidney to Chris] so bad," Ma'ake, who's the oldest of seven children, told USA Today. "I had to stop him. But the credit goes to my brother because he had so many flare-ups. He had to go into training camp and had to fight through the pain and get ready for the season."
Both brothers needed to lose weight before doctors would perform the surgery, and then Chris needed heart surgery in July. But happily, on Aug. 27, Chris underwent a successful kidney transplant.
Ma'ake's kidney "was one-and-a-half times bigger than any other kidney I had ever seen in my life," Dr. Stephen Bartlett, who performed the operation, also told USA Today. "It was absolutely remarkable."
Big kidneys, big brothers, big love.