This week Newt Gingrich did a slow beauty queen wave as he prepared to exit, stage right, from the presidential race. Meanwhile, President Obama slow jammed the news with Jimmy Fallon and Congress bickered over whether to go halvsies when it comes to pocket-sized parchments. Go run and tell Mom: It's time for this week's political roundup.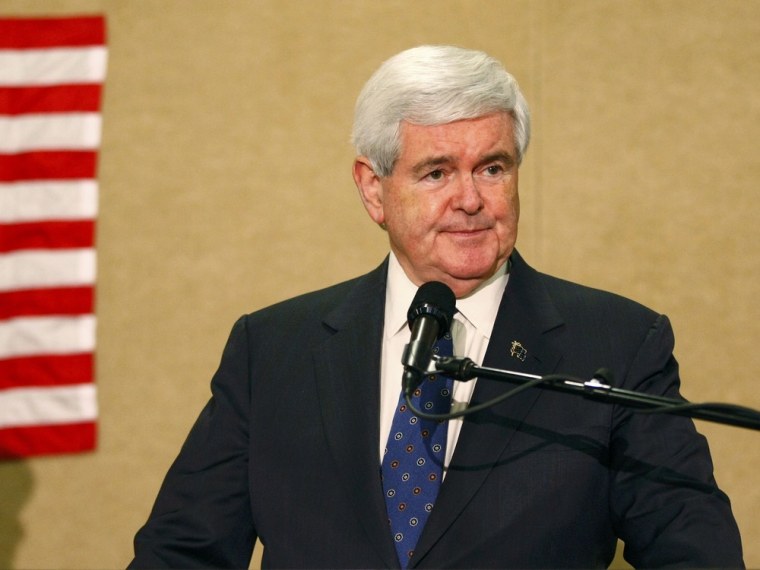 The long goodbye
Former House Speaker and erstwhile Republican presidential hopeful Newt Gingrich is waving a fond farewell to the 2012 presidential campaign.
Well… eventually.
First, he's going to bid adieu to supporters and take a few laps through North Carolina to admire cars and zoo animals. He's already lost his roughly $40,000-a-day, taxpayer-funded Secret Service protection, according to NBC News.
"The campaign will go bye-bye," Gingrich reportedly told journalists gathered at the at a luncheon stop on Thursday. But $4.3 million in campaign debt? That's another matter altogether.
One thing's for sure: Gingrich, who's backed presumptive GOP presidential Mitt Romney, won't retire from the spotlight anytime soon. He threw out the first ball at a game in North Carolina this week while wearing what he described as a "dorky" shirt.
Funny fail?
The "Preezy of the United Steezy" as Jimmy Fallon called President Barack Obama, might have "slow jammed" riffs on student loan rate policy on Fallon's late-night comedy show, but the rendition hit a sour note with Republicans.
The Republican National Convention struck back with an attack ad called "A Tale of Two Leaders," a video mashup comparing presumptive GOP presidential nominee Mitt Romney's stump speeches with Obama's "#notfunny" musical performance with Black Thought of the Roots, Fallon's house band.
On "Fox & Friends," Gretchen Carlson said the appearance "lowered the status of the office," neglecting to mention that Romney has appeared with Jay Leno and is reportedly considering "Saturday Night Live" as well.
Keep it in your pocket
Who says Congress isn't serious about budget cuts?
According to a story in CQ Weekly, the House passed a measure to cut in half the number of pocket-size versions of the Constitution lawmakers like to dole out to schoolkids and visitors to Washington. The savings? A whopping $113,000.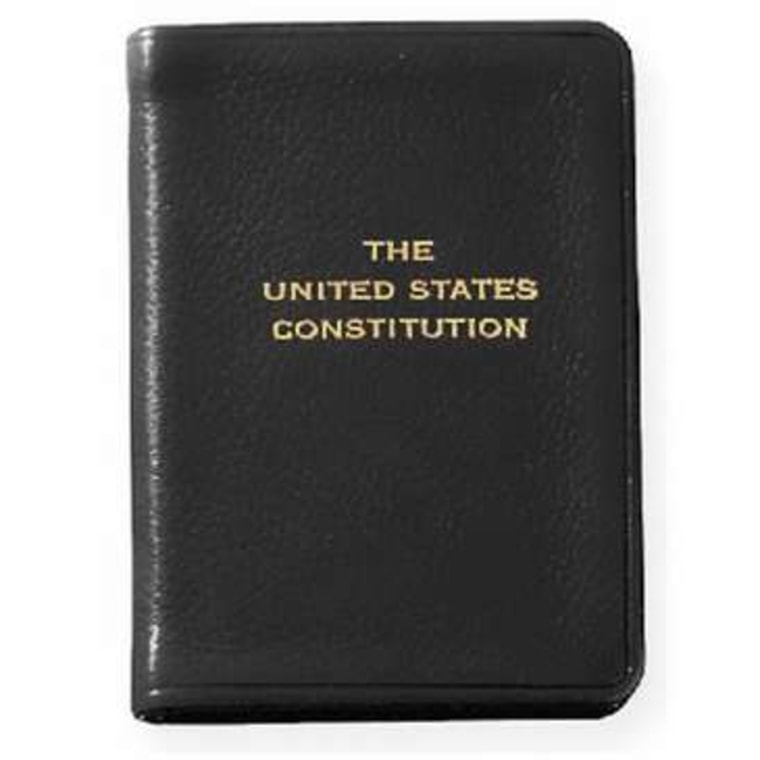 There's one teeny little problem though.
The two chambers wouldn't exactly share the burden of the cuts equally. In a move that seems reminiscent of when older brothers give their kid brothers the smaller "half" of a cookie, the House decided to keep more of the documents for themselves: House members would get 500 Constitutions a piece. Senators would get only 100.
And just like a kid brother, senators are crying, "Hey, that's not fair. You got more than me!"
"I don't understand why there's a disparity," Majority Whip Dick Durbin, D-Ill., told CQ. "If anything, a senator should get more copies."
Apparently Sen. Charles Schumer, D-NY, who chairs the Rules and Administration Committee will try to make the two sides share and play nice.
Political contributor Halimah Abdullah is the site's woman in Washington and had to share a lot more than pocket-size Constitutions with her eight brothers and sisters growing up.
More:
Oops! President gets splattered with 'yogurt'
College student: How I spilled yogurt on Obama