While their family members and peers lived behind barbed wire in U.S. incarceration camps, approximately 33,000 Japanese American soldiers served in the U.S. Army during World War II. 
Roughly 18,000 of these Nisei — or second-generation Japanese Americans — soldiers formed the 442nd Regimental Combat Team, which would become the most decorated military unit for its size and length of service in all of U.S. military history.
History can attest to the Nisei's commitment to loyalty and democracy despite their country's lack of loyalty to them. President Franklin Roosevelt's Executive Order 9066 placed more than 110,000 West Coast residents of Japanese descent, regardless of citizenship, in incarceration camps.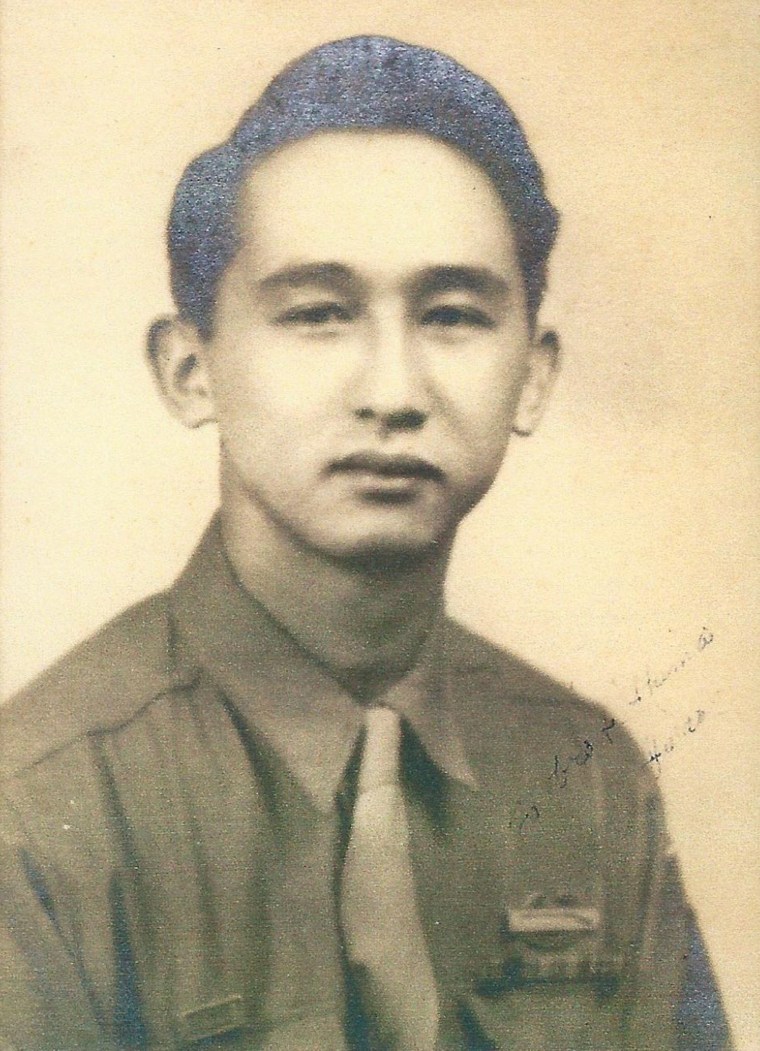 Iwao Yonemitsu is a 99-year-old WWII Nisei veteran from Hawaii. Patriotism, he told TODAY, means the same thing to him today as it did when he enlisted — fighting for the ideals of the U.S. while having the freedom to choose his own journey throughout life. 
"I felt that by serving, we would be helping in some way the families who were being forcibly displaced from their homes and businesses and relocated to the incarceration camps," Yonemitsu said. 
Christine Sato-Yamazaki, the executive director of the National Veterans Network, has seen the effect of anti-Asian hate on several generations of her family. In context with the discrimination her family faced in World War II, she calls the rise in anti-Asian hate over the past two years "eerily reminiscent." 
This year, a report by Asian American advocacy groups found that 33% of Americans agree that Asian Americans are more loyal to their perceived "country of origin" than to the United States. This number is up from 20% in 2021.
It's this sinister feeling that gave Sato-Yamazaki the motivation to carry on the legacy of her family and other Nisei veterans by telling and retelling the story of the Japanese American experience during WWII.
Japanese American soldiers fought in segregated WWII units
A year after signing Executive Order 9066, Roosevelt activated the 442nd Regimental Combat Team. About two-thirds of the Nisei soldiers were from Hawaii and the other third from the mainland.
The unit's motto was "Go For Broke," a phrase derived from a popular saying that meant risking it all to win big.
The 442nd was sent to Europe to fight the Germans in Italy. They later drove German forces completely out of northern Italy with the 92nd Infantry Division, an African American infantry. They also participated in the invasion of southern France, liberating French cities from Nazi occupation. The unit, including the 100th Infantry Battalion, received approximately 4,000 Purple Hearts, 21 Medals of Honor and seven Presidential Unit Citations.
Nisei soldiers also fought in the Military Intelligence Service in the Pacific and the 100th.
Veterans share stories of patriotism, loyalty
Yonemitsu grew up in Nāʻālehu, a town on the Big Island with a sugar plantation that employed about 500 immigrants from Japan, China, Portugal and the Philippines. Yonemitsu and his daughter Hope currently live in that same town, the southernmost community in the United States.
Young men at the time the war broke out, most of the soldiers from Hawaii had never left the state before, he said. 
"When you're 19, 20 you haven't experienced life yet," Yonemitsu said. "So it makes it kind of hard to say what the future held."
He signed up to serve after attending a meeting hosted by Japanese American community leaders.
"These community leaders expressed that enlisting the regiment was a way for us to demonstrate our loyalty to the United States," he said.
You fought not only the enemy, but you fought prejudice — and you have won.
President Harry Truman to the 442nd Regimental Combat Team on July 15, 1946.
Like many others in Hawaii, Yonemitsu's family wasn't placed in incarceration camps. People of Japanese ancestry made up over one-third of the population, and the idea of incarcerating them was deemed impractical. But he got a chance to see what mainlanders experienced when he visited the incarceration camps Rohwer and Jerome in Arkansas with other soldiers from Company L. 
"I was appalled on arrival at Jerome to see the barbed wire fencing and machine-gun equipped towers that encircled the camp," Yonemitsu told TODAY. "A large number of the internees were American citizens, and some internees were from Hawaii. In spite of their meager resources, they welcomed us with a feast that brought fond memories of home."
Even today, Yonemitsu has a witty sense of humor and a contagious laugh. He started writing a memoir for his family in his 80s — his youngest grandchild is only 7, which serves as motivation for keeping his story alive, his daughter said. 
"He writes his own personal memory," Hope Yonemitsu said. "But he said that he actually had to refer to books to know what his individual experience actually meant to the greater effort because at that time … communication was so different."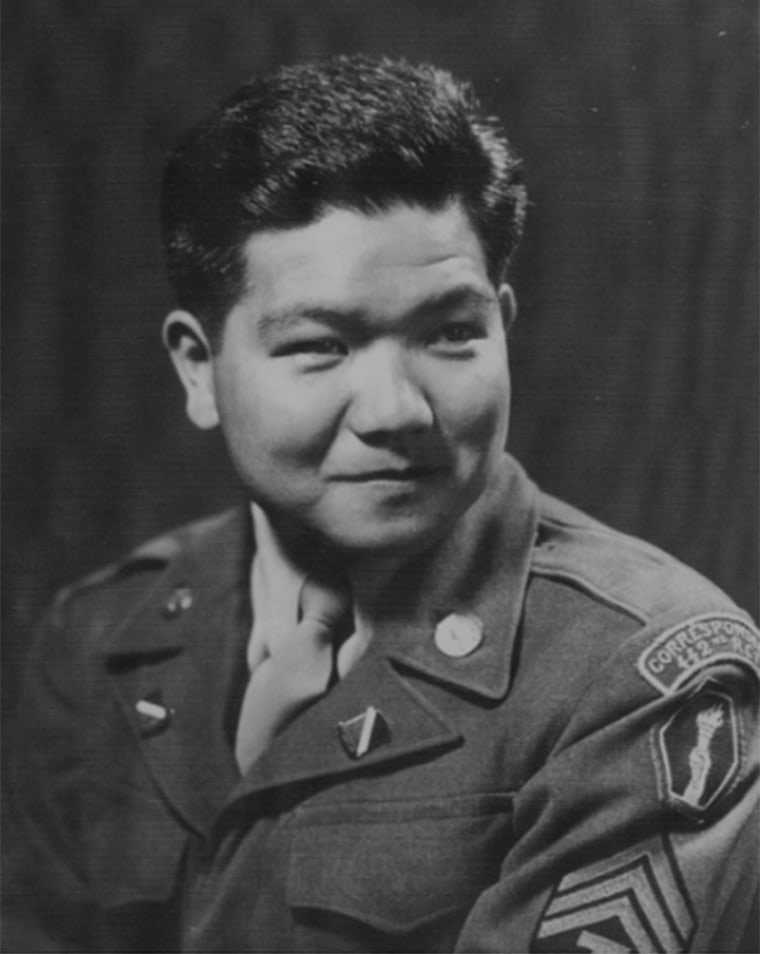 Like Iwao Yonemitsu, Terry Shima, now 100 years old, was born and raised in Hawaii without mass incarceration. He served in the 442nd but didn't fight in active combat because Germany surrendered the day his troopship arrived in Italy. 
Nisei were expected to answer two loyalty questions when enlisting — question 27 asked if Nisei men were willing to serve in the armed forces of the United States on combat duty wherever ordered, and question 28 asked Nisei to swear allegiance to the U.S. and forswear allegiance to the Emperor of Japan. A group of young men earned the nickname "No-No Boys" for answering no to both these questions in protest. 
"In Hawaii, we had the same questions asked of us that we had to answer, but we were not behind barbed wire, so that affected us in a very different way," Shima said. "To many of the Nisei, that is a nonquestion, because there's no relationship between the Emperor of Japan and ourselves."
A living legacy
The impact of the Nisei soldier experience extends beyond veterans to the generations that followed.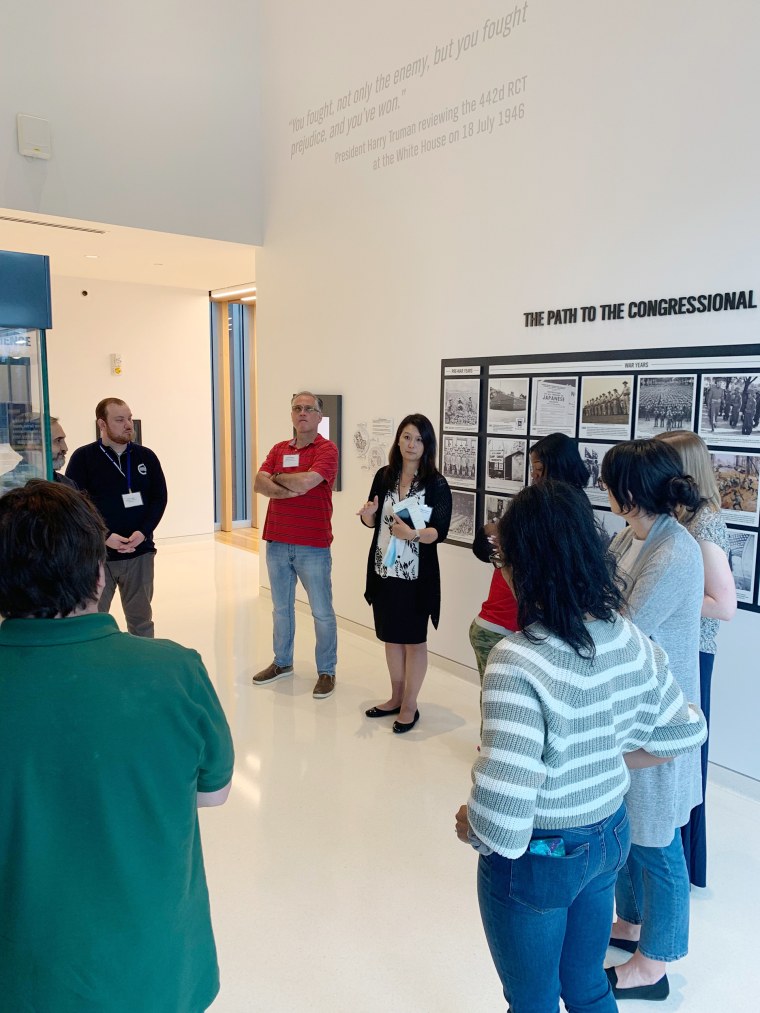 Sato-Yamazaki's work is personal — her grandparents were incarcerated in Arkansas and her grandfather served in the 442nd. 
"All of us have American stories to tell," Sato-Yamazaki said. "We are part of a larger effort to get the AAPI or Asian American Pacific Islander stories and narratives and to get that out to people to understand that Asian Americans and Pacific Islanders have been here for generations and have contributed to the fabric of the society."
We are part of a larger effort ... to get that out to people to understand that Asian Americans and Pacific Islanders have been here for generations and have contributed to the fabric of the society.
Christine Sato-Yamazaki EXECUTIVE DIRECTOR OF THE NATIONAL VETERANS NETWORK
Many Nisei families, but not all, wanted their children to assimilate into mainstream society following the war. There was an emphasis on putting the bad times of the war in the past and moving onward and upward. Sato-Yamazaki's parents and aunts all have American first and middle names, a hallmark of this postwar attitude. Sato-Yamazaki grew up eating hamburgers and hot dogs and felt disconnected from her Japanese heritage.
A shift came with the fourth generation, known as Yonsei, she said — the grandchildren of the veterans.
"We absolutely grew up knowing nothing about what happened to our families, that was very common," Sato-Yamazaki said. "But I think it was our generation that was much more curious — we were the ones asking questions, we wanted to know what happened to our grandparents."
The Civil Liberties Act of 1988 gave surviving Japanese Americans $20,000 in reparations and a formal apology by President Ronald Reagan. Sato-Yamazaki was living with her grandparents when they received the reparations and apology letter. The apology letter was a lot more significant than the money to Japanese American families, she said. 
Shima served as executive director of the Japanese American Veterans Association for a decade and preserved the legacy of the Nisei soldier experience by speaking to students of all ages in the Washington, D.C., Maryland and Virginia area.
"What the 100th and the 442nd and the MIS did resounds into the next generation and into generations to come," Shima said.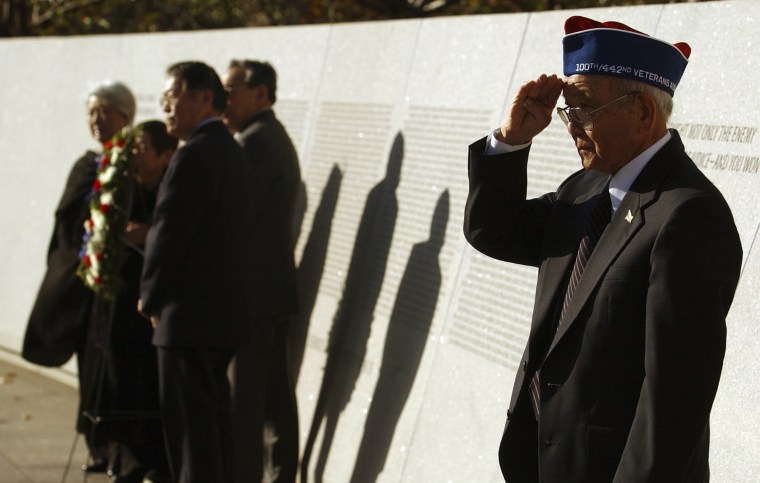 One of the most famous moments highlighting the legacy of the Nisei soldier experience is President Harry Truman's remarks to the 442nd RCT on July 15, 1946. 
"You fought not only the enemy, but you fought prejudice — and you have won," the 33rd U.S. president said. 
 Truman met with the Nisei veterans in the rain, a symbolic appreciation for their service despite feeling like foreigners in the country they fought for. 
"What he did by that statement is that he removed from the table this stigma of disloyalty that was placed there when war began by Roosevelt," Shima said. 
It was this, Shima believes, that led to the signing of Executive Order 9981 — the desegregation of the armed forces in 1948.
"It leveled the playing field for all minorities and for everyone because what it says is that there shall be equality of treatment and opportunity for all persons in the armed forces without regard to race, color, religion, or national origin," Shima said. "If it were not for this order, it would continue to be a white man's army, a white man's military, you would not see as many minorities in the top ranks."
Aside from her work with NVN, Sato-Yamazaki is sharing her grandparent's legacy in a personal way by educating her son. 
"When he learned that his grandparents were put into the camp, he was angry when he was little," Sato-Yamazaki said. "But when he heard that America apologized, that meant a lot to him. And I think that apology wasn't just for the generation, for the wrong, but it's something that I think helps the next generation and future generations to understand that a wrong was committed but our country did apologize."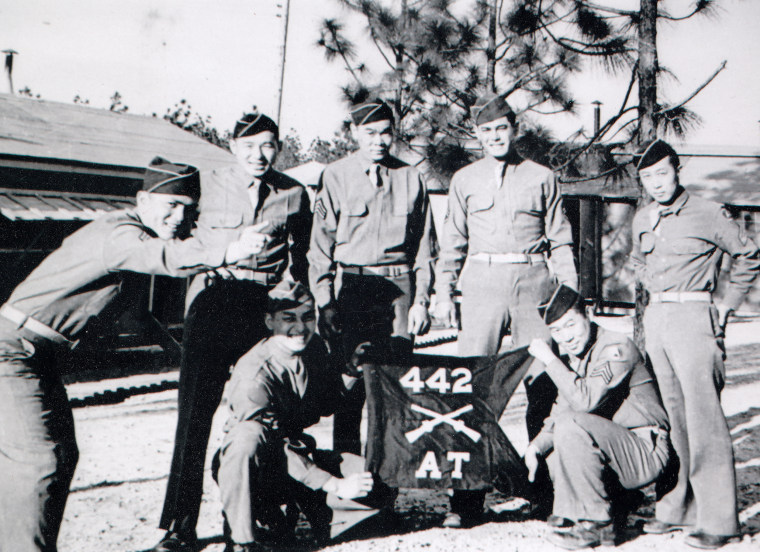 Sato-Yamazaki carries on what she now has learned to call "generational trauma" from her grandparents' incarceration. She felt it once when she learned about a proposed immigration detention center near the incarceration camps in Arkansas a few years ago. 
"(My grandparents) came out of it and they never talked to us about it, they just endured it and moved on for the sake of our family and the next generation," Sato-Yamazaki said. "And so when something like a detention camp and then, of course, the more recent anti-Asian hate (comes up) that becomes very disturbing and alarming."
Educating the next generation
It was with this motivation that Sato-Yamazaki and NVN embarked on a teacher training in partnership with the National Museum of the United States Army in Virginia about the Nisei soldier experience. High school history teachers from the East Coast took two online sessions and one in-person session to receive a certification in May.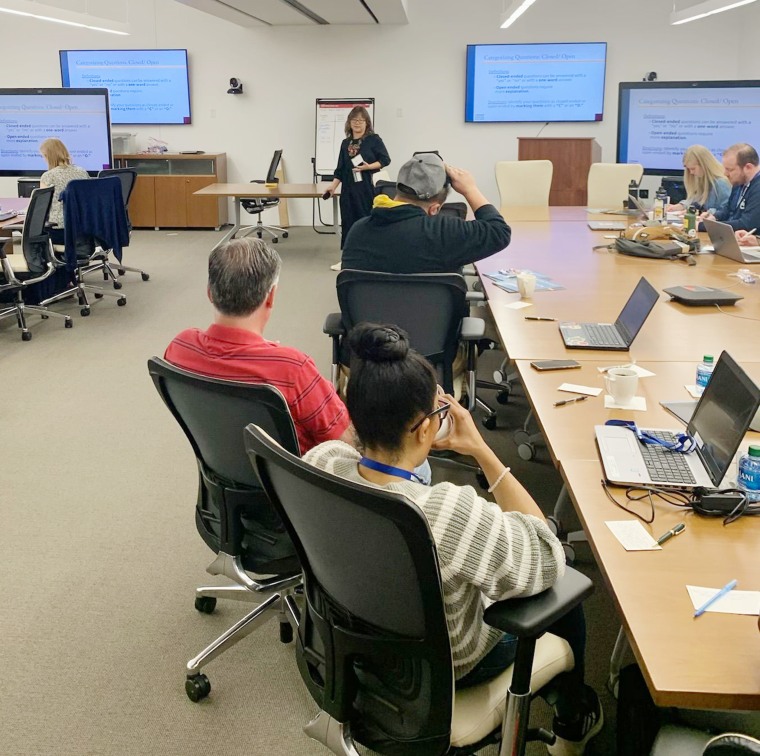 Sitting in a conference room above the museum's new Nisei soldier artifact exhibit, the teachers developed lesson plans centering the stories of Nisei veterans. They develop questions for their students about the meaning of freedom and how a person shows loyalty to their country. In their classrooms in the coming months, they will use testimonies from veterans and primary sources to analyze themes of diversity, inclusion and democracy.
"It's about educating the students about what happened to Japanese Americans during World War II, but having stories is a way to connect it to themselves," Sato-Yamazaki said. "We often see that when they learn about what happened to Japanese Americans, there's something in that story that resonates with them. Maybe it's about their family history, maybe their immigration story or maybe it's about the discrimination."
Participant Chris Gannon is a U.S. history teacher from Herndon High School in Fairfax County, Virginia. He was born in the Aloha State, so he feels a personal connection to the story of the Nisei veterans from Hawaii, but said his primary motivator for attending the workshop is to connect with his students who are part of military families. 
He also hopes to shed light on a subject that's rarely talked about in-depth in U.S. history courses. In July 2021, Illinois became the first state to require teaching Asian American history in schools.
"Getting a sense of what it meant to Japanese Americans to serve, I don't think that was ever really impressed on me that much when I was in school, so that's something I'm hoping I can bring back to my students," Gannon said.
Teaching students a more robust understanding of American history — and whose stories get told — can be critically important at a time when xenophobia is on the rise.
"Education is a critical element to help to combat anti-Asian hate," she said. 
CORRECTION (May 30, 2022, 12:45 p.m.): An earlier version of this article misstated the number of Purple Hearts awarded to the 442nd and 100th Battalion soldiers. The more widely accepted number is 4,000, not 9,500.