Russia launched an attack in Ukraine on Thursday, Feb. 24, with missile and air strikes as well as ground assaults on multiple cities that have intensified in March.
The offensive ordered by Russian President Vladimir Putin, which began just minutes after a televised speech by Putin on Feb. 23, has resulted in thousands of deaths and plunged Europe into one of its most dire security crises since the end of World War II. 
Putin said in his speech on Feb. 23 that he was greenlighting military action in Ukraine and that any nation that tried to interfere would face a response by Russia "so severe that no foreign nations have ever experienced it before."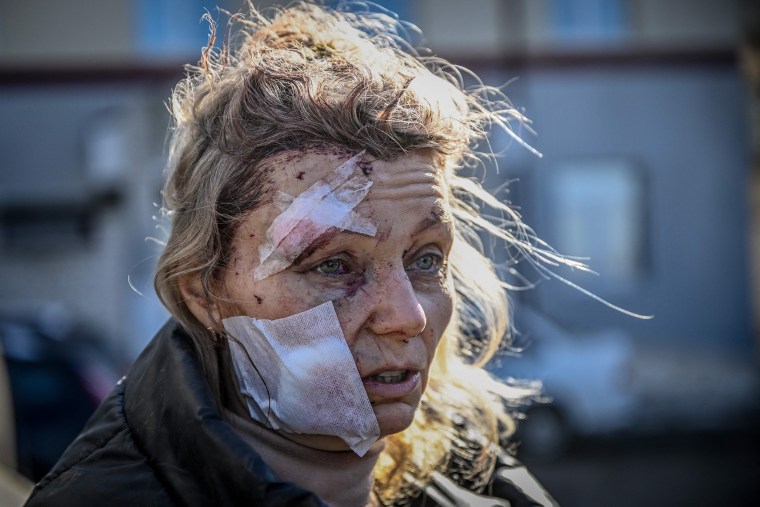 "We are being attacked from the south, north, east and from the air," Ukrainian President Volodymyr Zelenskyy said in a speech broadcasted on the day of the invasion. "We are giving away weapons and we will continue doing so to anyone who will ask for it in order to protect our sovereignty. Our future depends on each and every citizen."
Why has Russia invaded Ukraine?
Putin said in a speech on Feb. 21 that he is defending Russian-speaking areas of Ukraine, particularly the self-declared republics of Luhansk and Donetsk, which broke from control of the Ukrainian government in 2014. 
He deemed the attack a "peacekeeping" operation and said Ukraine was trying to subject Russian speakers to a "genocide" by forcibly trying to take back the breakaway regions. No evidence of that has been found, and Ukrainian officials have denied any military effort to reclaim the territory.
The Russian president said in his speech on Feb. 23 that he ordered the military action to "demilitarize" Ukraine, a sovereign democracy that borders Russia, due to the prospects of Ukraine joining the North Atlantic Treaty Organization, which he considers "a hostile act."
Putin said that Ukraine, which was part of the Soviet Union before its collapse in 1991, was "in full and in whole created by Russia — Bolshevik, Communist Russia to be precise." He believes it's an illegitimate country that should be under the sphere of Moscow because the two are part of an inseparable whole.
Related: How to talk to children about war: an age-by-age guide
U.S. officials have warned for months that the Russian government was trying to manufacture a pretext to attack Ukraine.
"Russia alone is responsible for the death and destruction this attack will bring, and the United States and its allies and partners will respond in a united and decisive way," President Joe Biden said in a statement on Feb. 23. "The world will hold Russia accountable."
What is happening in Ukraine?
Russian forces have attacked with missiles, airstrikes and ground forces in cities throughout the country for weeks in attempts to seize control of major cities and dismantle Ukraine's democratically-elected government.
The United Nations report that the attack has resulted in the deaths of hundreds of Ukrainian civilians. The Ukraine government has said in public announcements that the civilian death toll is more than 2,000.
Figures for military casualties as of March 8 have been disputed, with Ukraine saying more than 11,000 Russian soldiers have been killed, a U.S. intelligence report estimating it at up to 4,000, and Russia saying the number is in the hundreds.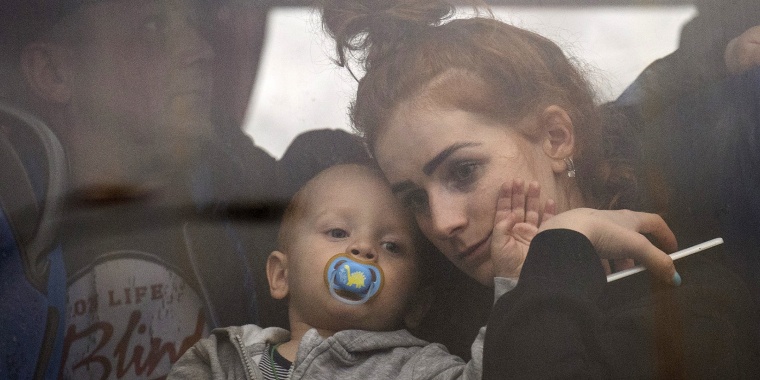 "Russia treacherously attacked our state in the morning, as Nazi Germany did in #2WW years," Zelenskyy tweeted on Feb. 24. "As of today, our countries are on different sides of world history. (Russia) has embarked on a path of evil, but (Ukraine) is defending itself & won't give up its freedom no matter what Moscow thinks."
Ukraine has not released a figure of how many military casualties it has suffered through March 8.
More than 2 million Ukrainians have fled the country in Europe's worst refugee crisis since World War II. More than a million of the refugees have sought safety in neighboring Poland, according to the United Nations.
Related: 'DWTS' star Maksim Chmerkovskiy shares videos from Ukraine
Ukraine has put up a fierce resistance to the Russian invasion, but many cities face dire shortages of food and water and a lack of electricity as a result of Russian attacks on infrastructure and ports.
Babies are being delivered in bomb shelters and thousands of couples are anxiously getting married, some of them clad in military fatigues.
A U.S. intelligence assessment in February estimated that 50,000 civilians could be killed or wounded in a full-scale Russian invasion of Ukraine.
What is the response by the U.S. and Western Europe?
The Biden administration and Western European governments have hit Russia with a range of dramatic sanctions against the Russian financial system, from cutting off large Russian banks to seizing assets of Russian oligarchs.
The U.S. took the major step on March 8 of banning Russian oil exports, which make up a significant portion of Russia's economy. Russia was only behind the U.S. and Saudi Arabia among the world's largest producers of petroleum products in 2020 and provides about a tenth of the global oil supply, according to the U.S. Energy Information Administration.
"We're banning all imports of Russian oil and gas and energy," Biden said in remarks from the White House. "That means Russian oil will no longer be acceptable at U.S. ports and the American people will deal another powerful blow to Putin's war machine."
In a joint effort with the U.S., British Prime Minister Boris Johnson also announced on March 8 that the United Kingdom will phase out Russian oil products by the end of this year. The European Commission also announced plans to reduce the European Union's reliance on Russian gas by two-thirds this year and end any imports of Russian supplies "well before 2030."
German Chancellor Olaf Scholz said at a news conference in Berlin on Feb. 22 that he has suspended certification for the Nord Stream 2 pipeline that would bring natural gas from Russia into Europe as punishment for Putin's actions. Germany relies on Russia for about a third of its natural gas.
"These are difficult hours for Europe and almost 80 years after the end of the Second World War, we might see a new war in Eastern Europe," Scholz said at the news conference.
As far as military assistance, the U.S. and NATO have supplied more than 17,000 antitank weapons and missiles to Ukraine by flying them to Poland and Romania, according to The New York Times.
The Pentagon announced on March 7 that it was sending an additional 500 troops to Europe, bringing the total to 14,000 troops sent to support NATO countries, according to the Army Times.
Biden also previously announced a round of sanctions on Russian exports to the U.S., saying in a televised speech that "Putin chose this war" and that "he and his country will bear the consequences."
European Union Commission President Ursula von der Leyen said on Feb. 24 that the EU "will freeze Russian assets in the European Union and stop the access of Russian banks to European financial markets."
There also have been repercussions in the sports world. The Champions League removed its soccer championship game from being held in St. Petersburg, Russia, and the Russian Grand Prix Formula 1 race was pulled from Sochi.
The international soccer organization FIFA said that foreign players on teams in Russia and Ukraine are allowed to break their contracts and go elsewhere after announcing that all Russian soccer teams are indefinitely suspended from competition.
The International Paralympic Committee expelled Russian and Belarusian athletes from competing in the Paralympics currently being held in Beijing.
Defiant Russians have been using the symbol "Z," which has appeared on Russian tanks and military vehicles, to show their support for the war. Russian gymnast Ivan Kuliak is being investigated after taping a "Z" symbol to his vest during the medal ceremony at a World Cup event on March 6 in Qatar.
How has the U.S. been affected by the invasion?
Gas prices have skyrocketed to the highest levels in U.S. history since the invasion.
Prices reached a record $4.17 per gallon on average on March 8, and that was before Biden announced the U.S. would ban imports of Russian oil and gas.
The move will most likely cause a further rise in gas prices. Biden promised in his remarks on March 8 "to do everything I can to minimize Putin's price hike here at home."
The price of Brent crude oil opened at $128.99 per barrel on March 8, marking a 4.6% increase from the previous month. The highest price of Brent crude in history was $147.50 in July 2008.
While Russia was the third largest supplier of oil by country to the U.S. behind Canada and Mexico in 2020, according to the U.S. Energy Information Administration, it accounted for 7% of gross petroleum imports, compared with Canada's 52%.
What is Ukraine's history with Russia?
Ukraine's territory was controlled by the Russian Empire and Austria-Hungary in the 19th century before the people asserted their independence and became the Ukrainian People's Republic in 1917.
Ukraine then became part of the Soviet Union in 1922 and did not regain its independence until the end of the Cold War and the fall of the Soviet Union in 1991. Ukrainians voted in a landslide to become an independent nation.
Pro-democracy leader Viktor Yuschenko was elected president in a third round of voting in 2004 after what became known as the Orange Revolution. Mass protests were held after accusations of election rigging when a candidate supported by Putin, Viktor Yanukovych, initially defeated Yuschenko.
Yanukovych was eventually elected president in 2010, but fled to Russia in 2014 in the wake of protests, resulting in an interim government being installed. Putin declared the new government illegal and then sent troops to take control of the Crimean Peninsula in Ukraine, which was ultimately annexed by Russia.
Violence also broke out that year in Donbas, an eastern region of Ukraine. The fighting has continued to this day in the region after Russian-backed separatists stormed government buildings in Donetsk and Luhansk in 2014. Russia has also regularly engaged in cyberattacks in Ukraine, including a hack of the power grid in 2015 that caused widespread outages.
More than 14,000 people died in the fighting between Ukraine and Russia since 2014 before the current invasion, according to the United Nations.