A rodeo athlete and his horse died this month when the two were struck by lightning in a rural part of Nebraska while the man was checking on cattle, according to officials and a fundraiser.
Terrel Vineyard, 27, was on horseback when he was struck June 21, north of Oshkosh, the Garden County Attorney's Office said in a statement to NBC affiliate KNOP of North Platte.
Officials arrived after receiving a call about the strike shortly after 2 p.m. and found Vineyard dead, according to the statement.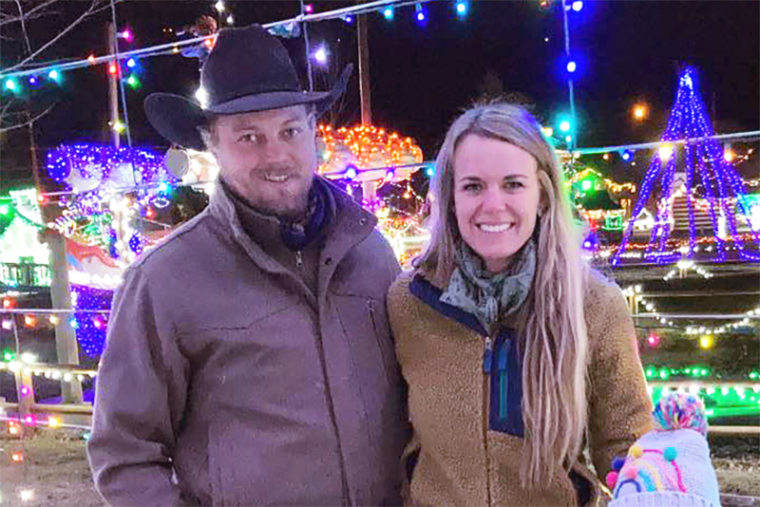 An autopsy confirmed Vineyard was struck by lightning, the attorney's office said.
The National Lightning Safety Council said in a log of fatalities that Vineyard's was one of six lightning-caused deaths in the United States this year and the only one in Nebraska.
Vineyard was "checking on cattle" in an open area when he was killed, the council said.
Of 223 lightning deaths in the U.S. between 2013 and 2022, Nebraska accounted for zero fatalities, according to the council.
The National Weather Service said there was a 30% chance of thunderstorms on the 21st, with that chance increasing to 90% in the evening. 
Vineyard and his wife married earlier this year with their three daughters present, according to a GoFundMe for his family, which was verified by the crowdfunding site.
In a post on her Facebook, which was verified by NBC News, Stacey Vineyard thanked the community who had supported her family since her husband's death.
"June 27th, 2023 we laid our husband, son, and brother to rest," she wrote. "It has been truly humbling to receive the love that has been shown for Terrel and all of us."
Vineyard was raised on Nebraska ranches and learned to rope cattle by the time he was 6, according to a GoFundMe for his family, which was verified by the crowdfunding site.
He attended Laramie County Community College in Cheyenne, Wyoming, with the boost of a rodeo scholarship, according to the page.
Following school, he and his steed at the time, Shorty, qualified three times for the World Series of Team Roping in Las Vegas, according to the fundraiser. It said he bought Dose, the horse he was riding on June 21, a few years ago.
"Terrel and Dose left for greener pastures together — Terrel with his rope in hand," the page states.
This story originally appeared on NBCNews.com.