A recent New York Police Department investigation into a missing Central Park Zoo resident is a case of a true Hoo-dini.
On Feb. 2, Flaco — a Eurasian eagle-owl living at the New York-based menagerie— was discovered to be missing at 8:30 p.m. after its exhibit was found vandalized and the stainless steel mesh cut.
After the discovery was made, a search for the bird was underway. According to a statement from Central Park Zoo, bystanders and police observed the owl standing on a sidewalk on 5th Avenue near the park before it took flight.
"Well, that was a hoot," the NYPD 19th Precinct tweeted about their encounter with the bird. "We tried to help this lil wise guy, but he had enough of his growing audience & flew off. Rangers, be on the lookout — he was last seen flying south on 5th Avenue."
The owl was later found perched in a tree close to the zoo. That night, staff stayed close by and kept an eye out for the bird. As the sun rose the next day on Feb. 3, Flaco flitted from his perch on 5th Avenue and back to Central Park, where the zoo says it had visual contact with the bird.
"Our focus and effort at this time is on the safe recovery of the owl," the zoo noted in its statement. "We will issue updates as needed."
In a statement issued to Twitter, the New York City Department of Parks & Recreation requested that onlookers keep clear of the loose owl.
"For those concerned about Flaco, the @centralparkzoo's escaped Eurasian eagle-owl, our Rangers are on the case!" they tweeted. "We spotted the owl in Hallett Sanctuary this morning and found Flaco healthy and hunkering down in a tree. We ask that parkgoers give space so that he can be rescued."
The statement from Central Park Zoo on the missing owl did not give any further details about how or why Falco's exhibit was vandalized.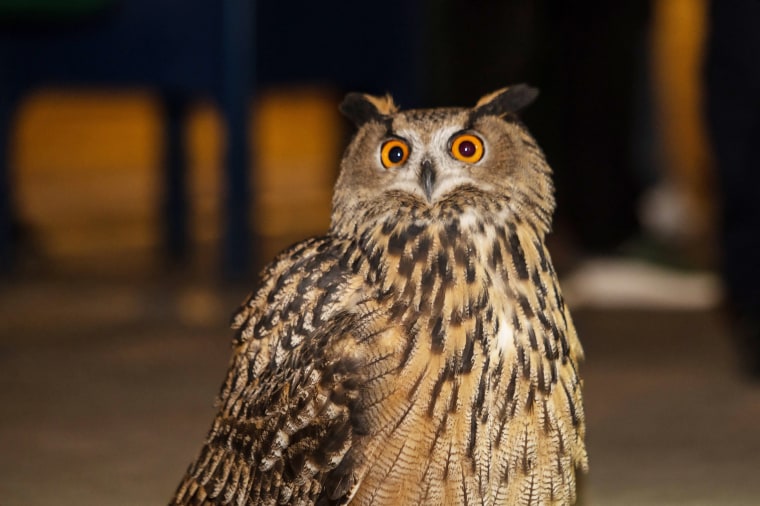 In Dallas, Texas, a suspect has been arrested in the case of two emperor tamarin monkeys who had gone missing from the Dallas Zoo.
On Feb. 3, NBC News affiliate KXAS-TV in Fort Worth reported that police arrested 24-year-old Davion Irvin. He is accused of stealing the two monkeys named Bella and Finn and faces six counts of animal cruelty.
The two monkeys were found on Jan. 31 located in a bathroom inside of an empty home after receiving a tip from the public.
"We are pleased that video from our surveillance cameras — which we shared with Dallas PD — seems to have been critical in generating a tip that led to the recovery of the tamarins," the zoo officials said. 
According to the zoo, Bella and Finn showed no sign of injury, had only lost a little weight and will go back to their habitat after a period of quarantine.