New York police are searching for rapper Travis Scott after he allegedly punched a sound engineer and caused $12,000 worth of damage at a Manhattan nightclub early Wednesday morning, officials said.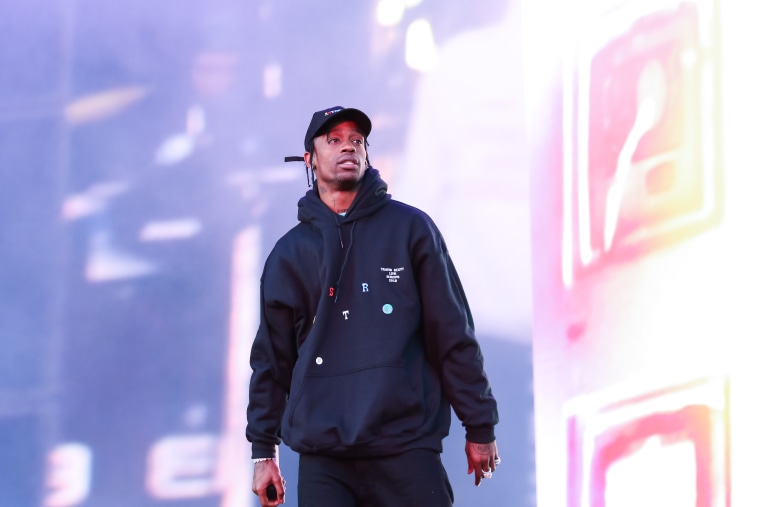 Officers from the New York City Police Department's Midtown Precinct South responded to Club Nebula on West 41st Street at about 3:25 a.m. after a sound engineer said "he was involved in a verbal dispute with" Scott, according to a department statement.
The rapper was accused of escalating the dispute "into a physical altercation. Travis Scott punched the victim with a closed fist on the left side of the face," according to the NYPD.
Scott was also accused of causing about $12,000 worth of damage to a speaker and a video screen before fleeing west on 41st Street in a car, police said.
Investigators said they're reviewing club surveillance video.
Earlier in the evening, Scott was at rapper Don Toliver's show at Irving Plaza, about 25 blocks south of Club Nebula. Toliver, Scott and others were at Nebula for the show's afterparty.
Scott's spokesman issued statements on behalf of himself, club management, the musician's lawyer and a talent booker who arranged the post-show party.
All four people said the incident was blown out of proportion, with three of them using the word "misunderstanding" to describe the incident — though none of the four statements directly addressed allegations whether Scott got physical.
"While this is clearly a misunderstanding being blown out of proportion by clickbait and misinformation, we are actively working with the venue and law enforcement to resolve and set the record straight," according to a statement attributed to Scott's attorney, Mitchell Schuster.
"We are confident our client will be cleared of any wrongdoing."
The sound engineer appeared to be inside his New Jersey home late Wednesday morning, but the victim did not answer the door when NBC News sought his comments.
The 31-year-old artist, whose real name is Jacques Bermon Webster II, is the longtime boyfriend of reality TV star Kylie Jenner. They have two children together.
Scott's name is also synonymous with a Houston music festival that turned deadly on Nov. 5, 2021, when 10 people died at his Astroworld concert.
He's a headliner at this weekend's Rolling Loud festival at Hollywood Park Grounds in Inglewood, California.
Scott is set to take the stage on Saturday, a day after Kodak Black performs. The artist still expects to perform in Inglewood on Saturday, Scott's rep said Wednesday.
A Florida judge on Tuesday ordered that rapper, whose real name is Bill Kapri, to attend drug rehab for 30 days after he allegedly tested positive for fentanyl, in violation of his bail terms.
Broward County Judge Barbara Duffy said the "Super Gremlin" artist could remain free until March 7.
This article originally appeared on NBCNews.com.