NASCAR has suspended driver Noah Gragson indefinitely, the company said Saturday. The decision came after the driver appeared to have liked an insensitive meme with a photo of George Floyd on social media.
Gragson, 25, was amid his first full season as a driver in the Cup Series, NASCAR's top league, when he was replaced Saturday by Josh Berry in the No. 42 car, his team said in a statement.
Legacy Motor Club announced Gragson's suspension, saying his actions "do not represent the values of our team."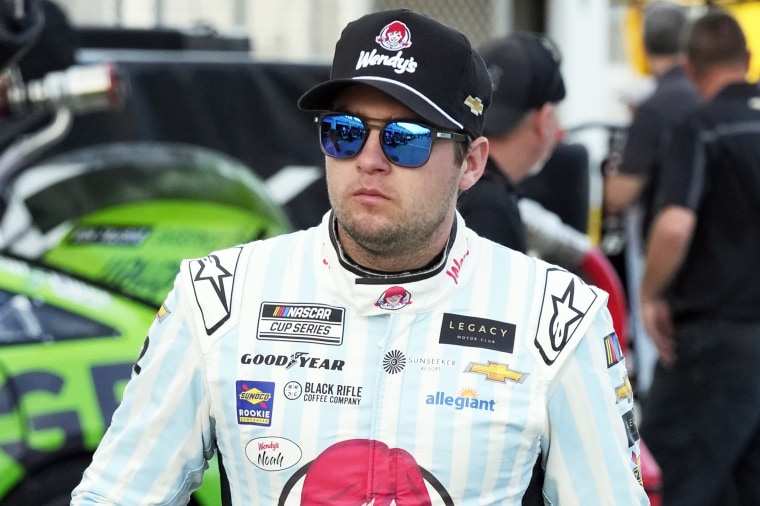 NASCAR said Gragson violated stock car racing's member conduct section of the rules, which states, in part, that members should not publicly disparage people based on their background, NBC Sports reported.
NASCAR said the suspension would be "indefinite," though drivers sidelined under indefinite suspension in the past have had opportunities to rejoin NASCAR.
Gragson, in a statement on the platform X, formerly known as Twitter, did not directly address the alleged meme but acknowledged his actions.
The racing star doesn't make that exact connection, but his statement on X Saturday appears to support the narrative that his suspension is the result of approval for the George Floyd meme.
"I am disappointed in myself for my lack of attention and actions on social media," the racing star said in the tweet Saturday. "I understand the severity of this situation. I love and appreciate everyone. I try to treat everyone equally no matter who they are. I messed up plain and simple."
Neither NASCAR nor Legacy immediately responded to requests seeking more information about the reason for Gragson's suspension. Fox Sports reported NASCAR confirmed the suspension was related to the meme.
Gragson's apparent like of the post was reported Saturday by TMZ, which published a screenshot that appeared to show it coming from an account belonging to Gragson. The meme shows a photo of Floyd's face and includes a reference to his death on May 25, 2020, after a white Minneapolis officer knelt on Floyd's neck for 9½ minutes.
Floyd, who was Black, had been stopped by officers investigating a report of someone passing a counterfeit $20 bill at a market.
Video of his agonizing death touched off a summer of protests across the nation, and state and federal prosecution of the four officers involved was successful.
Gragson's suspension came as NASCAR took up residence for the weekend at Michigan International Speedway for Cup racing and lower series events, all leading to the showcase Firekeepers Casino 400.
Chevrolet, the nameplate on the No. 42 of Legacy Motor Club, said in its own statement Saturday, "Noah's actions do not align with our beliefs and brand values. We will work with Legacy Motor Club on next steps."
This story originally appeared on NBCNews.com.