The gunman behind the deadly dance hall shooting in the Los Angeles suburb of Monterey Park may have been targeting his ex-wife on the Lunar New Year, the California city's mayor said on Monday, Jan. 23.
That revelation came as the death toll from the shooting on Jan. 21 climbed to 11, with at least nine wounded people still being treated for their injuries, officials said.
Huu Can Tran, the 72-year-old suspected shooter, apparently thought his ex-wife was at the Star Ballroom Dance Studio when he burst inside and opened fire on a festive crowd, police said.
"My understanding is that he may have come because his ex-wife was reveling, celebrating the Lunar New Year, and it sounded like there was a history of domestic violence, which is unfortunate," Monterey Park Mayor Henry Lo told NBC News' Kate Snow.
Tran filed for divorce in 2005 in Los Angeles County, records show. NBC News has reached out to the person believed to be the shooter's ex-wife for comment.
Follow along here for live coverage
Police on Jan. 23 continued searching the suspect's home in Hemet, a small city about 85 miles east of Los Angeles, and did not divulge a motive.
Alan Reyes, the public information officer for the Hemet Police Department, said their records show that Tran contacted them a decade ago and alleged his family was trying to poison him. The allegation was never investigated because Tran never presented any proof to back up his claims, Reyes said.
Tran died some 12 hours after the massacre of a self-inflicted gunshot wound inside a white van as a SWAT team closed in on him, Los Angeles County Sheriff Robert Luna said on Jan. 22.
"The unimaginable happened in our community last evening," Lo said in a statement on Jan. 22, calling the deadly shooting a "horrible tragedy."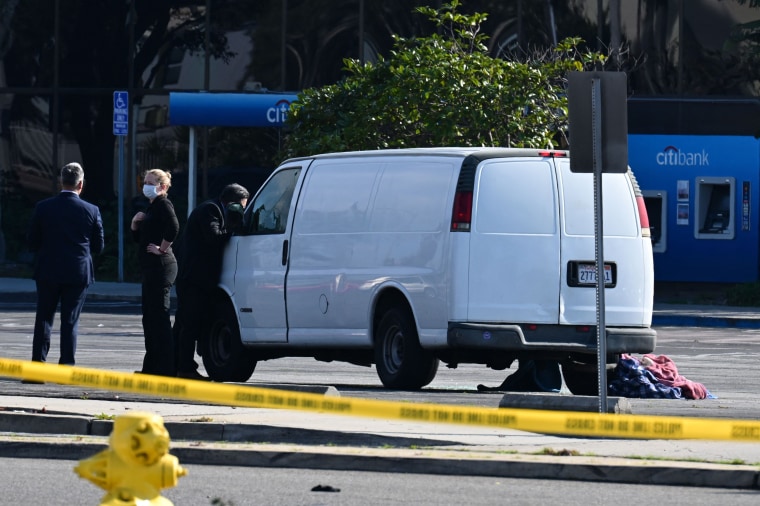 Meanwhile, as the mostly Asian community braced for a wave of funerals, the Los Angeles Coroner's Office released the names of two of the victims: My Nhan, 65, and Lilan Li, 63. It was not immediately clear if they knew the gunman.
A vigil will be held on Jan. 24 in Monterey Park in memory of the dead.
"We believe that it is important for our community to come together to remember and heal," Lo said in an official statement.
A short time afterward, the Los Angeles County Department of Health Services announced that one of the four patients being treated at the LAC+USC Medical Center "has succumbed to their extensive injuries."
The DHS did not identify the victim.
At 72, Tran did not fit the age profile of a mass shooter. The median age over the past six decades is 32, according to data compiled by The Violence Project, which is a nonprofit research center funded by the National Institute of Justice.
Some 30 minutes after Tran opened fire in the Star Ballroom Dance Studio, he turned up at another dance studio in the nearby town of Alhambra, police said. There, Tran was stripped of what police described as a "semi-automatic assault pistol," before he could harm anybody, by a member of the family that operates the venue.
"When he was looking around the room, it seemed like he was looking for targets, people to harm," Brandon Tsay, 26, said of the shooter in an interview on Jan. 23 with ABC News.
Tran was able to get away, police said. And about a dozen hours after the bloodshed in Monterey Park, police tracked Tran's white van to a car park 30 miles away in the suburb of Torrance where the suspect killed himself.
Follow along here for live updates
Several pieces of evidence linking Tran to the carnage were found inside the van, Luna said. A handgun was also found in the van, he added.
Early on, police raised the possibility that the massacre may have been a hate crime.
"We don't know if this is specifically a hate crime defined by law, but who walks into a dance hall and guns down 20 people?" Luna said on Jan. 22 "The description we have now is of a male Asian. Does that matter? I don't know. I can tell you that everything's on the table."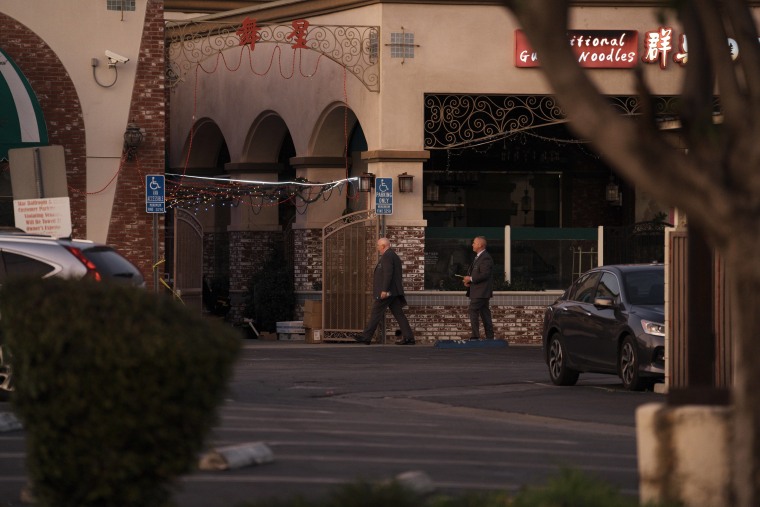 A resource center was established at Monterey Park's Langley Senior Center, he said, adding that mental health resources were available for "anyone who needs support."
Families and friends gathered at the center a day after the tragedy, waiting to hear news of loved ones who they feared might have been among the people killed or injured.
"I tried to reach her, but I didn't get any response," Monterey Park resident Vivian King said of a friend she last heard from earlier in the weekend.
"It's difficult not knowing what's going on," said Juan Pablo Pinzon, a tourist from Colombia, who said his cousin had been out with friends in the area the night of the shooting and had not responded to texts and calls. "Hopefully, we'll hear something soon."
This article originally appeared on NBCNews.com.