King Charles III and other members of the royal family traveled behind Queen Elizabeth II's coffin during a procession through Edinburgh, Scotland, on Monday.
The procession followed the late monarch's casket as it was moved from the Palace of Holyroodhouse to St. Giles' Cathedral, where a service of thanksgiving for Elizabeth's life was scheduled to take place.
Charles and his siblings — Princess Anne, Prince Edward and Prince Andrew — followed their late mother's coffin on foot. Anne's husband, Sir Tim Laurence, followed behind.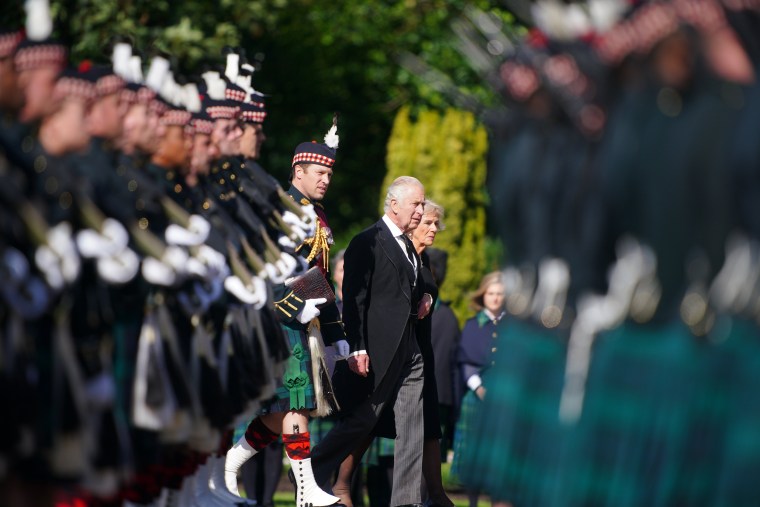 Meanwhile, Camilla, the queen consort, and Edward's wife, Sophie, Countess of Wessex, rode by car behind them, the palace said.
The Prince and Princess of Wales and the Duke and Duchess of Sussex did not appear to be part of the procession.
Elizabeth's casket was draped by the royal standard in Scotland, which includes a red lion rampant against a yellow background, in addition to symbols of other parts of the United Kingdom.
The procession moved silently past crowds of people lining the streets leading toward the cathedral. The crowds were mostly silent also, though one person could be heard shouting, "God bless the queen!" 
The queen's coffin was dressed with a wreath of flowers, including white spray roses, white freesias and dried white heather from the Balmoral, the Scottish residence so favored by the queen over the years.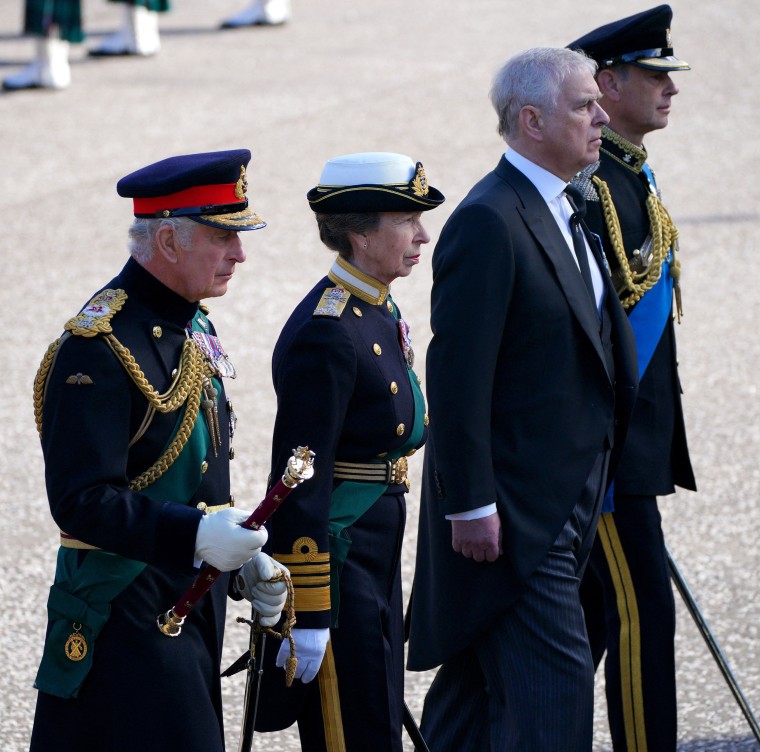 Earlier Monday morning, Charles made his first address to Britain's Parliament as monarch, saying that his later mother "set an example of selfless duty which, with God's help and your counsels, I am resolved faithfully to follow." 
About 900 members of Britain's legislative body listened to the king's remarks delivered in London's Westminster Hall, which was built in 1097 under King William II.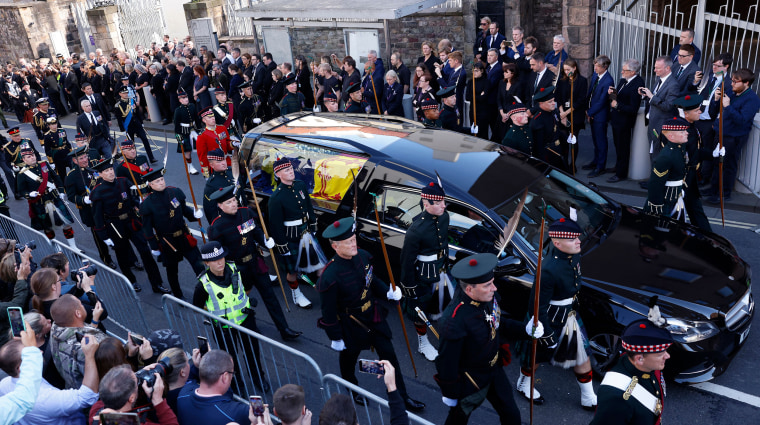 "I cannot help but feel the weight of history which surrounds us and which reminds us of the vital Parliamentary traditions to which members of both houses dedicate yourselves, with such personal commitment for the betterment of us all. Parliament is the living and breathing instrument of our democracy," the king said.
"That your traditions are ancient we see in the construction of this great hall and the reminders of medieval predecessors of the office to which I have been called," he added.
Several members of the royal family have shared touching tributes to Elizabeth following her death on Sept. 8 at 96.
Prince William, who is now next in line to the throne, honored his grandmother in a statement shared on the royal family's website.
"She was by my side at my happiest moments. And she was by my side during the saddest days of my life," he wrote. "I knew this day would come, but it will be some time before the reality of life without Grannie will truly feel real."
Prince Harry also honored the queen with a statement shared via his organization, Archewell.
"Granny, while this final parting brings us great sadness, I am forever grateful for all of our first meetings—from my earliest childhood memories with you, to meeting you for the first time as my Commander-in-Chief, to the first moment you met my darling wife and hugged your beloved great-grandchildren," he wrote.
Harry also thanked his late grandmother for her "infectious smile," writing, "We, too, smile knowing that you and grandpa are reunited now, and both together in peace."
On Saturday, William and Harry appeared together publicly for the first time since the queen's death. The brothers and their wives, the former Kate Middleton and Meghan Markle, walked together as they addressed crowds of mourners outside Windsor Castle.
Today's procession in Edinburgh is part of a 10-day schedule of events honoring the late queen. Her coffin will lie in rest at St. Giles' Cathedral until Tuesday afternoon, allowing the people of Scotland to pay their respects. 
Later in the week, the casket will be moved to London, where it will lie in state at Westminster Hall for four days, according to Buckingham Palace. 
The queen's funeral will be held Monday, Sept. 19, at 11 a.m. GMT.