Two children suffered "burn-like injuries" after playing at a Massachusetts playground that had been doused in acid, fire officials said. 
Police and fire officials were called to Bliss Park in Longmeadow on Sunday morning on a report of "a suspicious substance" on the playground equipment, the fire department said in a news release.
At that same time, fire officials were dispatched to a home on a report of two children with injuries after leaving the park. 
The Longmeadow Fire Department determined that acidic material "had been poured on three of the slides on the playground," the release said.
In the investigation, officials learned that the pump room in the basement of the park's pool building had been broken into.
The perpetrators had climbed two fences and entered the pool building through a ventilation shaft, which was found with its cover torn off, officials said.
The shaft led to a room where chemicals used to operate the pool were stored. 
A hazmat team determined that muriatic acid was the chemical poured on the slides. Muriatic acid is used to clean and disinfect pools and can potentially cause severe chemical burns, according to the Centers for Disease Control and Prevention.
Officials said that the pool chemicals had been properly stored in a secured area and "a great deal of effort was employed to enter this space."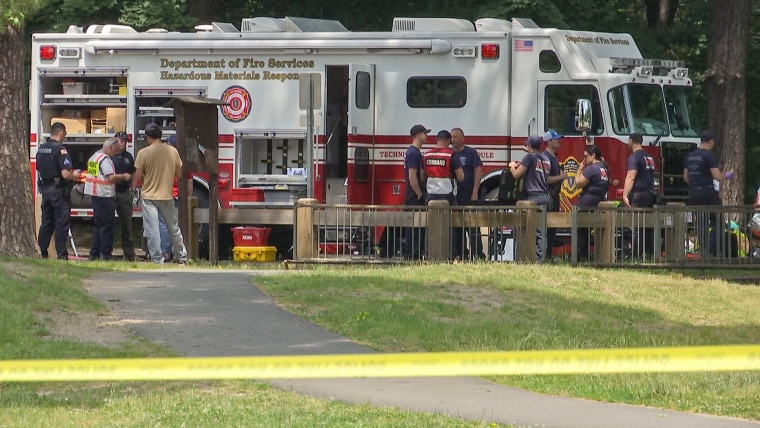 The public is asked to call in with tips if anyone noticed suspicious activity in the park Saturday night. 
"We suspect that the perpetrators may have suffered acid burns to their hands or arms and their clothing may have indications of being degraded from contact with the acid," the fire department said.
An investigation remains underway as to who was behind the break-in and acid attack.
The Massachusetts State Police crime lab gathered items of evidence and sent it for forensic analysis and fingerprinting.
Town officials have retained a contractor to clean the play space and the fire department said all hazardous materials have been cleaned.
The playground area remains fenced off "out of an abundance of caution," but the rest of the park is open.
This story originally appeared on NBCNews.com.