The identities of nine soldiers killed when two Army Black Hawk helicopters crashed in Kentucky during a training exercise Wednesday night were released Friday.
According to a statement from the Fort Campbell Army base they are:
Warrant Officer 1 Jeffery Barnes, 33, of Milton, Florida 
Cpl. Emilie Marie Eve Bolanos, 23, of Austin, Texas
Chief Warrant Officer 2 Zachary Esparza, 36, of Jackson, Missouri
Sgt. Isaacjohn Gayo, 27, of Los Angeles, California 
Staff Sgt. Joshua C. Gore, 25, of Morehead City, North Carolina
Warrant Officer 1 Aaron Healy, 32, of Cape Coral, Florida
Staff Sgt. Taylor Mitchell, 30, of Mountain Brook, Alabama
Chief Warrant Officer 2 Rusten Smith, 32, of Rolla, Missouri 
Sgt. David Solinas Jr, 23, of Oradell, New Jersey
"This is a time of great sadness for the 101st Airborne Division. The loss of these Soldiers will reverberate through our formations for years to come," said Maj. Gen. JP McGee, commanding general of the 101st Airborne, in the statement. 
"Now is the time for grieving and healing. The whole division and this community stand behind the families and friends of our fallen Soldiers." 
The crash occurred Wednesday at about 10 p.m. local time (11 p.m. ET) in Trigg County, west of Fort Campbell, the Army base said. The two HH-60 Black Hawk medical evacuation aircraft were engaged in a training exercise, officials said.
All nine soldiers were from the 101st Airborne Division, based at Fort Campbell near Kentucky's border with Tennessee.
Brig. Gen. John Lubas, deputy commander of the 101st Airborne Division, said Thursday during a news conference there were five people in one helicopter and four in the other, which he described as "fairly typical." 
The helicopters were being flown using night vision goggles, Lubas said.
The Army deployed an aircraft safety team from Alabama who will initiate an investigation into the cause of the crash, Lubas said. He said he is hopeful investigators will be able to pull data from on-board computers, noting there's something similar to a black box on board that can shed more light on the crash.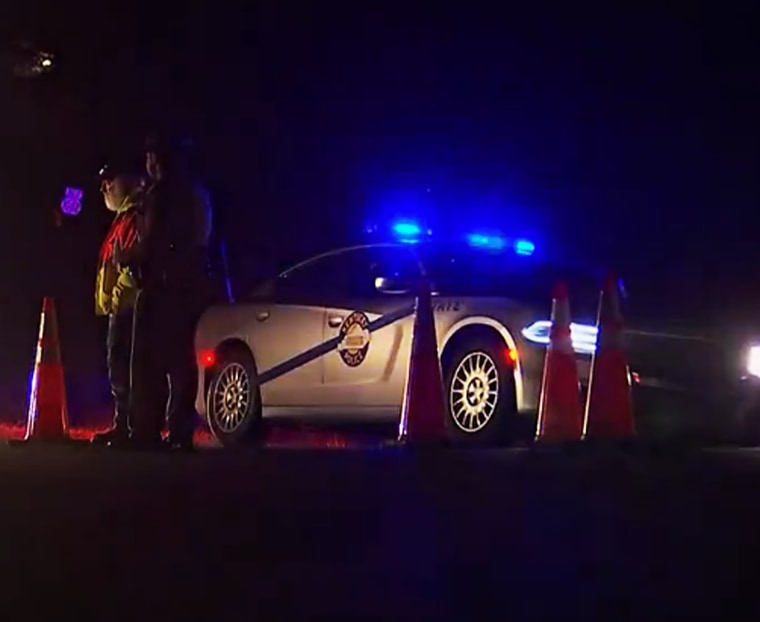 "This is a truly tragic loss for our families, our division and Fort Campbell and our number one priority is caring for the families and the soldiers within our combat aviation brigade," Lubas said.
Tim Gore, a pastor in North Carolina, on Thursday identified his son as one of the nine soldiers killed.
In a statement provided to NBC News he called his son, Staff Sgt. Joshua Caleb Gore, a real-life Captain America who loved serving his country in the Army.
"His passion was search and rescue and if you happened to be wounded on the battlefield, Caleb coming out of that helicopter would be the most beautiful thing you would ever see," the statement said.
"He was kind, compassionate and a gentle giant because he was built like a tank. He was soon to become a registered nurse and was taking leadership training so that he could continue his career as he got older by training others in this field."
In a separate Facebook post, Gore said his son's "precious wife," Haleigh, is pregnant and a little boy is expected in about six months.
The 101st Airborne Division, the Army's only air assault division, had confirmed the helicopter accident and several casualties in a tweet early Thursday morning.
Nicknamed the "Screaming Eagles," the 101st Airborne Division was activated on Aug. 16, 1942.
Defense Secretary Lloyd Austin said in a statement he's saddened by the "tragic loss."
"My heart goes out to the families of these service members and to the members of the 101st Airborne Division who bravely and proudly serve our country each and every day," he said. "I'm saddened by this tragic loss, and I am working with Army leadership to make sure our troops and their families receive the care that they need in the wake of this accident."
Kentucky State police said that the crash occurred in a partially wooded field and that a perimeter had been set up around the debris.
This article was originally published on NBCNews.com.