Two construction workers are missing after a massive five-alarm blaze broke out in Charlotte, North Carolina on Thursday, according to officials.
"With the extensive structural damage, the search process can be lengthy," the Charlotte Fire Department said in a statement on their official Twitter account. "We can not confirm a loss of life."
The Charlotte Fire Department received calls about a fire at an apartment building under construction on the 7700 block Liberty Row Drive at around 9 a.m.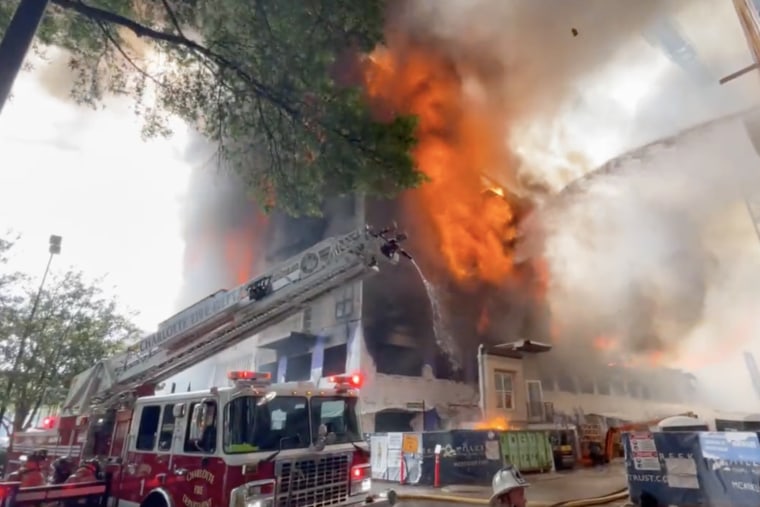 Firefighters arrived within minutes to find heavy smoke conditions coming from the construction site. At 9:10 a.m., the fire became a two-alarm, and progressed to five-alarm by 9:56 a.m., Fire Chief Reginald Johnson said at a news conference Thursday afternoon.
The fire was very fast-moving due to a lot of exposed wood in the construction site, and the heat conditions were well over 2,000 degrees, according to Johnson.
Fifteen workers were rescued, including a crane operator who was taken to a local hospital with nonlife-threatening injuries, Johnson said.
There were many "mayday" situations where firefighter crews were trapped or had issues escaping the blaze themselves, Johnson added.
According to the construction foreman, two construction workers are currently unaccounted for.
The fire also spread to construction across the street and a number of nearby rooftops, which were all put out by the fire department, Johnson said.
The fire department shared a video of the site around 2:52 p.m. Thursday showing that the fire had been contained and the structural damage it left behind.
The cause of the fire is under investigation.
Developer Mill Creek Residential confirmed that the location of the fire was an apartment community under construction, and no residents were living there at the time.
In a statement shared with NBC News on Thursday, the development company expressed concern for the two missing workers.
"We are deeply concerned for their wellbeing and will continue to follow the direction of the first responders on site to address the situation. Our thoughts are with the missing and injured individuals, and their loved ones at this time," said Alex Eyssen, Mill Creek's Senior Management Director for the Carolinas. "We are extremely grateful for the quick and thorough response of the first responders with the Charlotte-Mecklenburg Police Department and the Charlotte Fire Department who risked their lives for others and to contain the fire as quickly as possible."
This story originally appeared on NBCNews.com.