The Indiana sheriff involved in the manhunt that ended with a former Alabama corrections officer dead and a murder suspect in custody shared more details Tuesday about the car chase that ended the dayslong saga.
Vanderburgh County Sheriff Dave Wedding described the chase that spanned 11 days and three three states, beginning in Alabama when former corrections officer Vicky White, 56, and prison inmate Casey White, 38, disappeared after she transported him from the Lauderdale County Jail on April 29.
It ended with a crash and a fatal gunshot in Evansville, Indiana, on Monday.
"The pursuit was very short," Wedding said on TODAY Tuesday. "It went up a major artery in Vanderburgh County, and they cut across a parking lot at a large factory. They were in a grassy area, so three of our task force members actually rammed the vehicle and pushed it into a ditch so it ended up on its side.
"As they approached the vehicle, it was obvious that the female driver was unconscious and still had a weapon in her hand. And they removed the murderer from the vehicle simultaneously."
Vicky White was declared dead at a nearby hospital, while Casey White was taken into custody. There were conflicting reports about who was driving the vehicle. Rick Singleton, the sheriff of Lauderdale County in Alabama, told reporters Monday that Casey White was behind the wheel when the crash occurred.
"He will stay in handcuffs and shackles while he is in that cell," Lauderdale County Sheriff Rick Singleton said about Casey White on TODAY Tuesday. "And if he wants to sue me for violating his civil rights so be it. He is not getting out of this jail again."
The U.S. Marshals Service told NBC News that Casey White emerged from the wrecked car and told authorities, "Please help my wife, she just shot herself in the head, and I didn't do it."
Wedding said that from his understanding, the two are not married and just shared the same last name. White's cause of death is being investigated, but authorities believe she shot herself in the head.
"The coroner's office will do an investigation, and they will determine if it was a self-inflicted gunshot wound," Wedding said. "It's the initial indication that it was, but we won't rule anything out until we have a thorough investigation by the coroner."
NBC News reported that officers in the area were investigating — as the manhunt for the pair entered its second week — when the pursuit began.
Wedding said Tuesday that an Evansville police officer initially spotted the vehicle that matched the description of one they allegedly started driving on May 3 after swapping vehicles. An investigation into the car led to the chase.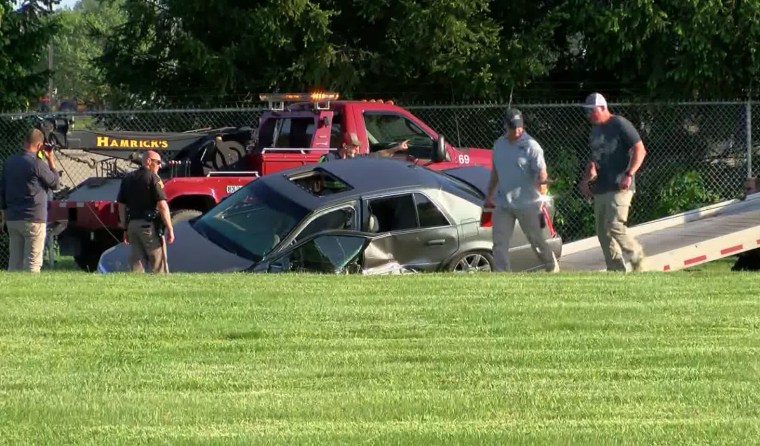 Monday night, the Vanderburgh County Coroner's Office announced White had died at 7:06 PM CT in Deaconess Hospital. 
Steve Lockyear, the Vanderburgh County coroner, said in the statement that an autopsy is scheduled for 5 p.m. on Tuesday. More information will be available then, he said. 
Earlier on Monday, a surveillance video was released that showed the former corrections officer checking out of a local hotel the day she disappeared with the prison inmate last month.
Authorities said she checked out of a Quality Inn just hours before she and the accused murderer fled.
Wedding said that they believed the car the two were in had been in Evansville for six days, though he wasn't sure if Vicky and Casey White had been there the whole time.
"They're criminals, sometimes they do things that are unexplainable," Wedding said Monday when asked why the two would have stayed for nearly a week. "But in this case, I'm glad they did."
Casey White was originally held at Lauderdale County Jail awaiting trial for two counts of capital murder before disappearing on April 29.
Vicky White had said she was taking him from jail to a courthouse for a planned mental health evaluation. Investigators said there was no appointment scheduled, nor did Vicky White have a medical appointment after she dropped him off, as she had told the jail before leaving.
Casey White was serving 75 years for several violent crimes. He also was awaiting trial for capital murder in the stabbing death of a 58-year-old woman.
Last week, law enforcement officials revealed that the Vicky and Casey White have a relationship spanning years.
In a statement on Thursday, Singleton said that Vicky White was in contact by phone with Casey White while he was incarcerated in a state prison in Donaldson, Alabama.
In his press conference on Monday, Singleton said he was thankful the search for the two was over.
"This has ended a very long, stressful, challenging week and a half," Singleton said.