DNA on a knife sheath found at the off-campus home where four Idaho college students were killed last November directly links accused murderer Bryan Kohberger to the crime scene, according to court documents filed by prosecutors last week.
Law enforcement officials used investigative genetic genealogy to link DNA found on the sheath to Kohberger, 28, a doctoral student at nearby Washington State University studying criminology, according to the June 16 filing from the Latah County Prosecutor's Office. The investigation found that the DNA was at least 5.37 octillion times more likely to be Kohberger's than an unrelated member of the public, the document states.
Kohberger is accused of fatally stabbing Ethan Chapin, 20, of Conway, Washington; Madison Mogen, 21, of Coeur d'Alene, Idaho; Xana Kernodle, 20, of Avondale, Arizona; and Kaylee Goncalves, 21, of Rathdrum, Idaho, on Nov. 13. A motive remains unknown.
Some information about the use of DNA to identify Kohberger was already known: Law enforcement sources previously told NBC News that DNA played a role in helping investigators hone in on Kohberger, and a probable cause affidavit unsealed in January stated that male DNA was "left on the button snap of the knife sheath" and that DNA retrieved from the trash of Kohberger's family home in Pennsylvania on Dec. 27 showed there was a high probability it was from the biological father of the person who left the DNA on the sheath at the crime scene.
But the more recent filing provides new details about how investigators used DNA — and genetic genealogy, which has been used to identify several victims and suspects in recent years — to identify Kohberger as the prime suspect in the case.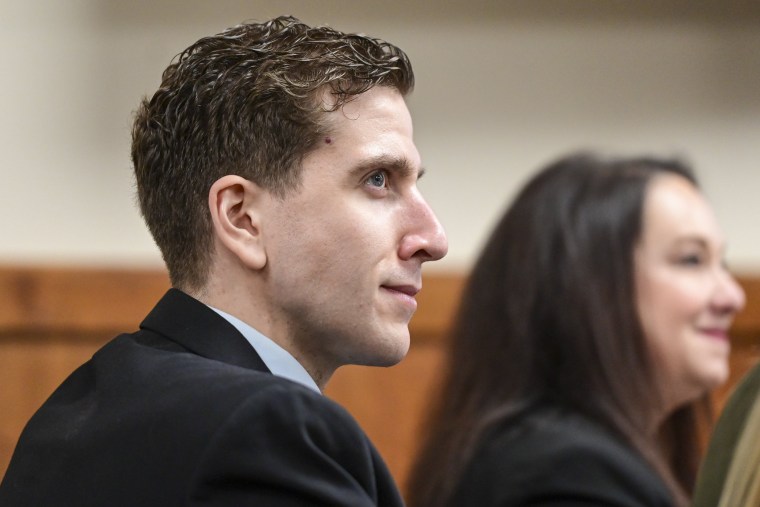 Use of genetic genealogy
Investigators first submitted DNA from the knife sheath — found facedown on a bed next to the bodies of Mogen and Goncalves, and partially under Mogen's body and the comforter — to the FBI database CODIS, which tracks DNA profiles of people who have been arrested or convicted, according to the filing. When that didn't turn up a match, investigators turned to genetic genealogy, commissioning a private lab to build a DNA profile that could be used to search for relatives, the filing states.
The FBI then took over and uploaded the DNA profile "to one or more publicly available genetic genealogy services to identify possible family members of the suspect based on shared genetic data," the filing states. Investigators then built a family tree of hundreds of relatives "using the same tools and methods used by members of the public who wish to learn more about their ancestors," the filing states, citing social media, birth and death certificates and user-submitted information as examples. FBI investigators then sent local law enforcement a tip to investigate Kohberger.
After law enforcement obtained the DNA from Kohberger's father and, later, a cheek swab from Kohberger, they found the "statistical match" showing it was overwhelmingly likely that the DNA found on the knife sheath matched Kohberger's, the filing states.
Experts have cautioned that DNA evidence isn't foolproof and shouldn't be the sole basis for an arrest or prosecution, and that law enforcement's growing use of genetic genealogy allows them to gain access to the DNA of nonsuspects as well.
The filing outlines steps investigators took to protect the data of Kohberger's relatives and users of the unnamed publicly available genetic genealogy service, including not downloading or making copies of publicly available records and removing Kohberger's DNA profile from the service.
"This means the FBI no longer has access to view much of the information it used to create the family tree and cannot view it again" without resubmitting the DNA profile to the genetic genealogy service, the filing says.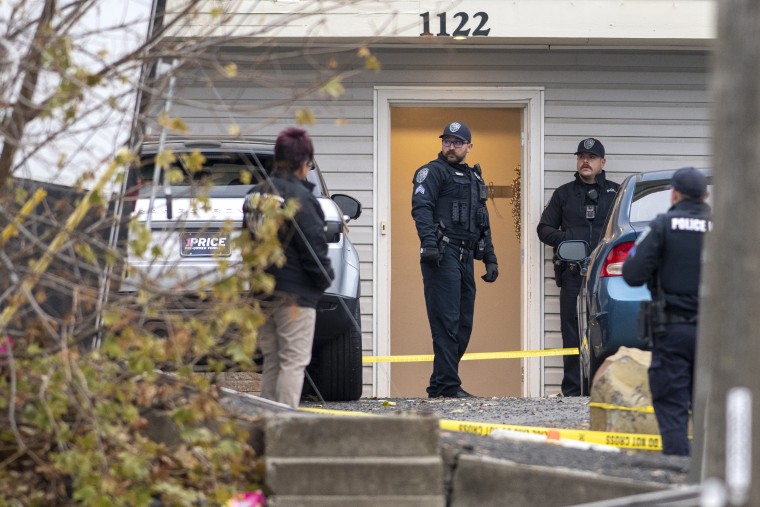 Filing attempts to keep details sealed
Through the filing — a motion for protective order — prosecutors are seeking to keep more detailed information under wraps, including raw data and lab notes about the DNA profile and information about Kohberger's potential relatives used to build the family tree.
Prosecutors are willing to disclose other information, including documentation proving that the DNA test was performed and information related to the analyses performed on DNA culled from the knife sheath, from Kohberger's parents' trash and from a buccal swab performed on him, the filing states.
Kohberger was arrested on Dec. 30 in Monroe County in northeastern Pennsylvania. A grand jury in Latah County indicted him on murder charges on May 16, and he was arraigned on May 22, when he stood silent and a judge entered not guilty pleas on all murder charges. His trial is tentatively set to begin on Oct. 2.
Kohberger remains held in Latah County Jail without bail, online records show.
This story originally appeared on NBCNews.com.